Watch of the week: Life in Color with David Attenborough
This 2021 docuseries uses innovative technology to capture how animals use colour to survive and thrive in the wild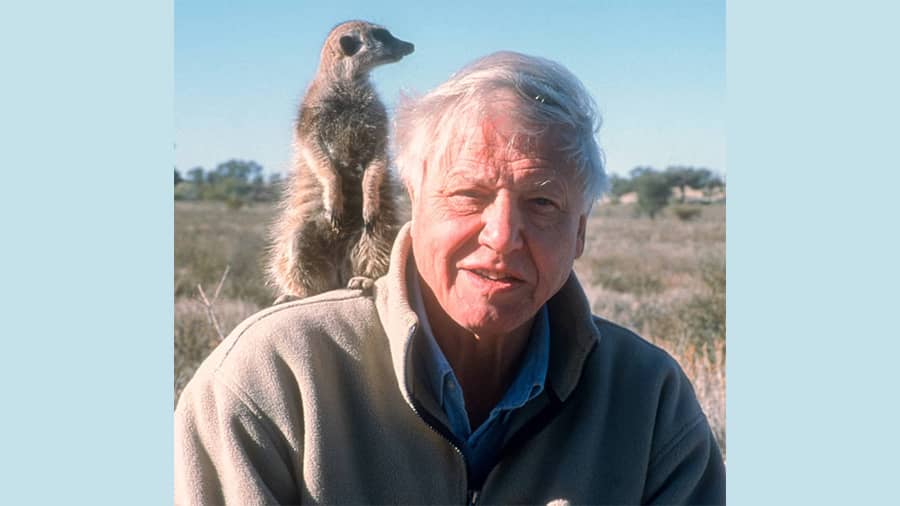 'Life in Colour with David Attenborough' is a must-watch for any nature lover.
Instagram
---
Calcutta
|
Published 25.06.22, 10:55 AM
|
---
The grand old man of natural history, Sir David Attenborough, has been unravelling nature's mysteries for more than half a century. Life in Color with David Attenborough, a Netflix docuseries, reveals how different animals perceive their surroundings in different ways and how colour plays an important role in mating, raising offspring, hiding from predators, and even in the preservation of territory. 
The docuseries celebrates nature's wonders and demonstrates how animals use colour to disguise, confuse, and warn us. New cameras and imaging technologies open our eyes to things that are beyond our visibility. 
In the first part, a mandrill — a large monkey native to Africa — shows off its colours, while birds and butterflies perform spectacular displays. This part also features an adorable fight between red frogs and a dazzling rainbow mantis shrimp.
The second part explains how both prey and predator use their colours to deceive and survive. In the final part, Attenborough and his crew explain the technology used to capture what we cannot see with our eyes.  
The docuseries, produced in association with BBC, celebrates the diversity of our ecosystem through a thorough understanding of the varied shades of nature. It answers enduring questions like why do zebras have black and white stripes or how do chameleons change their colour. 
Watch on: Netflix Other Attenborough shows to watch: 
Attenborough has hosted several shows over the past 30 years. Here are some of the most stunning shows that are sure to pique your curiosity.
Our Planet (2019)
This ambitious eight-part docuseries produced by Netflix explores our planet's natural beauty by examining how climate change affects all living creatures. You will find Attenborough at his very best as he explains to us the mysteries of nature and the diversity of habitat around the globe. This limited series is one of the most visually appealing nature documentaries ever made. Our Planet is a socially responsible environmental show that preserves all of its beauty.
Watch on: Netflix/YouTube David Attenborough: A Life on our Planet (2020)
In this remarkable documentary, Attenborough recounts his adventurous life for the last 60 years. He narrates how he travelled to every continent and explored wild places. The generally affable Attenborough then laments the colossal consequences of human activities on nature during his lifetime. He also presents a vision of the future. Attenborough maps how steeply the planet's biodiversity has diminished in his lifetime. Life goes on, and if we make the correct decisions, disaster can turn into regeneration.
Watch on: Netflix Breaking Boundaries (2021)
Attenborough's documentaries are famed for their breathtaking glimpses into the lives of animals all around the world, but that's not all he cares about. Climate change poses a threat to our planet and all creatures that call it home. In Breaking Boundaries, Attenborough and scientist Johan Rockström look at the science behind the climate catastrophe, as well as the planetary thresholds that must not be crossed if the Earth is to stay hospitable to both animals and humans.
Watch on: Netflix Narrated by Sir David Attenborough, this BBC mini-series delves deep into the Earth's marine ecology. Despite the fact that water covers two-third of the Earth's surface, scientists know less about it than they do about the moon's surface. This limited series travels from coast to coast and pole to pole to study aquatic creatures ranging in size from the massive blue whale to minuscule coral polyps. Attenborough's voice is accompanied by extraordinary visuals of the underwater world. 
Watch on: Amazon Prime Video