Vadh is Drishyam on a small budget but with its own merit
Sanjay Mishra spearheads this small-town crime thriller directed by Jaspal Singh Sandhu and Rajeev Barnwal, co-starring Neena Gupta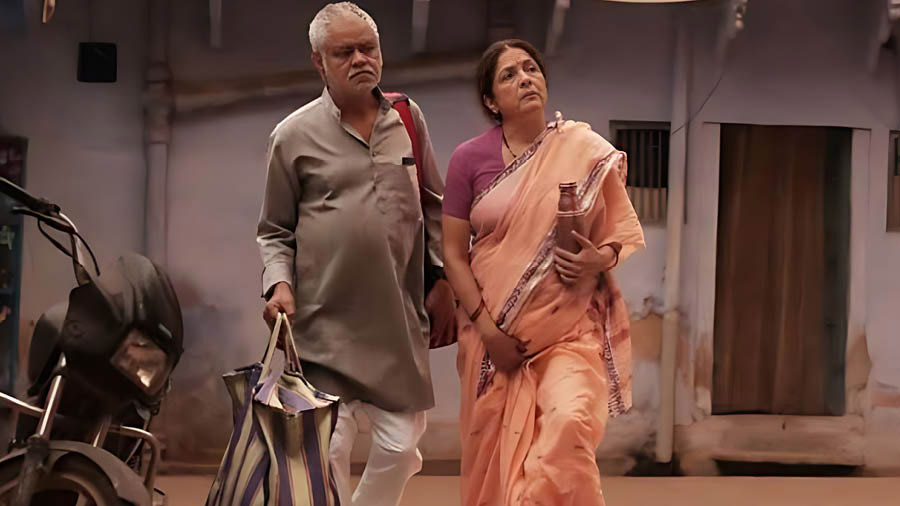 ---
Mumbai
|
Published 09.12.22, 01:47 PM
|
---
To be frank, the trailer of Vadh gave away a lot of things than it should have. The title itself should tell you that there is going to be a murder. But it is not a 'hatya' as Sanjay Mishra reasons in this film, it is a 'vadh'. What's the difference between the two? 'Hatya' is plain murder whereas 'vadh' is killing someone as a punishment for their sins.
Sanjay Mishra plays Shabhunath Mishra, a retired school teacher who gives tuition at home to make ends meet. His wife Manju (Neena Gupta) is suffering from knee joint pain and might need an operation. Their son stays in the US with his wife and daughter. Mishraji and his wife interact with their son via Skype at a local cyber cafe. Mishraji took a loan of 25 lakh to educate his son and send him to the US. The son doesn't value his parents' contribution and thinks that their ailments are excuses to ask for money. "I will send 5,000 tomorrow," he tells his father.
Mishraji had mortgaged his house for the Rs 25 lakh loan. To recover the monthly installment and interest, a local goon Pandey (Saurabh Sachdeva) knocks on the door every month. Pandey enjoys causing trouble to the elderly couple. He makes Mishraji push his car in the middle of a busy street and snatches money from him after he withdraws it from the ATM. He intentionally eats chicken in the house of these pure vegetarians. On top of that, he brings his keep and has sex with her in Mishraji's bedroom, leaving the used condom on the floor. 
There's a scene early on in Vadh where Mishraji is trying to use a new mousetrap that will not only trap a mouse but also kill it. Manju is against it and suggests that it's better to trap a mouse and release it outside the house than kill it. You know what to expect after this setup. Speaking of setup, Mishraji also reads Manohar Kahaniyaan, the pulp fiction magazine. There's a corrupt but well-meaning cop Shakti Singh (Manav Vij) who warns Pandey against troubling Mishraji. Mishraji and his wife are close to a girl fondly called Billi, who comes for tuition at their house.
Pandey eyes this schoolgirl when he arrives at Mishraji's house to show the place to a potential buyer. Mishraji tells Billi to immediately leave the house. Pandey gives her a hundred rupee note. Later on, when Pandey arrives at Mishraji's house at night to trouble him, he tells Mishraji to bring Billi for him for the night. The disgust of the elderly man turns into anger and he kills Pandey. This is not a big spoiler because you expect it to happen as things start to unfold. But that is not the whole picture here. There's a lot more to the film.
Mishraji kills Pandey in the heat of the moment and then freezes. He comes to his senses when his wife comes back home from the temple. The shaken old man then chops the corpse in cold blood. On the nights that follow, he smartly destroys all the possible pieces of evidence, as if he was living one of the Manohar Kahaniyaan stories he reads. It's during these sequences that I thought Vadh is Drishyam on a small budget but with its own merit.
The writer-director duo Jaspal Singh Sandhu and Rajeev Barnwal keep the treatment realistic. The film is shot at real locations in Madhya Pradesh. The screenplay moves seamlessly and the dialogue is natural. An ensemble cast rises above the script. Leading from the front is, of course, Sanjay Mishra. The actor effortlessly transforms from real-life Mishraji to reel-life Mishraji. He portrays the haplessness, helplessness as well as the cold-bloodedness of his character with equal ease.
Neena Gupta as his wife Manju is remarkably natural. Her husband killing a man in her house is too difficult to come to terms with for her. It is this moral ambiguity that the makers succeed in maintaining through the film. Manav Vij is solid as the cop with grey shades. Saurabh Sachdeva does best to what is expected of him as the filthy Pandey.
The second half of Vadh is much more than just the cop Shakti Singh trying to find the murderer of Pandey and grilling Mishraji whom he had supported so far. Shakti Singh has a secret of his own. In this tale of moral ambiguity, the aim is not to provide poetic justice. Instead, morals are traded among the characters for mutual benefits, but there's still a karmic touch to it. It is worth checking out.