Toofaan review: A film where the punches almost always land right, even if the film fails to pack a punch
Traversing the predictable terrain of almost every film in the genre, Toofaan says nothing new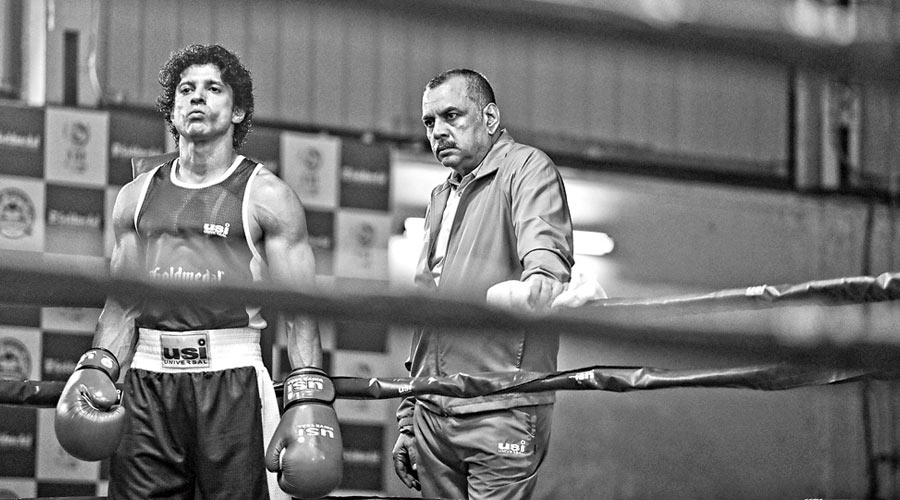 ---
Published 17.07.21, 03:04 AM
|
---
There is a scene in Zoya Akhtar's directorial debut Luck By Chance, when Farhan Akhtar's Vikram, an aspiring actor doing the daily grind of auditions, takes a long, hard look at himself in the mirror as he mentally preps himself for yet another try-out for a role. The strains of Shankar-Ehsaan-Loy's Sapno se bhare naina play out. That scene, when I watched the film more than a decade ago, instantly reminded me of Robert De Niro's iconic 'You talkin' to me?' moments in the mirror, ostensibly targeted at an imagined antagonist. Zoya, in this tribute to everything cinema and also a takedown of it in parts, had even slipped in a Raging Bull poster somewhere. Luck By Chance may not have been about boxing, but it was definitely about an underdog punching above his weight in his bid to survive.
Twelve years later, in Toofaan, streaming on Amazon Prime Video, we have Farhan playing a streetfighter-turned-boxer. The eyes are no longer full of dreams for Ajju Bhai (Farhan), a small-time gangster in cheek-by-jowl Dongri —  with no idea what the word "extortionist" means but doing exactly that for a living — who is in the dark about his potential to metamorphose into Aziz Ali, the boxer.
Eight years ago, the collaborative effort between Farhan and director Rakeysh Omprakash Mehra had yielded Bhaag Milkha Bhaag, the immensely watchable real-to-reel story of 'The Flying Sikh' Milkha Singh. That film was about an underdog taking a shot at earning respect and redemption. So is Toofaan. But with mixed results.
Is there really a new way to make a boxing film — or even that centred around a sports underdog — any more? Haven't the classics already said it all, and said it extremely well? How does one take a predictable, and almost familiar to a fault, template and craft a fresh story? More importantly, how does one do it over a runtime of 162 minutes, which is exactly how long Toofaan plays out? These are questions that plague a large part of Toofaan, a film where the punches almost always land right, even if the film fails to pack a punch.
Traversing the predictable terrain of almost every film in the genre, Toofaan says nothing new. Even if we look away from the global genre classics and turn to recent Bollywood, Toofaan feels like a regurgitation of everything that has been done before, starting from Bhaag Milkha Bhaag, touching upon Chak De! India and even rehashing parts of Sultan.
Where Toofaan could have potentially scored — and where it does show flashes of promise — is in its cultural context and its political overtones. Boxing, through the ages, has been the domain of the underclass, their angst-ridden existence finding an outlet — and most often, an avenue to a better life — through the sport. So does Ajju Bhai. Realising that he has the talent to step off the streets and into the boxing ring, Ajju quickly becomes Aziz, his transformation in body and mind being accentuated by the pulsating beats of Todun taak (but even that comes off sounding too similar to Apna time aayega). His journey is catalysed by the presence of sunshine-y doctor Ananya (Mrunal Thakur) and aided by the tutelage of her father, a boxing coach played by Paresh Rawal.
Rakeysh Mehra sharpens his story with a political comment on the Hindu vs Muslim divide. Nana Prabhu, with Rawal's real-life political ideology spilling over into the film, is okay with training a Muslim protege but is dead against accepting him as his son-in-law. That, along with a few other genre tropes, sets up the conflict in Toofaan, giving it some edge.
But then again, one really can't help comparing Toofaan to Mukkabaaz, in which director Anurag Kashyap pulled no punches in telling the story of the strife and struggle of an aspiring boxer whose rise to the top is maimed by both corruption and class divide. Toofaan comes up far short. And in a world where attention spans are quickly shrinking, this is a film 30 minutes too long. By the third act, Toofaan loses even the little originality and promise it had shown in its first hour.
Nuance is also not something that Toofaan is familiar with. Using the crutches of dialogue and background score, everything is spelt out in the film, leaving no room for the viewer to interpret or imagine. This is Rakeysh Mehra's — whose Rang De Basanti and Delhi-6 spoke so much by saying relatively little — most 'Bollywood' film. And not in a good way. Vijay Maurya's dialogues — "Yeh boxing ring nahin, zindagi ka ring hain" to "Jeet ta woh hain joh aakhir tak khada rehta hain" are too derivative to make an impression.
What rescues Toofaan are some of its acts. Ananya is too uni-dimensional to jump off paper, but Mrunal's easy presence gives the character an element of likability, while Rawal is his usual solid self, swinging between benevolent coach and antagonist father.
Farhan's body transformation process is now a part of Bollywood legend and he does bring the right mix of vulnerability and grit to the part of a man struggling against all odds to redeem himself. The actor is a beast in the ring, making those punches count. This is an act with edge. If only Toofaan had more teeth.
I liked/ didn't like Toofaan because... Tell t2@abp.in