The widow who wouldn't cry
Ahead of its release on Netflix, team 'Pagglait' — Sanya Malhotra, Sayani Gupta, Ashutosh Rana and Rajesh Tailang — chat with The Telegraph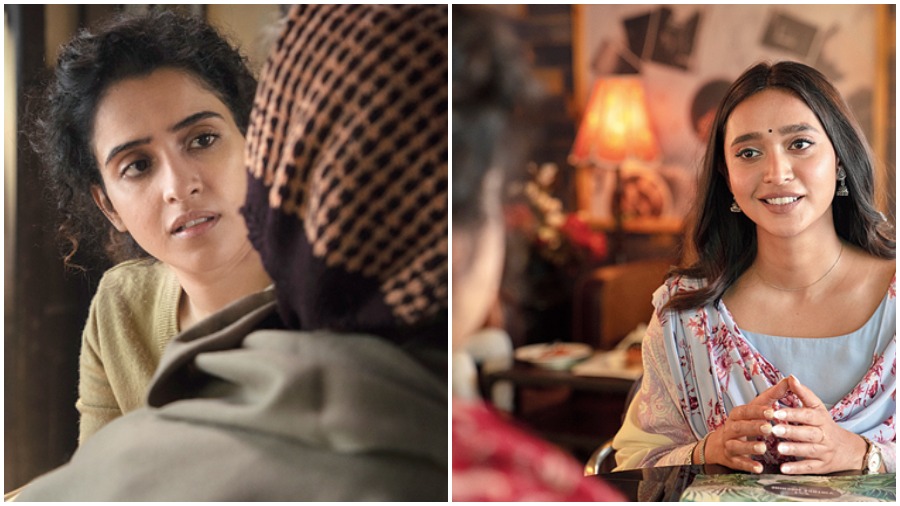 ---
Published 26.03.21, 01:28 AM
|
---
A young woman embarks on a journey of self-discovery after losing her husband of five months. That's the essence of Pagglait (meaning 'crazy'), that stars Sanya Malhotra in the lead role of Sandhya, supported by an ensemble of talented actors.
With Pagglait releasing on Netflix today, The Telegraph chatted with Sanya and co-stars Sayani Gupta, Ashutosh Rana and Rajesh Tailang on their film that combines grief, humour and social commentary.
For each of you, what were your reasons for wanting to do Pagglait?
Rajesh Tailang: I normally don't pay much attention to the characters that I play, which, as an actor, may sound a little strange. I always believe that if a film is good, then your character will automatically have an impact. I always see what kind of film it is and the team that's making it. Agar log achhe hote hain toh mujhe lagta hain ki film achhi banegi. The world of Pagglait seemed very interesting to me and the part offered was different, because I normally only get to play positive characters. This man is grey, bordering on negative. Umeshji (Bist, director) and I are both from Delhi and I have always wanted to work with him as well as with Guneetji (Monga, producer).
Sanya Malhotra: For me, it was love at first sight with my character Sandhya. Her husband of five months is dead, but she's the only one who isn't crying... she keeps wondering if she's normal. She knows that there is something wrong with the way she is dealing with the situation. She confesses to her friend that when her cat died, she cried and stopped eating for days. But after the death of her husband, not only does she not feel like crying, she's also very hungry! (Laughs) When I was prepping for the part, I kept thinking that even if you know someone for two days and you hear they have died, you will invariably feel bad. But Sandhya doesn't feel any grief, which shows that she never had that sort of a relationship with her husband. He never gave her the love, companionship or validation that she wanted.
It's relatable on many levels. My mother watched the film with me and she told me that something like this has happened in my family too, to a very close relative. This film, along with teaching you how to deal with grief, also talks about forgiveness. When I was offered this film, I felt a gamut of emotions. That was very special for me. But I kept doubting whether I would be able to play someone like Sandhya. I am very grateful that the makers had so much faith in me.
Sayani Gupta: Taking off from what Sanya said, Sandhya was always lonely even when Aastik (her husband) was there, but after he passes, she finds herself. You will never feel lonely if you like your own company and you know who you are from inside. She has a wholesome life only after Aastik passes.
Ashutosh Rana: When I was a kid, I would listen to what my mother told me to do. Now, I listen to what the mother of my children tells me to do! (Laughs) When I was going to meet Umeshji to hear the narration, my wife (actor-director) Renuka Shahaneji told me, 'Listen, Guneet is making this film and you better do it without asking any questions' (laughs).
Sayani: Guneet is a friend and the kind of films she supports will tell you that if she's putting her weight behind a film, then there has to be something of merit in that film. It will be a film that will break the ceiling in some way. She's someone I can't say 'no' to. When I read the script, I found it to be so beautifully written and nuanced. Every single part — no matter how big or small — was there with his or her own journey. It was a tight script and it flowed really well. As Rajesh sir said, it matters a lot whether the film is working or not. You have to ask questions like, 'What is this world? Why is the director wanting to tell the story?' It's a very realistic portrayal of a family vis-a-vis death. In Hindi mainstream cinema, I haven't seen death being tackled in such a balanced and matured way. I liked what Akanksha (Sayani's character) does in the film. She doesn't belong to this world. She's her own person. But she changes the direction in which the film moves. She's almost a catalyst for Sandhya's journey of self-discovery. Akanksha makes Sandhya believe she can do it too and that's what makes Sandhya find her own voice and spirit.
How the two women are with each other is beautiful. Of course, there is jealousy, but that's not the be-all and end-all emotion that Sandhya feels towards Akanksha. There is a friendship and a new-found respect. There's a certain sense of empathy. And, of course, to be in a film with such terrific actors is so humbling.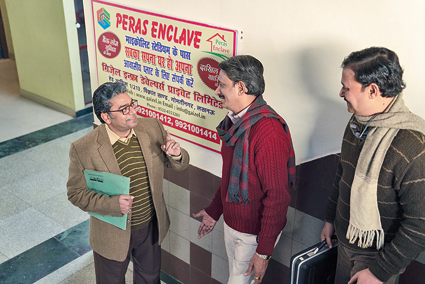 What kind of tightrope did you have to walk on as actors to bring in humour in an environment which is essentially about death and grief?
Rajesh: As an actor, a scene is a scene for me. I don't look at it as a comedy scene or a sad scene. Whatever we did in the film was inherently present in the writing. Sanya: Umesh sir has written it very beautifully. The screenplay and the world created in this film is very real, a world where all emotions co-exist. Sayani: I want to share a little story. When my father passed, we took him to All India Radio in Calcutta where he worked all his life. There was some kind of a strike in Calcutta that day and all the flower shops were closed. We had to take him to the cremation ground from there and we were waiting for flowers. Everyone in AIR went searching for flowers. And somehow even in that situation, I just felt like laughing because my father was late all his life. And I went to my uncle and said, 'This guy has made these people wait his entire life and before he hits the pyre, they are making him wait and that's karma'. One finds humour in every situation, it's an intrinsic human emotion. Our emotions are a mixture of all.
How has the advent of streaming platforms altered the trajectory of your career?
Sanya: Last year, due to the pandemic, two of my films (Shakuntala Devi and Ludo) released on streaming platforms, and it was very gratifying for me. I felt happy and grateful that I was still getting to entertain the audience. Even for Pagglait, I am so happy we have a platform like Netflix because it's a beautiful film and people in 196 countries will get to watch it.
Rajesh: I was working for so many years, but OTT has come as a blessing for me. I now get to explore much more as an actor.
Sayani: OTT has changed the game completely. Pankaj Tripathi was always a fantastic actor, but it took OTT to put him on hoardings. Once, I was going from my house towards town (in Mumbai) and all the huge billboards that were there on the way only had actors from OTT shows. There is a huge shift and a very big revolution in storytelling. One needs actors and not stars to pull off shows. I am where I am thanks to OTT, honestly.
Ashutosh: The human race believes in a sense of power. OTT has given the audience the right to choose what to watch and what not to, it's given people a sense of power. And it's easier to reach the hearts of the audience when the power is in their hands. That's what OTT has done for me.