The five lives of Neetu
Giving up a successful career to become a Kapoor wife was the only similarity between Babita and Neetu, who've otherwise led vastly disparate lives.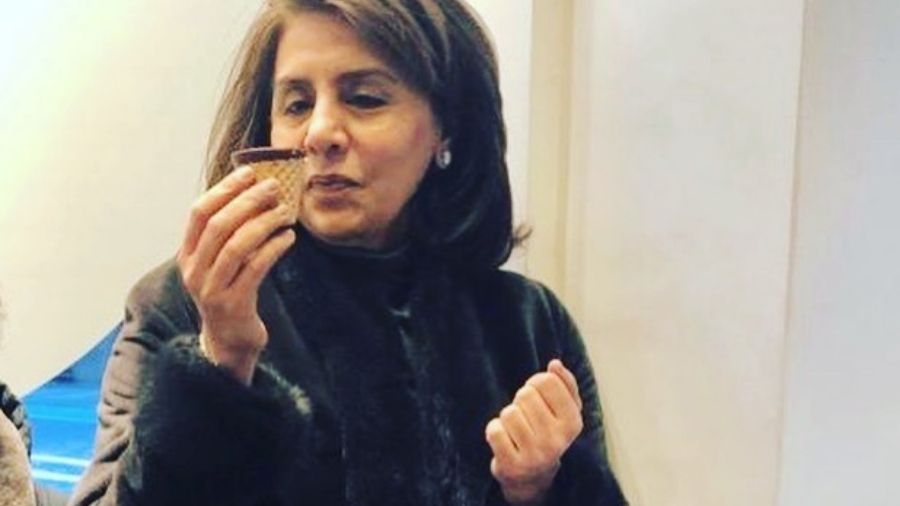 ---
---
Thirty years ago, when pug-nosed actress Mumtaz worked in a film called Aandhiyaan co-starring Prosenjit Chatterjee, and made a disastrous attempt to come out of retirement, Randhir Kapoor had wisecracked that her failure had brought down the market value of the two Kapoor bahus who were also at home after being top-rung heroines in their time. "Will they make a comeback?" was a frequent headline those days.
But giving up a successful career to become a Kapoor wife was the only similarity between Babita and Neetu, who've otherwise led vastly disparate lives.
Babita was the glamour girl of the 60s and 70s who had a series of vibrant hits that partnered her with the best heroes of the day — Sanjay Khan (Dus Lakh, 1966), Rajesh Khanna (Raaz, 1967), Jeetendra (Farz, 1967) and Shashi Kapoor (Haseena Maan Jayegi, 1968). But since she was dating Raj Kapoor's eldest son, the film industry respected her as "Dabboo's girl" (read that as nobody hit on her), and everyone was aware that once Randhir made his debut, she would quit. She did wind up her career soon after he directed and acted with her in his first film, Kal Aaj Aur Kal (1971), and didn't nurse dreams or fight Kapoor family tradition for a comeback.
But Babita had another fight on her hands — to battle her in-laws' resistance to negotiate an acting career for daughter Karisma. Today, few will understand just how tough that fight was; "proud father" Randhir was initially dead against the idea of his daughters becoming actresses.
Babita was never conventional. Her Sindhi father Hari Shivdasani, who was a character artiste in Hindi films, and European mother Barbara gave her a westernised upbringing. After marriage, Babita chose to set up home in tony south Mumbai, far away from the Kapoors and other suburban filmland colleagues. Later, she also took her two daughters and walked out, single-handedly launching their careers before taking a contented backseat.
Neetu, who has gone through five phases, was more inclined to be the traditional Kapoor bahu, happy to touch her in-laws' feet every time she met them. The first stage of her life was under Raji Singh, the single parent who steered her not through classrooms but through studios as a child artiste named Baby Sonia. The perky, quick-learning little Sikhni, who was christened Harneet Kaur at birth, worked in made-in-Madras films like Waris (1969), picked up Tamil on the sets and even Chinese from her hairdresser. Harneet-turned-Sonia became Neetu Singh when Raji Singh piloted her career as heroine in 1973, mother-and-daughter climbing rung by rung until she was right up there, working with the choicest of heroes.
With the entry of Rishi Kapoor, the little girl who had never known a world outside films, aspired for the life of wives like Jaya Bachchan. Raji, who felt that she'd fulfilled what she'd set out to do, happily handed her over to Rishi and Phase 3 of domesticity saw an ecstatic Neetu.
In fact, even during Phase 4, when she came out of Krishna Raj bungalow to work with her husband in Do Dooni Char (2010), Jab Tak Hai Jaan (2012) and Besharam (2013), it did not spark off any serious interest in a career for herself. "She's so comfortable in her house, she doesn't want to stir out early and rush to the studios," Rishi had told me.
I remember Rishi talking about her first day on the sets of Do Dooni Char when she'd muffed up her lines because she didn't have her specs on. Neetu soon took care of it by going in for laser surgery and dumping her specs. Rishi didn't follow suit; he had no problem donning his glasses.
It's the current Phase 5 with neither Raji nor Rishi by her side that will see Neetu's real steel emerge. There have been flippant reports on how Ranbir should have stayed with his mother after his father passed on. But insiders know that Neetu is neither weak-spirited nor a clingy mother.
She has been cast as a typical Punjabi woman in her comeback film Jug Jug Jeeyo. But believe me, Neetu is more than just a Kaur, Singh or Kapoor.
Bharathi S. Pradhan is a senior journalist and author