The different versions of Freddie Mercury
Rami Malek on playing Queen frontman Freddie Mercury in Bohemian Rhapsody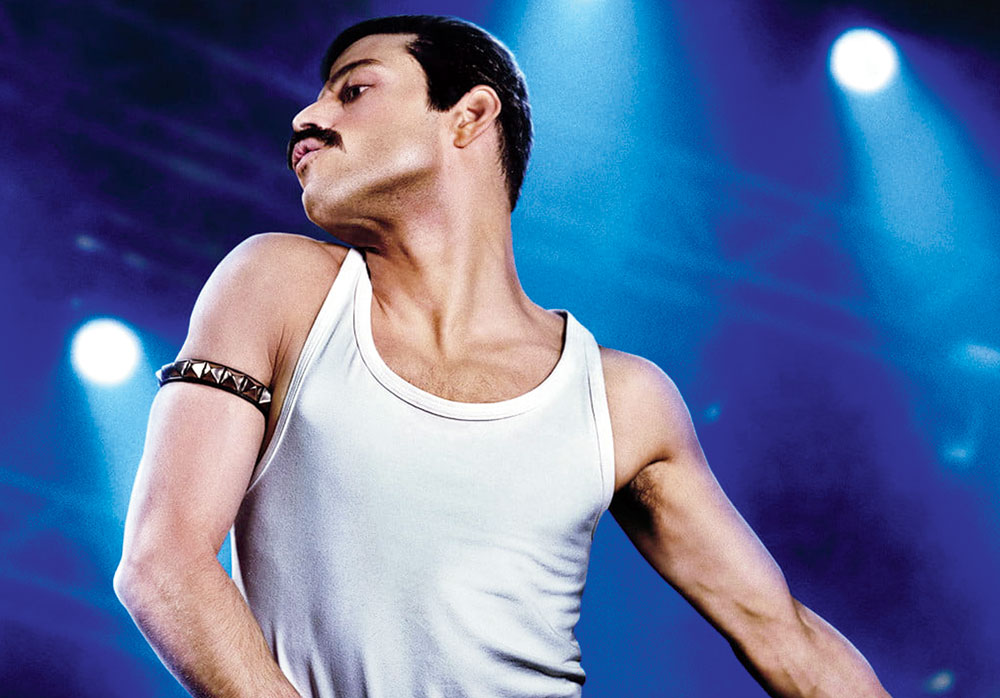 Rami Malek as Queen frontman Freddie Mercury in Bohemian Rhapsody, which releases this Friday
A still from the film
---
Published 11.11.18, 01:42 PM
|
---
Rami Malek steps into the iconic shoes of Queen frontman Freddie Mercury in Bohemian Rhapsody, releasing this Friday. The biopic directed by Bryan Singer attempts to show the man behind the rockstar, chronicling Mercury's life from his early days as Farrokh Bulsara to his death at age 45 as a result of complications arising from AIDS. Malek — who's acted in films like The Night at the Museum trilogy and The Twilight Saga: Breaking Dawn Part 2 — chatted with The Telegraph on being Freddie.
You grew up being a Queen fan. What was your first reaction when you heard you had been picked to play Freddie Mercury?
At first, it was pure shock. As an actor, I don't think there's ever this law of depreciating excitement when things like this happen in your career, especially when you are being asked to play Freddie Mercury!
You've described your acceptance of the part as a kind of 'gun to the head moment'. Considering this is a role to kill for, why would you say that?
It's a moment that halts you in your tracks and it is at once euphoric and thrilling; then there's a hit of the magnitude and of the weight you have to take on with this legendary man who lives in the hearts of so many people and is revered as being one of the most talented artistes of any generation. You can imagine the immense weight of that. Now there's also some ambitious part of me that gets wildly excited and starts thinking about how to begin to inhabit this unique and magnificent creature.
There are stories — from poignant to crazy to painful — about Freddie Mercury's life. What aspect of his life intrigued you the most?
Freddie referred to his childhood as an 'upheaval of an upbringing', so I just started to somehow draw a connection to my own life and being a first-generation American.
What was the high and the challenge of playing this iconic frontman?
Sharing what I got to record, which is a tape of me emulating Freddie, with Brian May and Roger Taylor (Freddie's Queen bandmates) was quite a moment. I thought they had seen it before we met and halfway through our conversation, I realised they hadn't. I had to watch myself, interpreting Freddie for the first time standing between two of the people who know him better than anyone. You can imagine how intimidating that was.
Roger was characteristically cool and reserved and Brian, who I had noticed had been eyeing me up and down, came out with a compliment that I was quite moved by.
What was the most difficult part of the prep you had to go through to play him? You apparently watched his Live Aid performance close to 1,500 times on YouTube!
I had put all of myself into preparing for this, and trying to do this person justice. It gives me chills just thinking about it because he is exactly that, he transforms. It's always Freddie but there are different versions of him, which I think is beautiful. And I think you see that in the '80s, this performer who throws his fists in the air and holds the crowd with the raise of one arm.
In his younger days, he was very fluid and erratic when he was trying to find himself and there was more of a wispy-ness to him. So I started to identify that and worked on the progression of the character in that way. What was incredibly useful was when I started to find a team of people who were going to help me assemble him, essentially.
I remember when we started shooting Live Aid and I said 'Look, what I know about Freddie is that he was not deliberate about what he was going to do on the stage the night before he went on. He didn't think about what his moves would be throughout the course of the next evening when he would be on stage — things happened in the moment depending on the feeling and it was always inspired'.
There's nothing about him that's choreographed. The word 'choreographed' just doesn't even belong close to the name 'Freddie Mercury.' I wanted to find someone who could essentially understand the way he moved and why he moved the way he did. So I found a movement coach. Eddie Redmayne in The Theory of Everything was a big inspiration for me and I studied how he played Stephen Hawking and I said to myself, 'That's not choreographed', and I believe Eddie was working with a movement coach.
I met a few people and then did some work with Polly Bennett, a movement coach. The way Polly worked was fantastic. She understood how to approach this and we began just talking about Freddie's heritage and his youth and how his shyness would be articulated.
Is there a point where the personalities of Freddie Mercury and Rami Malek meet or is he completely different from you as a person?
I began to look through the songs that Freddie wrote and look for the themes that underlined every track, so that through the songs I could understand the man. My thinking was that if you are going to write something so passionately, you are going to draw on some deep emotions. Well, in just the way he would sit on the couch and pick up a cup of tea or the way he would cover his teeth because they were a very unique size. And how that would evolve into things that he could manipulate as he got more comfortable with himself.
It explained for me why he had this kind of ethereal nature to him early on and how there was an evolution to his stage presence and his physical presence, as he grew older. Polly was invaluable in helping me identify that.
We tried to replicate so many things that he did have. All the costumes, his kimonos... some of those we had reprinted. The level of authenticity and recreating all things Freddie Mercury was at a perfect 10.
How do you respond to criticism that the film glosses over the controversial aspects of Mercury's life?
What's the nature of celebrating a life? Definitely not avoiding his death in any way, or what caused his death, which is the AIDS virus. But I think if you don't celebrate his life, and his struggles, and how complicated he was, and how transformative he was, and wallow instead in the sadness of what he endured and his ultimate death, then that could be a disservice to the profound, vibrant, radiant nature of such an indelible human being.
Do you think Bohemian Rhapsody will be a defining film in your career?
Again, a kind of gun-to-the-head moment. The scariest endeavours that I've chosen to take in my life have been the most fulfilling and rewarding.
What's your favourite Queen song?
You know it's too difficult to pick a favourite, but I do really love Brian's Hammer to Fall (from Queen's album The Works). That's a great song. But for me, it would be like picking a favourite child! They are all going to last for a long, long time.
How would you like Freddie Mercury's legacy to be remembered?
Queen's music is a global phenomenon that transcends generational and cultural boundaries. They're timeless.