'Good scripts inspire actors'
Tangra Blues: Post-mortem chat with the film's director Supriyo Sen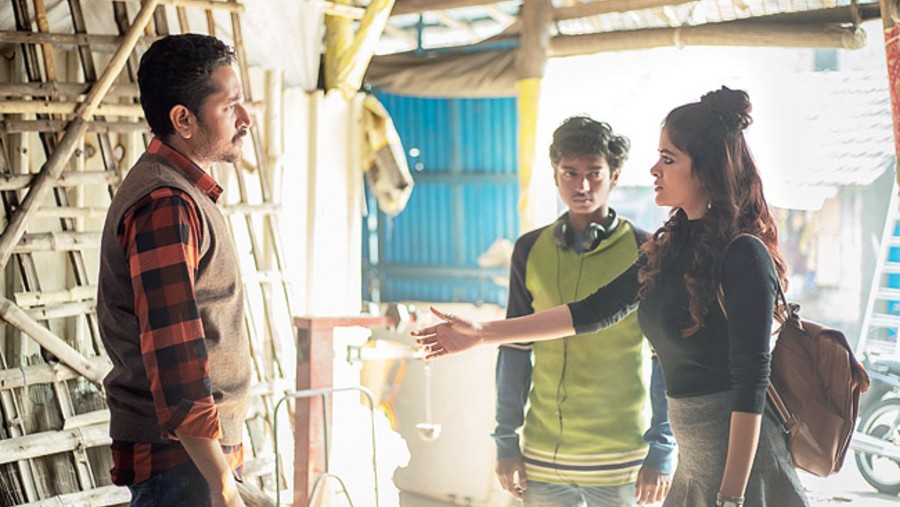 A moment from Tangra Blues, streaming on Hoichoi
Sourced by the correspondent
---
Published 28.05.21, 01:10 AM
|
---
How is the feedback from the audience?
I am getting great feedback from the audience cutting across ages. These days they can directly connect through social media. So they are texting me, writing reviews on their social media accounts, mentioning it as a "brilliant new-age movie", "a major work of our time", "gripping", "thoroughly entertaining", "uprising underdog story", "a brave pertinent film", "a musical revolution", "provided respite in the uncertain time", "a landmark in Bengali cinema", "heart-touching", "soulful" and so on. I have saved all those messages as they are precious. I have also received very good reviews from the critics and film fraternity. Veteran film-maker Shekhar Das commented, "This film somehow connects with Mrinal Sen's aesthetics." Overall I am extremely happy with the response I have got so far.
One of the high points of the film are the locations and the way it has been shot. What were the main challenges of shooting the film?
With its landfill, recycling unites, locked-out factories, upscale housings against the backdrop of star hotels and glittering flyovers, Tangra is a unique space which you cannot recreate anywhere in the world. So I tried to make sure that we shoot in real locations. We opened up an empty factory locked down for decades. On top of it, we had to negotiate with the pandemic situation at every step.
Coming from the world of documentary, what did you have to learn and un-learn to direct a feature film?
My long-term engagement with the medium of documentary really helped in shaping up the look and feel of the film. Finding real locations, combining actors and non-actors, shooting in low or available light with hand-held camera, designing the sound in a very organic way — all these are very close to my own documentary aesthetics. Also cinematographer Ranjan Palit, editor Sumit Das, music director Nabarun Bose, lyricist Pranjal Das, sound designer Anindit Ray and Adeep Singh Maki, colourist Manikumar and production designer Riddhi Basak contributed a lot to achieve this raw, grungy look of the film. What I learnt while making my first fiction is not to wait for things to happen. Every small detail need to be planned beforehand. There is not much space for improvisation on the spot. My associate director Aranyak Chatterjee, Sohini Mukherjee and the "Roadshow" team worked hard to make my maiden journey smoother on the bumpy road of fiction film-making. And I should also thank SVF and Hoichoi in supporting us to tell this extraordinary story.
How did you direct the young actors, like Samiul Alam and Aishani De?
I think a good script inspires actors quite immensely. The kids were quite intelligent and we have taken them through many levels of workshops, which resulted in a commendable performance that you have witnessed in the film. Samiul is a natural talent and Aishani is a great learner, they picked up things very fast and gelled with the non-actors easily. In this context I would also like to mention about the lively performances delivered by Kaushik Mukherjee and other band members of the Sanjay Mondal Group. On and off the stage, they were superb.
How was it like directing Parambrata Chattopadhyay, Madhumita and Rishav, who have delivered lovely performances...
Param and I developed the script together, so he knew what is expected from him while portraying the character of Sanjib Mondal, who is coming from a different class and milieu. Param's love for music helped him to understand the dynamics and dilemma of Sanjib, a band leader. And he delivered with great elan. I think this should be considered as one of his best performances. Madhumita could successfully come out from her "young lover girl" zone in depicting  a character which is going through a phase of depression yet trying to come out of the rut on her own. The way she portrayed Joyee, vulnerable yet upright, down but always ready to grab the second chance, is noteworthy. She looked beautiful as Joyee and matched a veteran actor like Parambrata in many scenes. Imran is a favourite character for me as a writer and Rishav lived up to my expectation with his performance. I am also impressed with Avigyan Bhattacharjee's portrayal of Bapi.
One of the best scenes is the one with Chalu and Pori, as Pori gets into the pool in the evening. There is innocence, sense of wonder and danger, and the thrill of doing something secretly. How did you set up the sequence?
This is one of the most significant sequences in the film when the moment of joy and madness of two teenagers is violated by the rich apartment owners' abrupt intervention. The indignity pushes Chalu to write his first proper rap that rage against societal apathy. Whereas Pori took it as a personal defeat, especially because Joyee witnessed her humiliation. I wrote this sequence out of a memory of my own childhood. There was lot of personal emotions invested in that scene. When I saw them putting adequate flesh and blood to the written words, my eyes moistened. This is why one takes so much pain and trauma to make cinema.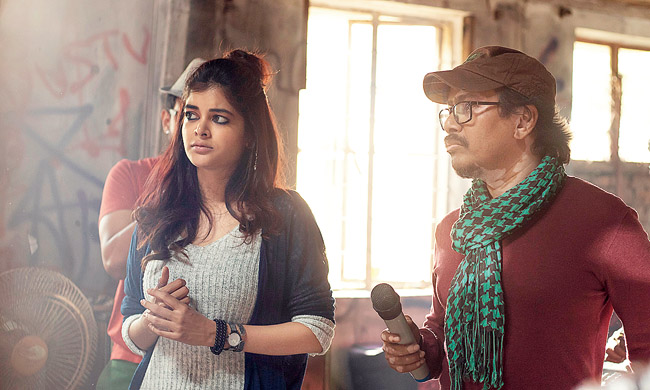 We really don't get to know much about the backgrounds of some of the members. We only get to know about Sanjib and Chalu. So it becomes difficult to enter their world and connect with them. Would you agree? Why was it like that?
I think Sanjib, Chalu and Pori, who are integral part of the band and emerging from the same economical and cultural milieu, represent the whole bunch quite successfully. If you see minutely, we will be able to identify where all the band members live, their livelihood,  the challenges they face as a community and their common dreams. This was a pretty good way of introducing the band within the two-hour span of the film. 
Joyee (played by Madhumita), who escapes the glitz of Mumbai to stay in a posh apartment adjacent to Tangra, becomes fascinated by the performances of a music band. She tries to help, guide, inspire and motivate them. But her work role in the group is not clearly defined or shown. How does she help the band to make the music? 
Joyee has absorbed music right from her childhood. Then she studied music abroad and evolved as a passionate music producer who wants to make her distinct mark in the industry. She works on the idea level like the coach of a football team does. She scouts talents and facilitates to bring out their best at a professional level.
Why was Chalu kept in the dark about his father's death and its details till the very end? Why did his mother not tell him? Or his friends? Everyone knows everything in that area. So if Chalu was in a band with Sanjib, someone could have told him about Sanjib's connection to his father's death. Why was Chalu kept in the dark?
Cyril Murmu's murder was part of a bigger conspiracy. And the masterminds behind the plot made sure people involved kept their mouth shut till someone like Munna is made a scapegoat so that rest are proven innocent in the eyes of law. If we study case histories of political murders we find this pattern. In the story, Sanjib's father might have sensed that his son is involved and that led him to commit suicide out of shame and disgrace. The information of Sanjib's involvement is only unearthed when the transformed man stand against the vested interest. 
The taxi driver in the beginning says that he is really scared to enter that para. He won't go. It is extremely dangerous. But how does people staying in those skyscrapers or plush apartments live there then? Why are they not affected by the violence?
If you ask a taxi driver to take you to Tangra in the late evening, in most cases you will get the same reply as Joyee got. But the proximity to EM Bypass resulted in a real estate boom in those areas. But the hinterland of  Tangra is still full of urban poor living in subhuman conditions, dealing with garbage in recycle units. There is a saying that it is darkest under the lamp. Under the shadow of those big skyscrapers the conflict between the classes is very much on. High-end cars find it difficult to navigate through Tangra roads. I think Chalu writes Ei toh amar desh to draw our attention to these dimensions of the reality.
Also, if you have such influential, rich people staying there, logically they will make sure that they feel safe and see to it that the violence goes down. What is the story logic here?
They build high walls to protect them and their properties but they cannot wipe the 'malice' of poverty and slums as yet. If you visit big cities like  Mumbai, Rio de Janeiro, Jakarta or Mexico City you will find the same scenario. There is an underlying conflict going between highrises and slums. And Tangra Blues is also about this tension between classes, which is palpable in the film. The apartment dwellers need Chalu or Pori to clear their trash, so they cannot get rid of them altogether and violence erupts along these fracture lines. This is the irony of modern urban living.