'Both are survivors, fighters'
Swastika Mukherjee on how Dolly Mehra from Paatal Lok and Dolly Bagri in Guldasta are connected and why it is important to be kind and spread love now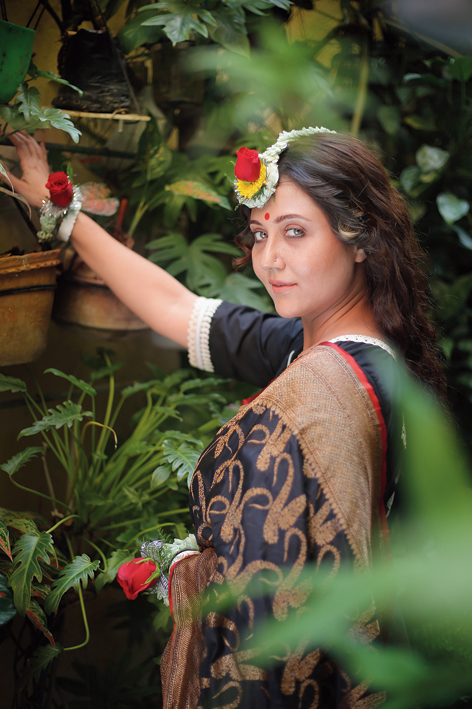 ---
Published 22.10.20, 08:30 PM
|
---
Swastika Mukherjee is getting a lot of praise for her portrayal of saleswoman Dolly Bagri in the Durga Puja release Guldasta directed by Arjunn Dutta. Swastika has made Dolly endearing, and given her a certain degree of grace, warmth and dignity. The Telegraph chats with Swastika...

From playing Dolly Mehra in Paatal Lok to Dolly Bagri in Guldasta... is there a connect?
Both are survivors and fighters in their own way. Dolly Mehra was fighting her own demons and emerged a stronger person while Dolly Bagri is a self-made woman. She is self-dependent. Why do we need validation from everybody? Becoming something for your own self is very important. This point connects both the Dollys. I worked in both Paatal Lok and Guldasta last year, and both released this year.

How did you imagine Dolly Bagri once you read the script?
Dolly Bagri is a saleswoman but she does not remain only that person. Once you let a stranger enter your house, you actually start trusting the person. Also, there is a sense of friendship and dependability. For that, being warm and kind was an important virtue. That is the way I saw Dolly Bagri. She is a woman who is very proud of what she does. And since you, as a saleswoman, is connecting with housewives and male members of the family, you have to be soft-natured and warm. And as an actor, I always feel the smaller things make a mark. Even if it is a teardrop or a flick of the eyebrow... if you can do it at a proper moment, it makes a lot of difference.

And the first thing she asks for is cold water, once she enters a home...She is either walking or taking an auto.
If she visits a house, she prefers having cold water. And that is a luxury for her. My focus is always on the smaller additions that can make a character as real as possible. My head is always working on the subtext and the script that is not written.

You even changed your style of walking. Why did you do that?
Dolly gets tired with all that walking. The moment you are carrying so much of weight continuously for many days, your walk also changes. You get the tired walk also.

Did you have any frame of reference for portraying Dolly?
I observe people. A basunwali used to come to our Golf Club place. In exchange of basun (utensils) they used to get saris. She would talk to my mom; she would come and take rest in the afternoon. She would have tea in the evening and then go home. She came to my mind the moment Arjunn told me about Dolly Bagri. To play Dolly, I wore some of my mother's saris. That's how I keep my connection with her in my work (smiles). I also wore the saris of my cook and domestic help and they were very excited about it (for the faded look).

Dolly is an elderly character...
And I was so happy to do the salt-and-pepper look. As an actor I am happy to pull off things that break the mould. I can play a grandmom also, as long as I am convinced about the character and I really want to do it and it is going to be a stepping stone to the future. If I can portray someone who is so far away from who I am and how I look, it is a credible thing. Also, I wanted to add my freckles, something I am very fond of... I have a lot of them and I keep on enhancing them.
It brings character to your face. Be proud and flaunt it. I feel it is very important that we imbibe this into our work. Of course, it is important to be vocal on social media but then if you incorporate it into your work that makes a lot of difference. It is very important to make these things normal (in the context of the hue and cry on social media over Sujata's bra strap being visible in a poster of the film Tasher Ghawr)... the myth that heroines have to be picture perfect all the time has to be broken. One has to make people get used to things that are normal, and spread awareness.

You are playing a fun, lively character after quite some time.
It was kind of a breather, playing the characters in both Guldasta and Shrimati. I love playing intense characters. The more complicated, the more performance-oriented it becomes. If you are doing it for many years, it can get exhausting and does take a toll on your mental health. For the last five-six years I have been doing very intense characters. I love playing them, people love me doing them... but it is important to balance it out. Dolly is positive, enthusiastic and all about spreading good vibes. That is inherent to her character.

Dolly is someone who spreads joy, alleviates pain and takes care of people. Do you feel we need more people like Dolly in all our lives now, especially in 2020 as we go through life during a pandemic?  
Yes, we are living in a world full of hatred, and Dolly is someone who spreads love unconditionally. She is full of warmth, love and kindness and finds joy in very simple things.

The "pandemic, the lockdown that followed, the realisation of loneliness" form the core of Tasher Ghawr (on Hoichoi). The film is entirely about you. How challenging was it to shoot solo for the film?
It was a huge responsibility. We don't get to see too many works where you break the fourth wall throughout. The camera was my best friend and confidante. As actors, we are not used to staring at the camera and talking to it. My character had so many layers, and everything had to come out through your eyes. There is so much of silence in the film. I had to give these piercing looks that are endearing and captivating and scary. Women at large connected and responded to the film. It was a very important film.

You are also working in films with a clutch of new directors. What does the future hold for Bengali movies?
It's a very healthy environment if a lot of people are working. The competition also becomes healthier. There is variety for the audience. Every director has his or her own way of storytelling. As an actor, it is a huge bonus for me to work with a variety of film-makers. I can explore more characters.