Sudhanshu Saria goes back to his North Bengal roots to a carve a psychological thriller
Saria is the man behind Knock Knock Knock, that's now streaming on MUBI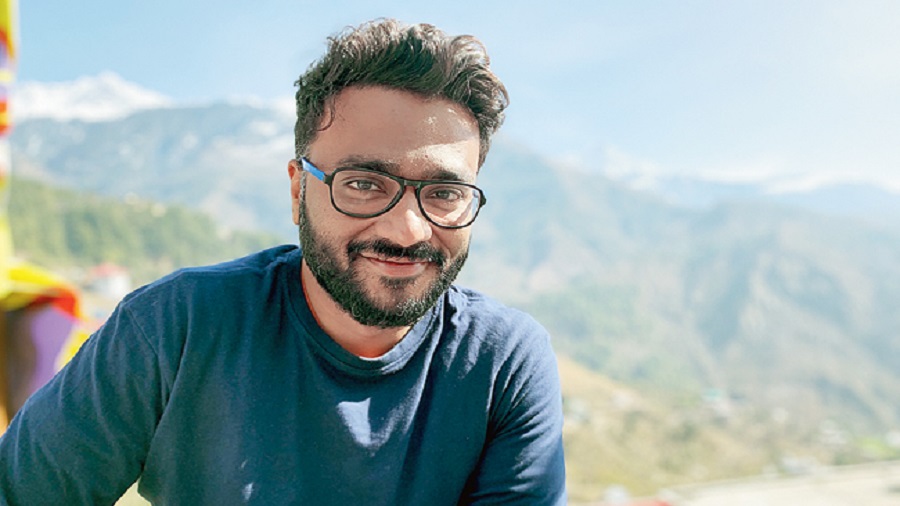 ---
---
I am very proud and thrilled that I finally got to tell a story from my part of the world," Sudhanshu Saria tells us when we dial in. The film-maker, who grew up in the tea estates of north Bengal, is the man behind Knock Knock Knock, that's now streaming on MUBI.
Playing out over just 38 minutes, Knock Knock Knock — that's been acclaimed at international film festivals at Busan and Estonia, among others — is a psychological thriller that charts the unlikely equation between an elderly Bengali man (played by Shantilal Mukherjee) and a young Nepalese boy (Phuden Sherpa). The Telegraph caught up with Saria, who also helmed the much-talked-about Loev, that focused on same-sex relationships, for a chat on going back to his roots and
flying high.

Was the fact that you wanted to tell a story that helped you go back to your roots the starting point for Knock Knock Knock?
A hundred per cent. I grew up in the tea estates, my tauji lives in Ballygunge in Calcutta.... As a kid, I would visit Calcutta every summer  and take a suitcase of  books back to Siliguri. Those are places that I love and know. But it's not very likely that one is able to go back and work in the place one grew up in. For one, it doesn't have the production infrastructure needed... carrying equipment there doesn't make sense unless you are making a Main Hoon Na or a Rajinikanth movie that has budgets of hundreds of crores.
On a film like mine, every dollar that you can save, you do it. I live in Bombay, and so how do I justify telling my producer that I want to go and shoot a film in Darjeeling? They will tell me that if I need a hill station, then I could just go to Mahabaleshwar. How can I explain to them that the identity of these two protagonists — Dada is Bengali and the kid Keta is Nepali — and that setting my narrative in that sub-culture is essential to the politics of my film.  I needed to convey the idea of this man as authoritarian and entitled in a land that doesn't belong to him. He's just visiting, and yet he's in a position of power, while the locals feel like they are not. For me, all the undertones were crucial.
I wrote it, but for a long time, I didn't think it would get made. I have a business background myself and have been a producer for years and hence, I have the right dose of realism to understand that for a film like this to get made, one needs a minor miracle. It's not that I came from a place of entitlement and anger when the idea of shooting this film was dismissed... most of the time I agreed with them given the logistics involved. But then, it takes a long time to find the right person with the right motivation, one who decides to take a risk. I am so glad it finally happened.
Did Darjeeling naturally lend itself to a thriller?
Honestly, I wanted to tell a story about mental health. I wanted to show what it felt like to be out of step with the world, to be a unique person. It's about how the world pushes us into conformity and to fit into its rhythm. How then do you hold on to your identity?
Another aspect I wanted to highlight was ageing. As kids and young people, we are all so receptive and welcoming of new people and experiences. As you grow older, you encounter heartbreak, disappointment and betrayal, and all of this teaches you to become more guarded. By the time you reach Dada's age, you become sceptical of everyone because you feel everyone has an agenda. So the film became a meditation of these two issues.
The thriller bit happened organically. I am an over-thinker, the kind who can drive oneself nuts inside his head without anything happening outside (laughs). That very organically crept into the film.
Also, I want to really point out that Shantida's work in the film is fantastic. I spent almost a month in Calcutta looking for actors for the part and when I met Shantida, I felt like my character had walked into the house. He is such a fantastic actor and I am excited that this film will introduce new audiences to him.  

Was going back and shooting in Darjeeling a nostalgic trip or were you wistful of the commercial changes that have inevitably crept in?
I think I engage with change. It's not that I didn't love what it was, but I always welcome change. I am always fascinated when I go back... I do my same walk on the Chowrasta, I go to Keventer's and Glenarys and Tibet, we would always stay at The Planter's Club.... Keventer's is now bigger, and I engage with that, I like it. I don't have that thing where I want things to not change. In life, I am very persistent about growth,  and so I think that everything should have that opportunity.

The film's been lauded at festivals worldwide. What have the reactions been like?
Oh my god... fantastic! Busan was our world premiere. Because of the film's unusual length, it doesn't fit into any present categories. Busan created a special slot for Knock Knock Knock and screened it thrice. We got packed audiences all three times. South Korea is a country that's strongly invested in mental health and they connected with the film. Also, they connected with Keta... for us, what is a marginalised community is normalised for them. From there, we went to a bunch of festivals... we have played pretty consistently all over the world in the last one year. In Estonia, the festival (Tallinn Black Nights Film Festival) programmed it in a section called 'Homecoming' and my co-directors there were Yorgos Lanthimos (nominated for an Oscar in 2018 for The Favourite) and Peter Strickland, who is one of the best visual artists from England. To find myself in that company of directors felt as surreal as having my film play on MUBI... if you look at the kind of films from around the world that MUBI shows, it's just surreal for me and my film to be on that list.
How did a boy who grew up in the tea estates of north Bengal end up being a film-maker?
Even I don't understand that! (Laughs) Yes, I grew up watching films and have been obsessed with them, but I never thought I would end up making them. I never understood that it was an option. I was in college in upstate New York and would have ended up being a broadcast journalist after a four-year degree, but there I encountered the idea of film-making. And in five minutes, I knew I wanted to do this. But I didn't think I would be able to do it in India. So I spent the next 12-13 years in the US working in the film industry there as producer, distributor and financier and learning the business of the business.
Then the world started to change, all kinds of stories started to be told, the digital revolution came in and the need to subjugate my stories and tell them through white characters didn't feel right. I relocated to Bombay and one thing led to another and I ended up making a few films. But I guess the impostor syndrome never goes away. I feel like I am still in the waiting room, while the real film-makers are somewhere else.
I am just someone on the outside creating a ruckus (laughs).