Subho Bijoya: Kaushik Ganguly and Churni Ganguly hold this family drama together
Koushani Mukherjee, Bonny Sengupta, Kharaj Mukherjee and Manasi Sinha are also part of the ensemble cast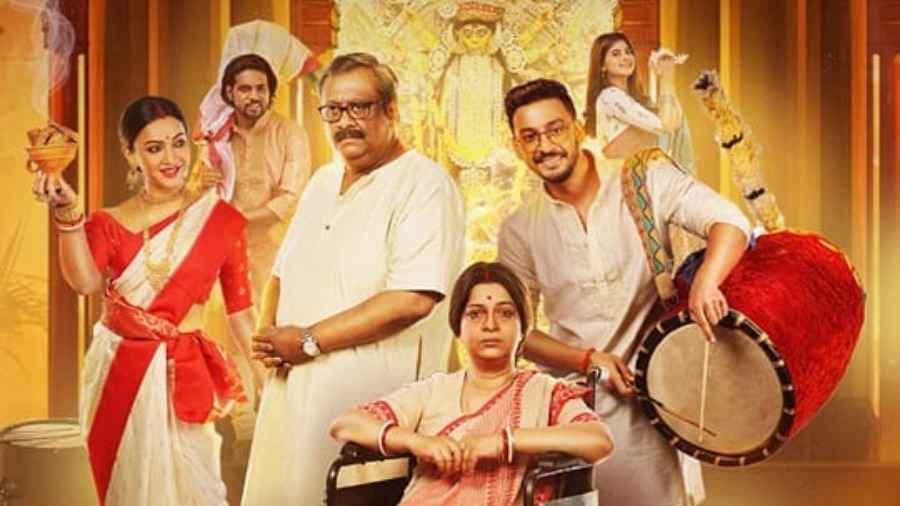 Rohan Sen's second directrorial venture tells the story of an estranged family that comes together for Durga Puja.
Facebook
---
Calcutta
|
Published 05.12.22, 04:05 PM
|
---
Director Rohan Sen in his latest movie, Subho Bijoya, featuring Kaushik Ganguly, Churni Ganguly, Bonny Sengupta, Koushani Mukherjee and Devtanu, gives us dollops of nostalgia by showcasing how the estranged members of a family come together at a time of crisis.
Rohan's last film Aparajitaa, released earlier this year, explored the strained relationship between a father and daughter.
Old wounds reopen at family gathering
Elderly couple Bijoya (Churni Ganguly) and Amartya (Kaushik Ganguly) live in an old mansion in Kolkata. None of their kith and kin stay with them as all of them are too busy with their own lives. Members of the estranged family come together once a year for  Durga puja at their residence. But uncertainty looms large over the autumn festival this year after a tumour is detected in Bijoya's brain. 
Everyone comes home as this might be Bijoya's last year of participation in the celebration. As the family members gather together, old wounds reopen, souring the reunion and drawing long-hidden memories from under the carpet.
Just another Durga Puja movie?
At face value, Rohan's sophomore venture resembles Rituparno Ghosh's Utsab. However, similarities with the National Award winning 2000 drama is only restricted to the premise of a family reuniting for Durga Puja. In Subho Bijoya, the story revolves around Bijoya and her ailment. Writer Anubhab Ghosh has skilfully created the nostalgic charm of Durga Puja in an old-Kolkata bonedi bari. The interpersonal dynamics of the characters could've been better established if the conflicts scratched beyond the surface.
Acting masterclass from Kaushik and Churni
Kaushik Ganguly and Churni Ganguly hold this family drama together. The real-life couple pour their hearts into the portrayal of an elderly couple who care deeply for each other. Kaushik's brooding persona evokes empathy as Amartya battles with the prospect of losing his wife, while Churni slays it as the traditional Bengali housewife who would risk her life than not participate in the farewell rituals of the goddess. 
Veterans shine, new actors show promise
Koushani Mukherjee stands out as the amiable daughter-in-law who rises to the occasion and takes charge after Bijoya becomes incapacitated. She slips into the shoes of a doting daughter-in-law with perfect ease. Bonny Sengupta also displays a range of emotions. Veterans Kharaj Mukherjee and Manasi Sinha have done justice to their respective roles, while young actors Devtanu, Shweta Dey and Sayonima Roy also hold their fort in this ensemble with decent performances.