Stars in her sky
Divya Dutta's book, has a chapter on every name in the film industry that has impacted her life and career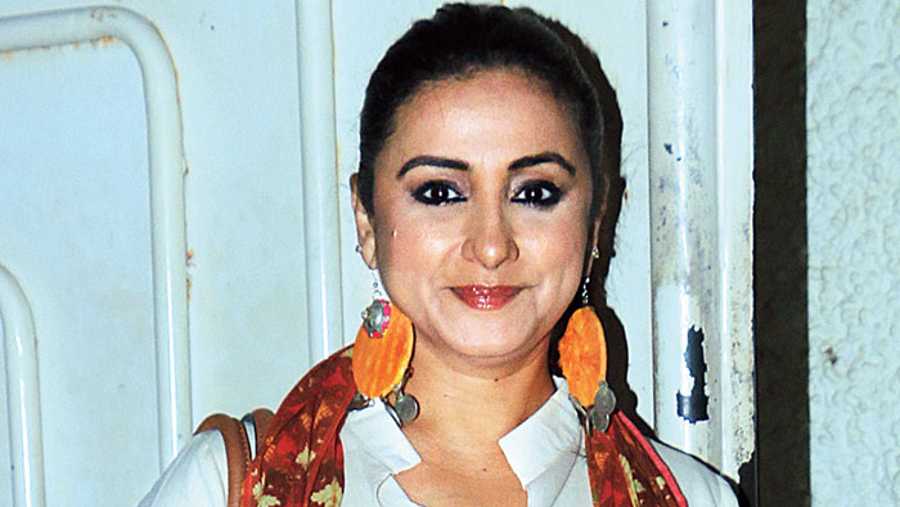 ---
Published 21.11.21, 12:18 AM
|
---
Sit here," said Javed Akhtar, indicating the chair next to him.
"I'm not one of the speakers,"I replied.
"Nor am I," he chuckled. "She is," he added, pointing to Shabana.
Host Divya Dutta overheard it. When you have the man of words himself in the front row, there's no way you wouldn't call him to say "a few words". Divya didn't miss the chance either. On her request, Javed, who has words and wit on instant call, sprang to the dais and said something about how the human brain was an organ that always worked — except when you were sitting for an exam. "I feel like that," he said. He drew spontaneous laughs before saying something snug and warm about Divya. It's a combination that works well when Javed speaks. A touch of humour with a dose of hot chocolate warmth.
This was at the launch of The Stars In My Sky, Divya's second book. Javed had no clue what the book contained but before he went up, he glanced at Page 193 of the chapter devoted to him. "Four pages," he whispered to me with a twinkle in his throat. "I've no idea what she says about me but I'll go by the quantity for now. Quality later."
Divya's readable book, which spares no hyperbole and speeds like an extended acceptance speech at the Oscars, has a chapter on every name in the film industry that has impacted her life and career. There are two separate chapters on Shabana and Javed. Divya has that quality about her — she likes families and films, the two specialities that make her book interesting.
Meanwhile, Javed, as is well known, is the subject of a documentary being made on Salim-Javed, the creators of the angry young man. I wondered aloud if 40 years after the partnership ran aground, he felt the way he would have when Salim Khan and he went their separate ways in 1982.
"I don't recognise that person," Javed said about himself. "When I look back, I wonder, 'Was that really me?'"   
It succinctly summed up how most people would feel when they look back at who they were a few decades ago.
Talking about aeons, it's seven decades since Nargis wed Sunil Dutt but the Katrina-Vicky Kaushal marriage that's due in December has some resonance with the 1958 nuptials. To begin with, like Sunil, the new groom is a full-blown Punjabi munda who loves the beats of a Bhangra and will break into a rambunctious number when he's ecstatic.The bride is of mixed parentage. Nargis was half-Hindu, half-Muslim. Katrina is half-Catholic, half-Muslim.
Vicky, like Sunil, is on the threshold of stardom, the starting pistol has just been heard. Katrina, like Nargis after Mother India, has already touched the peak.
Dissimilarities, too, exist. In 1958, 11 years after Partition, the Dutts had to weather communal tension. Today, quite rightly, nobody raises an eyebrow. Marriage meant pack-up in the Nargis era. That shibboleth is not even debatable anymore — Katrina may have passed her peak but a ceremony in Rajasthan doesn't equate with goodbye to her career.
On the other hand, there is another similarity — the groom is younger than the bride. Kat's birth year is 1983, Vicky was born five years later. The Net contradicts itself over Sunil's birth year. But it is a fact that Nargis was older than him. Because he used to talk about the age difference to me.
But it didn't matter to the Dutts. It doesn't matter to anybody today. Ask Priyanka-Nick or Malaika-Arjun. In fact, friends can't get over how good roly-poly Arjun is suddenly looking after Malaika, the fitness freak who's 12 years his senior, imported a new trainer for him.
To return to Kat and Vicky, Juhu residents, thrilled that the couple has moved into Raj Mahal, a building in their neighbourhood, chatter about how Vicky looks like the "Kat" that's got the cream. Happiness spread all over. As Sunil Dutt often said, "When you're in love, factors like age don't enter the picture."
Bharathi S. Pradhan is a senior journalist and author