Sorry, smoking scene stays: Anurag Kashyap
Anurag Kashyap apologised for causing hurt while refusing to remove a smoking scene from Manmarziyaan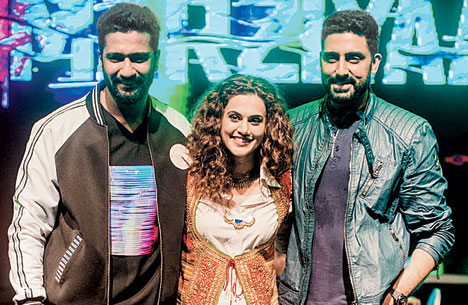 ---
---
Anurag Kashyap on Wednesday apologised for causing "hurt" while sticking to his ground and refusing to remove a smoking scene from his latest film Manmarziyaan that has offended Sikhs.
"I am sorry if anyone feels genuinely hurt but I would also request that please don't make this unnecessary political because it's not. I have always put out things the way they are without an agenda. Technology does not allow us to cut a scene and it affects storytelling. So I definitely cannot do that now. To those whose hurt is genuine, I offer a genuine apology, that wasn't my intention. And for those who are doing it for attention, I am glad you have got the attention," Kashyap, who is abroad, said in a statement on Wednesday.
On Monday, members of Sikh Sangat in Haryana's Ambala held a meeting at the Gurdwara Manji Sahib and sought a ban on the film. Their objection: the characters played by Abhishek Bachchan and Taapsee Pannu smoked, while they are shown as Sikhs in the film. The community members also objected to Abhishek's character Robbie removing the turban in what they deemed is an "inappropriate way".
"The film is not commenting on a community, it talks about individuals and their choices," Kashyap said. He said that the scenes depicting any action related to the Sikh religion were carried out under guidance.
"Every step of the way, we asked for guidance from Sikh people for the film... We were told we can't shoot them getting married (in a gurdwara) as it can't be faked so we made the actors do only 'mattha tekna'. No member of the crew was allowed to smoke inside the houses. When we shot the smoking scene, it was shot on the street and there were close to 150 people watching the shoot," Kashyap said, adding that those watching the shooting were mostly Sikhs and guided them on how the turban was to be removed.