Singer Sona Mohapatra writes about her music mantra in lockdown
And why an artiste needs to have a distinct personality and not follow the herd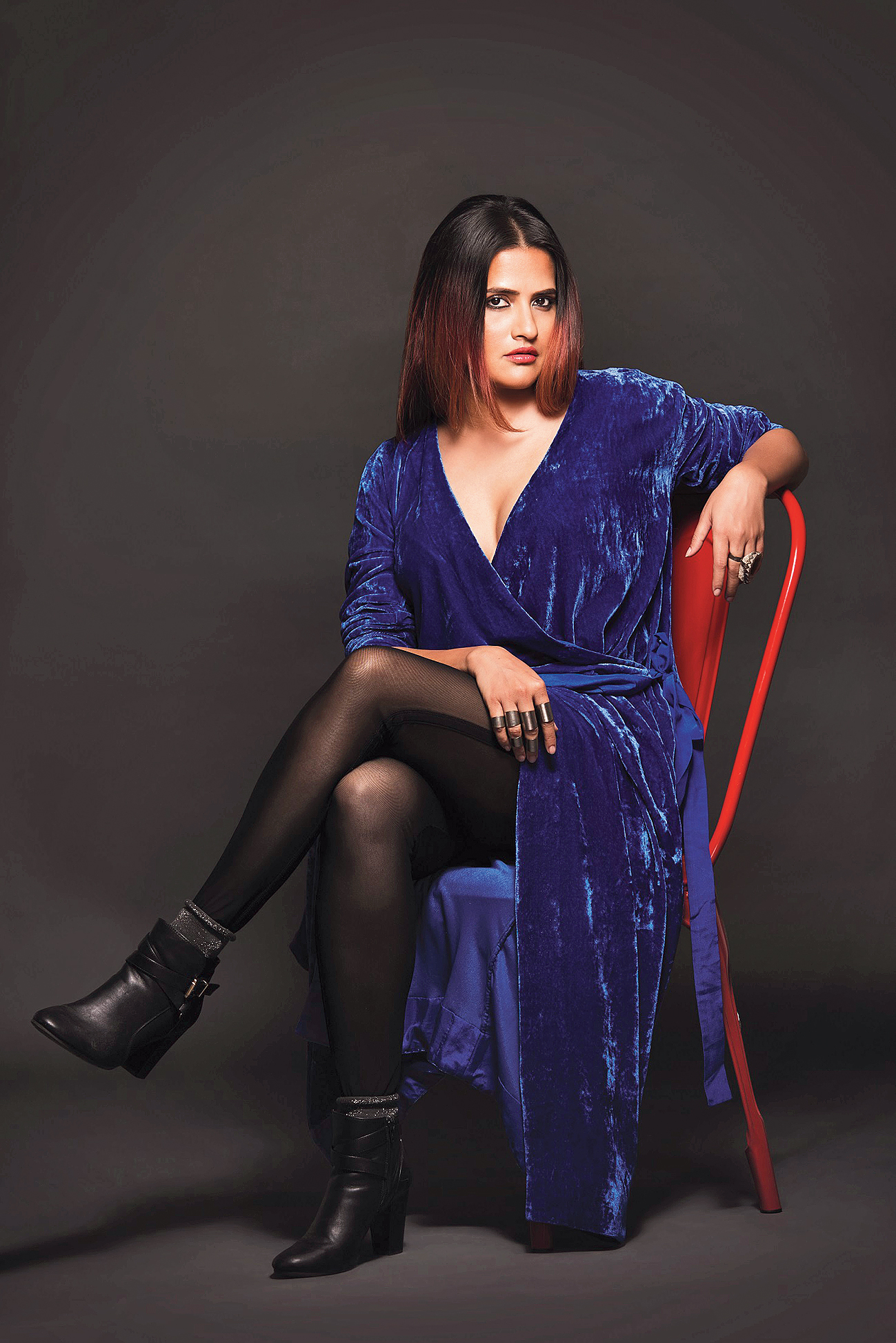 ---
---
Let me share a secret with you. I am a chronic workaholic and I feel deeply unfulfilled if I'm not being productive and utilising every day to its fullest. My family, in fact, jokes about my PQ scores and how I watch those more keenly than my calorie count… PQ being 'productivity quotient'. The silver lining to this whole crazy hectic way of being since childhood is that I thoroughly enjoy being this way and only choose to do everything I love. My favourite hashtag is #LoveMyLife.
But also because of this, I haven't been able to take a meaningful break from work in ages, possibly close to a decade! Even my travels across the world are always linked with work and schedules. So for me, the lockdown has come as a respite from the exertion and 24x7 running around. I genuinely have no excuses left any more. This is an enforced break whether I like it or not. So now, I'm using this time to try and unwind and do things that I haven't done in ages, including cooking, organising and decluttering my home and even doing all the cleaning.
I chose to take social distancing seriously and gave all the house help a much-needed break and sent them home much before the official lockdown started. I haven't regretted it despite having completed over three weeks on my own with my partner Ram Sampath sharing the workload equally. Ram being a brilliant composer and musical scholar, who is an encyclopedia of musical genres, ideas and trivia from around the world, means I get to have some of the most meaningful and enriching conversations and experiences about a common love for music, while being confined at home. So I count myself doubly lucky for this time with him since he is another workaholic who normally does 18-hour days in his beloved Omgrown Music studios for weeks and months on end.
Be your own person
In the last few days, I've been using music to time-travel to various moments in my life... '80s and '90s rock and pop music from the West reminds me of the unbridled energy and excitement of my childhood and teenage years, Prince, Queen, Suzanne Vega, George Michael, Eurythmics, Alanis Morisette, Sting and even David Bowie… and many more. I am listening to these artistes during breakfast every day for a cheery precursor to a workday at home. This has led me to think about why every female pop star in the West is currently wanting to go the Beyonce way and only wear a body-suit/swimming costume equivalent on stage? Some feminists would advocate 'their body, their choice' and then some would say that all this 'self-objectification' undermines all the hard work and progress made for women's rights.
All these debates aside, I just find it boring. So much diversity and such unique personalities came our way from the sartorial trends set by Cyndi Lauper, Madonna, Annie Lennox, Diana Ross, Celine Dion, Gloria Estefan, Tina Turner, Whitney Houston and Janet Jackson among others. No one's face, voice, song, body shape, hairstyle or choice of clothes or accessories looked like the other's. Each woman was unique and that inspired me, growing up, to never follow the herd but to make my own choices and believe in my own roots and identity. Case in point, one of my first self-produced music videos, Aaja Ve, has me in a dhoti, collared shirt with lapels and rolled sleeves with glass bangles and layers of silver chain belts and boots at a time when most of Bollywood was aping the West in their styling choices. I was a trendsetter in 2006. Be it that or the other videos I produced, wearing bajubandhs in Bolo Na, kurtas in Abhi nahin aana, trench coats across New York City in Diljale…. My sari, tied braid with a rose and playing the bass guitar in the Bedardi raja video from Delhi Belly or my face painted in gold and red in last year's release Tori surat, I have felt the need to express myself creatively in all my outings.
Music and me
I have also been listening to a lot of ghazals by Jagjit Singh and thumris by Sipra Bose, Zareena Begum and Girija Devi. This takes me to my more 'mature' phase of artistic appreciation when I wanted to be acknowledged as an adult but was still barely out of my teens. Pandit Kumar Gandharva's voice reminds me of the journeys across India with my Walkman and subsequently disc-man as my sole companion. These were my days as a marketing-brand manager in an FMCG firm where I would have to travel into the hinterlands very often to understand markets and distribution and gather consumer insights.
Kumarji's voice explained everything there is to know about India's infinite heart and compassion. John Lee Hooker connects me to my childhood too, when I heard the Blues for the first time and couldn't get enough of this dramatic storytelling style of music. Simon & Garfunkel's harmonies remind me of when my sister Madhumita and I would sing, The Sound Of Silence at parties and would feel even cooler than the kids who went to convent schools. The late '90s film music reminds me of my extremely eventful engineering college years when romance was a distant dream and surviving the grind was all there was... we would dance to the stupidest, cheesy film songs like 'Kya shirt hai, pant hai, kya mast jeans hai (from the film Anari) and other such songs locked up by 5pm in our girl's hostel, just to feel like a sliver of joy existed in the world! Of course, we happily jumped decades to also dance to songs like Do ghoont mujhe bhi pila de sharabi to Jawaani jaaneman and Raat baaki, Disco station and all other Asha tai's (Bhosle) '80s disco numbers to the music of the Mozart of Madras — A.R. Rahman — like Humma humma and Mukkala muqabla! It's been a whirlwind of memories and emotions these past few days and I have been enjoying calling up many people from school and college and reconnecting with them.
Mixing it up
Another massive change now has been the patterns in which I listen to music. While it was mainly whole albums earlier, it's been mostly playlists now, but I have found myself gravitating back to full-length albums. Besides the music mentioned above, I just reheard Amy Winehouse's Back to Black and Paul Simon's Graceland in one sitting and it was magnificent. There's a certain literary quality to albums that get lost in playlists. I've also thoroughly enjoyed instrumental albums like Cositas Buenas by the flamenco guitar maestro Paco De Lucia and The Sixth String by Ustad Vilaayat Khan saab.
Besides these, the Montreux Jazz Festival has released 50 of their concerts free to the public and these contain gems from my personal favourite, Nina Simone to Ray Charles to Quincy Jones… it's simply unmissable. Apart from the coolest king of them all — Kishore Kumar and his swaggalicious renditions! I consider him my greatest spirit inspiration. I am also a big fan of folk music and have kept an old bunch of CDs from my collection from around the country to digitise them in the coming days and listen in.
Music is my life and also my profession, so I have a very different relationship than that of a music lover. But in the past week, I've reconnected to music at a much more emotional level than I have for a while. I've been able to get back to that sacred place where I'm just a listener who's allowing the music to wash over her.
It's helped me get some perspective on these strange times we find ourselves in. Firstly, I feel deep gratitude for all that life has bestowed on me and thankful for the people who love me. It has also forced me to confront my discomfort with stillness. I'm not averse to being alone but I do have an issue with doing nothing... literally nothing... just sitting with my own thoughts. One afternoon, I actually ended up falling asleep and woke up hoping that no one had 'caught me in the act', only to realise that it's lockdown time! It's taking some time to acclimatise to this new paradigm but the opportunity it presents for renewal is worth pursuing.