Shreyas Talpade on playing Pravin Tambe
The cricketer's remarkable journey of resilience, focus and determination comes alive in the Disney+Hotstar film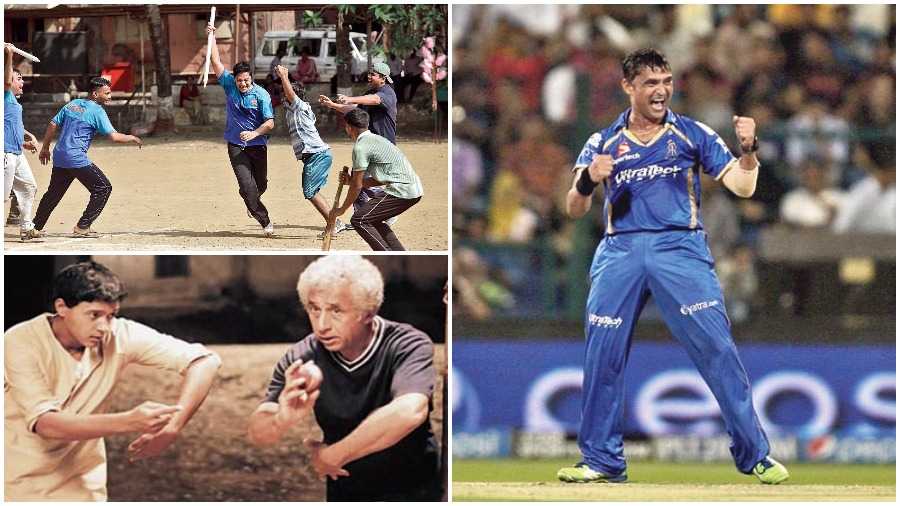 (Clockwise from top left) Shreyas Talpade in Kaun Pravin Tambe?, Pravin Tambe' and Shreyas with Naseeruddin Shah in Iqbal
---
Published 06.04.22, 01:47 AM
|
---
The story of cricketer Pravin Tambe is fascinating. After years of struggle to try and make it as a cricketer, the man from Mumbai made his IPL debut at the age of 41 and became the oldest ever IPL debutant. When he was picked for IPL, Tambe, now 50, had never played professional cricket.
Tambe's remarkable journey of resilience, focus and determination comes alive in the film Kaun Pravin Tambe? Directed by Jayprad Desai and currently streaming on Disney+Hotstar to largely positive reviews, the film has Shreyas Talpade — who made his Bollywood debut with Iqbal, a landmark film on cricket and the power of chasing dreams — playing the title character. The Telegraph caught up with Shreyas for a chat on the film.
What was your first reaction when you heard about Pravin Tambe? Did you know of him before you were offered the part?
When I watched Pravin Tambe play the IPL for the first time, I was like, 'Who is this guy?' He obviously looked like a senior guy, someone who is probably closer to a coach's age rather than that of a player. That's the kind of mindset we always have. Then I was told that he's Pravin Tambe who has debuted at age 41 and is playing for Rajasthan Royals.
When you watch him play, then you realise that age is actually just a number. Look at him play... he's just phenomenal! And I kept wondering, 'What is his story, dude?' And when I heard his story, I was like, 'Arre, yeh toh picture ki kahaani hain!' And then suddenly, out of the blue, I got a call from Neeraj Pandey and Shital Bhatia (the film's producers) that they were planning a film on Pravin Tambe. That got me really excited.
We all know what Pravin Tambe has done after the age of 41, but what happened before that, before he was picked to play the IPL, is also a very fascinating journey. It's dramatic, emotional, thrilling.... That's what people connected with, they feel it's their story. His dream is everyone's dream... whether it's a cricketer, a corporate guy or whoever.
I am blown by this man. He just kept chasing his dreams for the longest time, he never gave up. There were so many obstacles, but his focus, determination and dedication powered him through. I have been a part of a cricket film (Iqbal) with a similar inspirational story. Iqbal was my first film and a fictional story, and now 17 years after that, I get to do a real story and play a real person.
Thanks to Pravin Tambe, I got to play a cricketer again. Otherwise it would have been, 'Arre, satraah saal pehle Shreyas ne cricketer ka role kiya tha... abhi usko coach ke role ke liye dekho' (laughs). But here I am, playing a cricketer again. It's phenomenal! I consider myself extremely lucky.
What kind of prep went into playing this part and what were your interactions with Pravin Tambe like?
He's a very, very simple guy. He can talk for hours on cricket, but ask him to speak on anything else, the responses are all monosyllabic! (Laughs) When Jayprad (Desai, director) and I were prepping for this, we kept some factors in mind. Pravin first used to be a medium pacer before he switched to spin bowling. He was also a batsman... he would play gully cricket, tennis ball cricket and also season cricket. My journey in the film starts from when he was about 20 till age 42. So I had to prep a lot for that part where he was doing medium-pace bowling as a 20-year-old, then a 30-year-old and then a 40-year-old... switching to spin bowling and also batting....
Playing a sport for 50 days at a stretch was difficult for someone like me who, of course, doesn't play regularly. But the warm-up sessions, the practice sessions and the workouts were pretty hardcore.
The most important thing that Jayprad and I discussed was getting the spirit of Pravin Tambe right. We didn't really want to focus on the prosthetics or the hair and stuff like that... we wanted that we should get his attitude and body language right. We wanted to get into his mind. Of course, his relationship with his friends, his wife, his parents, his brother was important, and we wanted to get that right.
Pravin is slightly on the heavier side, and I tried putting on weight. But then we realised that losing weight when he was 20 and then trying to put it back on when he was 40 would be a bit of a task. And so, we thought, 'Why not work more on the spirit of this man?' More than the external factors, what's inside him is what people would be more interested in.
Playing a new character is always tough, especially when he's a real-life person. But it was very, very exciting to play this guy. I have learnt so much from him. As I said, age is just a number. If you really want something and go after it, you will get it, no matter what your age is.
So what's been the secret to Shreyas Talpade not ageing at all? You look the same as you did in Iqbal almost two decades ago!
(Laughs) No, no, I have! Let's not kid ourselves. But yes, I take that as a compliment. I would probably have to thank my parents and the genes they have given me. Also, I am someone who doesn't overthink. I take one day at a time. I have always respected everything that has happened to me in life, whether it's been good, bad or whatever. Even in a tragedy, I always believe that there is something to imbibe and learn from. I try and be happy as much as possible.
Honestly, I have seen my parents look exactly the same for the longest possible time. I have seen them follow one single regimen and the same diet for many years now. I guess that's helped me (smiles).
Did being on this set bring back memories of Iqbal?
It sure did! Iqbal was such a special film, a huge hit and people still know me as Iqbal. When I was shooting for this film, there were so many instances that, in a way, were similar to Iqbal. Both films are about chasing and achieving a dream. There are some things about Jayprad as a director which are very similar to Nagesh (Kukunoor, the director of Iqbal). Nagesh would get into every little thing about how he wanted me to perform. Same is the case with Jayprad. Before a shot, he would come and whisper into my ear and tell me, 'Aise aise karna hain.' That's it! And that would change the whole manner in which I approached that particular scene. Every day was a new day and a new challenge.
What's the way forward for you as an actor now? And will we see you direct a second film after Poster Boyz?
Acting has always been a priority. Direction just happened, it wasn't planned. But I liked the experience so much that I felt like doing it again. Having said that, acting will always take precedence over direction.
While picking parts, I follow my gut most of the time. There have been times when I haven't done it and I haven't enjoyed the process of making that film. That's what it's going to be going forward. Relying on my gut, whether it's a masala entertainer or a content-oriented film.