'She was, is and will always be my definite inspiration because of the way she has led her life and carried herself' — Renee Sen
Happy Mother's Day, ma. You are not only the best mother but also the best father and I am just so blessed and I love you so much! — her message for Sushmita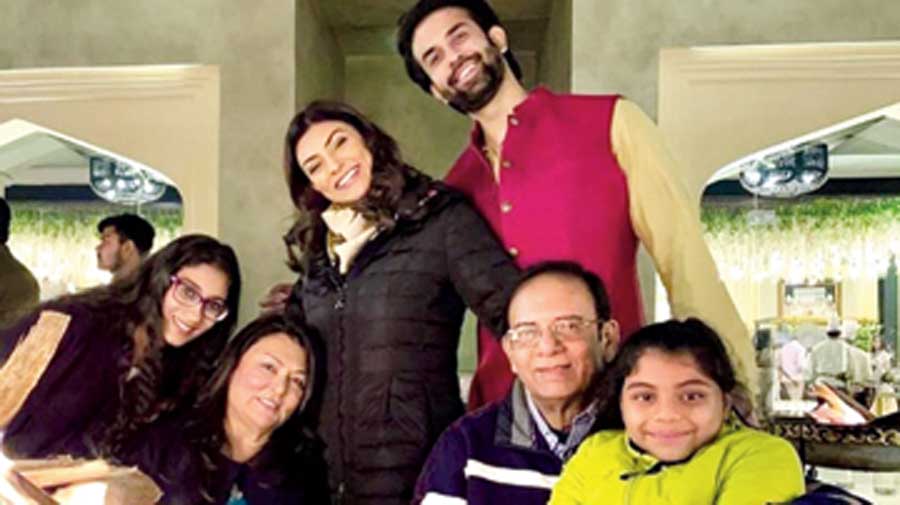 Renee, Sushmita and the Sens down the years
Sourced by The Telegraph
---
Published 08.05.21, 02:28 AM
|
---
Like mother. Like daughter. All of us who have met Sushmita Sen as part of this profession, will have a story or two about the deep imprint she leaves on you. Once you meet her, you feel hers is the only way to be in life. The charisma of confidence and conviction.
When we caught up with her 21-year-old daughter Renee ahead of Mother's Day, we could feel the same poise. Her maturity belies her age and her gratitude so endearing. The lovely Renee told t2 why she feels "blessed" to be Sushmita Sen's daughter. Besides being your mom, what does 'Sushmita Sen' mean to you?
Ma is so strong and she has always been so independent and lived on her own terms. So, there are times when even I am like in awe of how much she does in a day. Her whole journey inspires me and she tells me stories about her life. So, all of those experiences are what make her who she is. She is the most loving, the kindest person. I am just so blessed to be her daughter. So, to me she is a fierce, strong and independent woman.  

She is such an icon and inspiration for so many of us. What do you think are her best attributes, those you have tried to imbibe in your life?
Ma has a lot of amazing attributes that I would love to imbibe because I feel it will make me a better person. She respects time and makes everyone around her feel loved. Whenever she meets someone she will give them all her attention. That makes people feel special. I have noticed people go back meeting her so happy. I just wish one day people will be that happy meeting me.
She is very particular about discipline. My grandfather and great-grandfather were both in the Air Force. So, I think discipline stems from there as well. We have our fun but there is discipline which is amazing. I am just very lucky that she is my ma.
Your mother has shared a lot about your growing up journey with the world. Tell us what it was like growing up as Sushmita Sen's daughter?
I have had a fun childhood, full of adventure. I love travelling with my mom, going to new places. Our favourite is when we go abroad and we speak in Bengali… no one understands what we are saying and we have our little secrets. Ma has always been there for every parent-teacher meeting, every sports day. She has been my biggest cheerleader every time I have had a bad day. If I have a good day or something important has happened in my life, she has been the first one to celebrate it in the most amazing way. Just her presence makes everything so complete.
I feel now that I have grown up, I am closer to her because I tell her everything. I see things in a new perspective after I have spoken to her. Things start making sense once I speak to her. She is my go-to person for everything. When did you become aware that she is Sushmita Sen?
Getting to know who ma is was a natural process. When I was growing up, I would see people coming to meet her and my friends would be like: 'Oh, I saw your mum's movie and she looked really nice'. As I was growing older, I understood what ma does is different from what other parents do. I have to say that we were kept away from the direct limelight of things and I am happy that happened because I got to experience different things. That is also one of the reasons my mother wants us to be grounded and humble and value things.

A lot of us are in awe of the life she has led so far. What has she told you about life?
I think I learn something new about life every day, depending on the situation. But overall I have been taught and told that I must value everything in life. Being grateful is so important. Knowing what you have and valuing it is important. Being good to people is more important than materialistic things. I have understood life is only as complicated as you make it. It can be simple otherwise. So do the littlest of things with lots of love. That will go a long way.

What are your favourite things to do with her? Is she your secret keeper?
We love doing fun activities together and play dumb charades a lot. I love trying out new home-made skincare on her. Or, just sitting and chatting. We love bonding over food. With us we can do our thing, be in the same room and still have fun. We love dancing together and singing on top of our voices. We love working out together. Being around each other itself makes us happy. That's the best feeling.
She is my secret keeper. I always go to her for the best advice. I can feel that. I may be sad about something, but after speaking to her, I am the happiest.

She told us recently that you have always wanted to be an actor, unlike her. Was she the most definite inspiration?
I wanted to be an actor. When we are growing up, we look at our parents and we see the good that they do and we aspire to be like them. Seeing them successful makes us happy. She was, is and will always be my definite inspiration because of the way she has led her life and carried herself. My ma is a very important reason why I wanted to become an actor, but there are so many things and people who shape how we think and what we want to be.

What is your favourite Sushmita Sen film?
There is Main Hoon Na and Maine Pyaar Kyun Kiya, but to be honest, I loved her in Aarya. I became a huggeeee fan. That was a game changer of a performance for me.

Her warmth is unparalleled. Where do you think it stems from?
My grandparents. When ma won Miss Universe, she was 18 and she travelled the world. I feel your experiences make you who you are. Everything shaped her into who she is today. She is the sweetest!

What is your message for her?
Happy Mother's Day, ma. You are not only the best mother but also the best father and I am just so blessed and I love you so much!