Sharmila Tagore talks about her 60 years in cinema
'I think I am a global person. There is a bit of everything in me'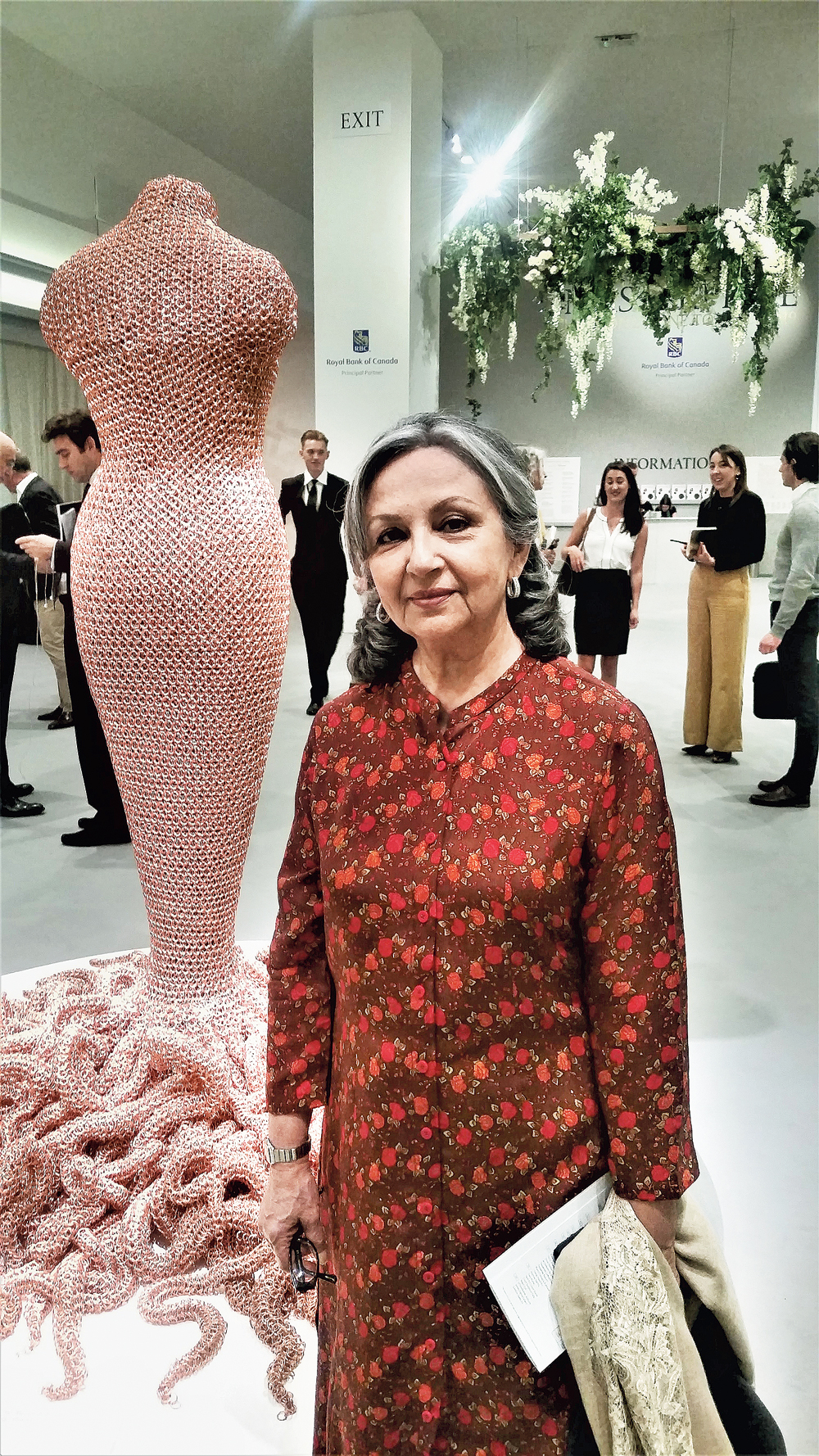 Sharmila Tagore at Masterpiece, an art exhibition in London in June
Picture by Amit Roy
---
Published 19.07.19, 04:33 PM
|
---
Sharmila Tagore, who is not a great one for wallowing in nostalgia, gives only a brief answer when invited to reflect on her 60 years in cinema.
"Very pleasant," she replies. "I didn't get much opportunity to do any comedy except a little bit in Chupke Chupke. But otherwise I think I am quite satisfied. Today I can't speak — my throat is really hurting. What can I say? It's an open book."
She was recently in the public library in Wembley, north-west London, where the organisers of the "Tongues on Fire" UK Asian Film Festival had arranged for Sharmila, now 74 but 13 when she was cast 60 years ago as Aparna in Satyajit Ray's Apur Sansar in 1959, to do a question and answer session prior to an open air screening of her last film, Sangeeta Datta's 2009 English-language movie, Life Goes On.
Sangeeta had given her assessment of Sharmila to The Telegraph: "Through the 60s and 70s Sharmila played a significant part in Ray's middle films (Nayak, Aranyer Din Ratri, Seemabaddha) and also ruled as the top heroine of Hindi cinema. Starting with much older actors like Shammi Kapoor, she forged popular pairings with Rajesh Khanna, Shashi Kapoor and Dharmendra. Through a string of popular films by Shakti Samanta (Kashmir ki Kali, An Evening in Paris, Aradhana, Amar Prem), she won Filmfare and other awards followed by the National Award for playing the part of a sex worker in Gulzar's Mausam. With Hrishikesh Mukherjee she did Anupama and the delightful comedy Chupke Chupke. Later she worked with Amitabh Bachchan in Viruddh and Eklavya."
She was chairman of the Central Board of Film Certification from 2004 till 2011. But as a member of the main jury at the Cannes Film Festival in 2009, Sharmila approved of gritty films (such as Antichrist) which she admitted were not suitable for general release in India.
On this occasion in Wembley, she is wearing an elegant blue and white striped sari which enhances her natural grace and serenity.
At the end, someone wanted to know what lay next for "Sharmilaji"?
"Sharmilaji now wants to travel — doesn't want to work anymore," she responds, jokingly using the third person. "I have been working in films from a very young age. So I am now quite happy to do other things."
In London, which has been a second home for her and her late husband, Mansur Ali Khan ("Tiger Pataudi"), "Rinku" enjoys catching up with friends over coffee and cake, taking in plays and cricket matches.
Is she ever tempted to offer advice to her 23-year-old granddaughter, Sara Ali Khan, the latest member of the family to enter cinema?
"No, most certainly not," she says firmly. "They know much more than us now. I am so impressed by her interviews — I have started quoting her."
There are some quick fire questions and answers.
If she had been given a chance in the 1960s to work with a Hollywood actor, who would she have chosen?
"Paul Newman."
Who were the Bollywood stars she had enjoyed working with?
Despite her sore throat, she offers a fuller answer laced with a mildly wicked anecdote.
"I have very good films with Dharmendra (Devar, Satyakam, Yakeen, Chupke Chupke). And also with Sanjeev Kumar (Mausam, Griha Pravesh, Namkeen). Sanjeev was a very good actor — we worked in Mausam. But he would be terribly late (on set). Other than that he was fun to work with. The only person who was punctual in those days was Amitabh Bachchan."
Talking about Waqt, a 1965 movie directed by Yash Chopra, she recalls: "I was very new then and working with Sunil Dutt and Raaj Kumar, (who were) big people. Shashi and I became friendly during that shooting. I also had to drive a car and I did not know how to drive a car. So we had to fake those shots. Shashi used to be very nervous about that. He said, 'You know I have three children, be careful.'
"I remember going to Nainital, driving with Raaj Kumar and, of course, he used to wear a wig. So he had this roomal tied (round his head) so we could not keep the window down. In those days there was no air conditioning. So we had to suffer because of his hair and (a fear) his wig would come off."
Any regrets?
"I didn't really work with Mrinal Sen — I would have loved to have worked with him."
Her favourite films?
"I like Mausam because the sex worker does not play the victim. I like Safar because she is in love with two people. And, of course, all the Ray films."
Initially, Sangeeta, sitting next to Sharmila, had prompted her to be more forthcoming: "Tell them about your first shot in Apur Sansar."
"Everybody knows," begins Sharmila, before continuing, "My very first shot in Apur Sansar was when Apu has just got married and is bringing his bride home. He opens the door and looks at me — the camera is on the other side of the door.
"When Manikda (Ray) said, 'Start sound, camera, action', Soumitra (Chatterjee) opens the door, looks at me and says, 'Esho, come in.' I cross the threshold and enter a new life, a new place, a new space. What I felt like a new person to face the camera and give my first shot reflected the same emotions and feelings that Aparna, the character in the film, was also feeling.
"I don't know whether he chose that particular shot deliberately but it was very apt. Later, one felt how good of him to choose that particular scene."
Looking back, did she feel she belonged to Bombay or to Calcutta?
"Well, Bombay has given me so much. It has given me so much visibility. I was able to pay my rent — more than that, really. Economically it has been very satisfying. And also (I got) diverse roles. It was a pan-India appeal."
By and by, her appeal became global. After 1994, when Indian nationals were no longer barred from going to South Africa, she visited the country and found Hindi films provided the "only connection with India" for Indian origin people living there. "So look at the rewards of all that. So Bombay was Bombay."
As for Calcutta, she considers the question: "Bengali? It's my mother tongue. Calcutta is where I grew up and working with Ray and Tapan Sinha — these were learning curves. And the Ray trilogy comes among in the best hundred films internationally."
Both Calcutta and Bombay "were very good," she says. "I am Bengali and also lived in Bombay and Delhi. I think I am a global person. There is a bit of everything in me."