Rukmini Maitra on battling Covid-19, her new Bolly film and b'day memories
'One's biggest weapon is mental strength. I truly believe that one can manifest positive energies to heal oneself'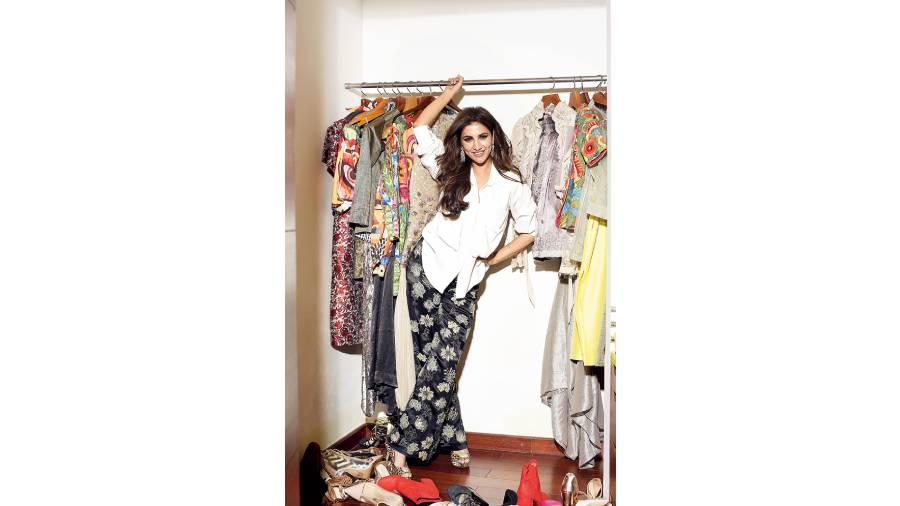 ---
Published 06.07.21, 11:57 PM
|
---
Rukmini Maitra had a modest little birthday celebration at home with her family and a few friends on June 27. "We kept it small owing to the pandemic and Covid-19 protocols. It was private and intimate. Just the way I like it," smiles Rukmini, who is all set to start the shoot of her Bolly film SANAK and the Bengali film Kishmish soon! A candid chat... 
"Birthday on the Weekend! Mood Right Now: I WANT TO BREAK FREE! Raised fist Raising hands. Reality Check: Nope that's not happening. Neutral face *SlowlyTakingHerHeelsOff" — You had tweeted this on June 25! Please tell us the story behind this, from wanting to break free to reality check...
There wasn't much to this post, besides what most of us were feeling at that given point of time. We were amidst a lockdown, and just like any other human being, I was going through a kind of birthday woe, which I even went through last year, just like many of us did. So I just wanted to break free and celebrate with my friends and family as we did before the pandemic hit us. But then again, reality check... ghar pe raho! We can always celebrate once the world heals. It was just another fun post of mine. Trying to churn out some comedy through the tragedy.
What are your favourite memories from a birthday week or weekend?
It had to be the fact that I had my entire family with me this year. It's been three years since I last spent my birthday with my elder brother Rahul who, I hate to admit, I love the most in my life! He lives in Delhi. So he had come down to Calcutta as lockdown was announced in Delhi first. So he, my sister-in-law, my darling niece Amaira, along with my mother, and the blessings of my father from above, this birthday of mine, and I, felt complete.
So how did you spend the day?
To begin with, with lots and lots of food! I literally had a different cuisine at every meal. Starting from Bengali to Mughlai, some Chinese, followed by some Thai! And, of course, every flavour of cake!
Vidyut Jammwal wished you, with a still from the film. What is the story behind that picture?
Aah yes. That was really sweet of Vidyut to do. But to know the story, you need to wait for the film! #SANAK
How's it like working with Vidyut?
Like a breeze. He is extremely easygoing, chilled out. Also someone who appreciates hard work. We are both aware of each other's body of work, and there is a certain exchange of mutual respect and appreciation.
When are you resuming shoot?
I resume shoot for SANAK around the first week of September.
You also stayed in Bombay while shooting for SANAK. How tough or pleasant was that?
Quite pleasant actually! I've always loved Mumbai as a city. It's my second most favourite city in the country following Calcutta. I have both friends and family living there who I've been visiting every now and then over the years. Having said that, this time it was a tad different as I couldn't meet most of them, owing to the Covid-19 protocols, and the fact that I was shooting on set amidst a lot of people. But yes, after three whole months of living in a hotel room, both my mother and I really did long to get back home and eat some simple home-cooked meal. But yes, as I am a water baby, the view of the ocean from my bedroom kept the days flowing easy for me.
You also tested positive for Covid during that time. How did you deal with it?
That was the tough part. No matter what, the comfort of one's home is beyond comparison. Had I tested positive in Calcutta, I wouldn't honestly have felt as low as I did back when I was in the hospital in Mumbai. At the end of the day, one just craves being home. I remember having cracked under pressure once, thinking whether I would survive it. But then I quickly told myself that I was honestly just missing being held by my mother at that point of time, which is the norm when you go through any other illness. But yes, apart from my family and friends, my SANAK team was constantly checking on me to keep me company during the difficult times, and I am truly grateful to them for that.
How was the healing process?
It took time. It took me a good three months to recover fully and get back my full strength. Post-Covid syndrome is not a myth, people do suffer mostly after it, just like I did. I remember getting back on set post-Covid and losing out on my breath after every shot. To regain your strength takes a lot out of you. I would suggest people to just take it easy and not to be too hard on yourself. Allow your body to heal. I feel much better today.
Fears about Covid-19 can take an emotional toll. How does one cope with the stress?
Of course it can! It does. It did on me. And there's nothing to be ashamed of it. The biggest fear is to not know whether I will see my loved ones again. But one's biggest weapon is mental strength. I truly believe that one can manifest positive energies to heal oneself. I would do silly things in the hospital. I would go for a walk in the ward, tell the nurses and doctors which destination I was planning my next vacation to, now that I will hopefully be immune to the virus for the next two-three months... I would blow-dry my hair in my room just to feel good about myself when I saw myself in the mirror. Tell myself that the ridiculous amount of weight I had lost due to Covid is a blessing in disguise, which will help me look leaner on screen. All these were silly superficial things, but at that point I only could turn every negative into a positive to heal my mind and soul, and eventually my body. And that's what I did. And I hope most people reading this do the same. Just try and find a silver lining behind every dark cloud. What is life without a little hope, right?
What's been a big change in your life during this second lockdown?
That I have started working out! Finally! And that's only happened after Covid happened to me. I have truly learnt to value my health and hence I try and maintain a disciplined lifestyle. I don't care about gaining or losing weight, all I care about is feeling strong. And that's what I'm focusing on. Our bodies do so much for us, and it deserves its due. So my eternally lazy self finally decided to do it. Health is wealth. Someone really really wise must have coined that one. So respect it. Did you get to hang out with Dev in the last few months?
Yes, I did. We see each other quite often as he is also my neighbour, hence the easy access. Plus he was present on my birthday as well.
When are you starting the shoot of Kishmish?
I shall start filming for Kishmish from August hopefully and finally! I've been waiting to start Kishmish for so long, as I love the script from the very bottom of my heart. It's a rom-com... something I haven't done before. Plus, it's got a very young and vibrant feel to it. So I'm really looking forward to it. I hope the film hits the sweet spot of the audience, just like the name does.
Rukmini's cover picture credit—
Styling: Sumit Sinha
Photographer: Arnav Guha
Make-up: Sayanta Dhali
Hair: Mousami Chettri
Wardrobe: Peppermint Diva
Jewellery: Chicvi by Poonam