Republic Day: 7 Bollywood films from 7 decades since the Constitution of India came into effect
These films star Shah Rukh Khan, Aamir Khan, Ayushmann Khurrana, Dilip Kumar, Nargis, Balraj Sahni and Dharmendra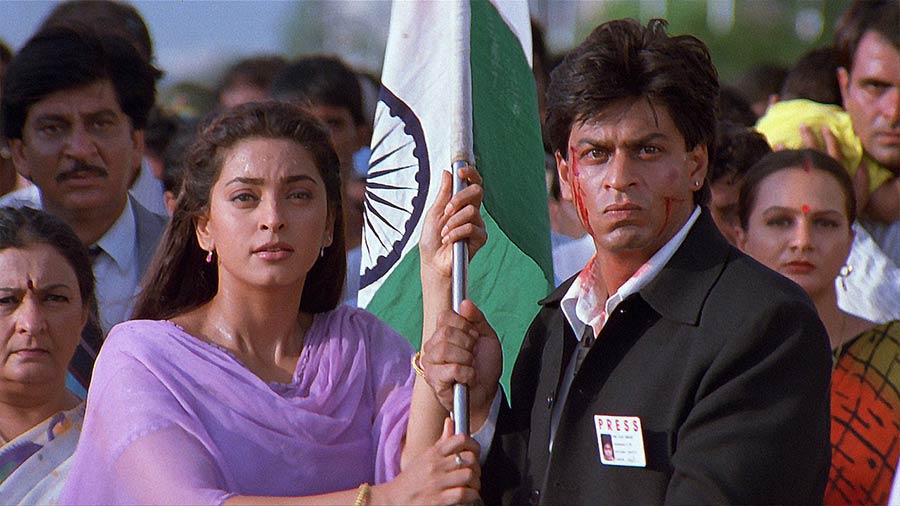 A still from Phir Bhi Dil Hai Hindustani (2000).
IMDb
---
Calcutta
|
Published 26.01.23, 08:08 AM
|
---
From a village woman's fight for survival in the face of exploitation to a bunch of friends protesting corruption by taking up arms, here are seven Bollywood films that go beyond the cliched representation of India and dive into the state of affairs since the Constitution of India came into effect in 1950.
Mother India (1957)
Mehboob Khan's epic drama Mother India deals with the immediate aftermath of Indian Independence. Starring Nargis, Sunil Dutt, Rajendra Kumar and Raaj Kumar in key roles, the movie, which was a political allegory and a commentary on contemporary society, shows how the fabric of the newly independent nation is in tatters after years of exploitation and deprivation.
A remake of Khan's earlier film Aurat (1940), Mother India presents the story of the nation, embodied by a village woman named Radha (Nargis), who struggles to raise her sons and survive against a cunning moneylender. Mother India went on to become a superhit movie and the first Indian film to be nominated for the Academy Award for Best International Feature Film in 1958.
Haqeeqat (1964)
The 1960s were mostly defined by the war between India and its neighbour China. Chetan Anand's National Award-winning war drama Haqeeqat captures the essence of the Indian army's valiant efforts despite being poorly equipped to fight against a stronger adversary. 
Starring Dharmendra, Balraj Sahni, Priya Rajvansh, Sudhir, Sanjay Khan and Vijay Anand, Haqeeqat is based on the events of the 1962 Sino-Indian War, particularly the battle of Rezang La in Ladakh. It tells the story of a small platoon of Indian soldiers who desperately fight against a superior Chinese force. Haqeeqat is considered one of the greatest war films ever made in India and depicts the horrors of war without sugarcoating its atrocities. 
Roti Kapda Aur Makaan (1974) 
The 1970s was one of the most politically turbulent decades in the history of the country. Released a year before the Emergency, actor-turned-director Manoj Kumar's 1974 action drama Roti Kapda Aur Makaan chronicles the struggles of a family to make ends meet.
Featuring an ensemble cast of Manoj Kumar, Amitabh Bachchan, Dheeraj Kumar, Shashi Kapoor, Zeenat Aman, Moushumi Chatterjee and Krishan Dhawan, Roti Kapda Aur Makaan follows the life of Bharat (Manoj Kumar). Unable to land a decent job despite being a graduate, Bharat starts working for a criminal. However, he feels the pangs of conscience and looks for redemption.
Kranti (1981)
Directed by Manoj Kumar and written by Salim-Javed, the alternate historical drama Kranti, released in 1981, features an all-star cast of Dilip Kumar, Manoj Kumar, Shashi Kapoor, Shatrughan Sinha, Hema Malini and Parveen Babi. 
Set in the mid-19th century, Kranti follows Sanga (Dilip Kumar) who forms a team to fight for the freedom of the country. The film depicts India's freedom struggle by portraying freedom fighters as superhumans. It became the highest-grossing film of the decade and is now regarded as a cult classic. 
Phir Bhi Dil Hai Hindustani (2000)  
Although released at the beginning of the new millennium, Aziz Mirza's satirical drama Phir Bhi Dil Hai Hindustani, starring Shah Rukh Khan and Juhi Chawla, captured the country's growing obsession with satellite television and political corruption in the latter half of the 1990s. 
Shah Rukh Khan plays a successful loudmouth TV reporter-cum-presenter named Ajay Bakshi who is fighting with another reporter, Ria Banerjee (Juhi Chawla), from another channel for TRP. However, a particularly sensitive case makes them realise the state of corruption in the country and the media's role in it. Phir Bhi Dil Hai Hindustani shows the power of television news channels to influence and shape public opinion.    
Rang De Basanti (2006)
Rakeysh Omprakash Mehra's politically charged drama Rang De Basanti stars Aamir Khan, R. Madhavan, Siddharth, Atul Kulkarni, Soha Ali Khan, Sharman Joshi, Kunal Kapoor and Alice Patten. While the movie sends a powerful message about the need for a shake-up, it is also an ode to friendship and sacrifice. 
Rang De Basanti follows a British film student travelling to India to make a documentary film on five freedom fighters of the Indian revolutionary movement. She befriends and casts five young men in the film, which inspires them to fight against the corruption of their own government.
Article 15 (2019) 
According to the Constitution of India, Article 15 prohibits discrimination on grounds of religion, race, caste, sex or place of birth. Anubhav Sinha's 2019 film Article 15 examines how the reality is quite different from this ideal. 
In this crime drama written by Gaurav Solanki, Ayushmann Khurrana plays young IPS officer Ayan Ranjan, who is the ASP of Laalgaon. He sets out to investigate the murder of three Dalit girls and gets trapped in a murky world where a person's worth is determined by their birth and rank in society. Article 15's supporting cast includes Nassar, Manoj Pahwa, Kumud Mishra, Isha Talwar, Sayani Gupta and Mohammed Zeeshan Ayyub.