Ranveer Singh shines in Jayeshbhai Jordaar, giving the everyman a voice of reason
The plot unfolds in Gujarat where Jayesh's pregnant wife Mudra is under tremendous pressure to deliver a son, a male heir.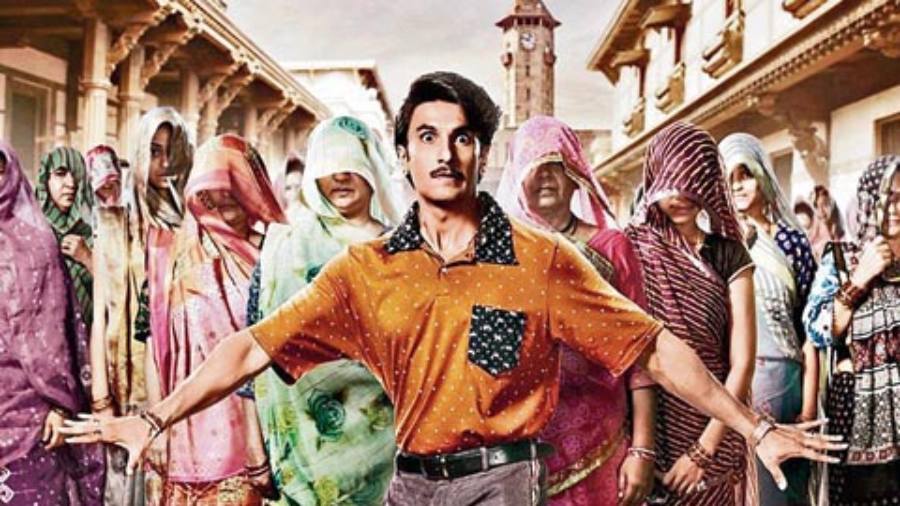 ---
Published 14.05.22, 02:17 AM
|
---
First-time director Divyang Thakkar's Jayeshbhai Jordaar opens with bold and colourful fonts. And, as you recline into your movie theatre seat, you have a feeling it's going to be a fun ride. After a couple of hours, that's exactly the sentiment. Jayeshbhai Jordaar is a breezy watch with zero preaching, but has its heart in the right place.
The plot unfolds in Gujarat where Jayesh's pregnant wife Mudra is under tremendous pressure to deliver a son, a male heir. She's already had six abortions in her nine years of marriage. The meek and mild Jayesh is the first one to know that this time too it's ' Jai Mata Di' — an euphemism for a girl child — and he starts planning an escape route to save his wife and his unborn daughter. In a scene he tells Mudra that he has been a part of nine murders, but no more. Jayeshbhai Jordaar captures the twists and turns of this escapade and you invariably cheer for the golden-hearted crusader.
Female infanticide, the obsession with a male child, the shackles of generations of brazen patriarchy, deep-rooted superstition... Jayeshbhai Jordaar touches upon it all, in the garb of humour, never making it suffocatingly heavy. The scene where Mudra's goon of a father-in-law is chasing her through the fields, captures the menace of patriarchy, but the way it has been shot only ends up ridiculing this false bravado. Or, the time when he intends to commission a search party for her but can't find a picture of her's without a veil. Veil and its blowing off in the air, time and again, is a leitmotif in the film and one that speaks of the oxygen called liberation. Irony lies in the fact Jayesh doesn't feel safe in his own home and looks up for safe places for women on the Internet. Funnily, the search engine is called Sarala. Women do really have the solution to pretty much everything!
Ranveer Singh is the beating heart of Jayeshbhai Jordaar. He is the husband all of us would want. Loving, understanding, caring and protective, Ranveer makes Jayesh oh-so-lovable and relatable. He is scared of his mighty dad, but does whatever he can to stand by the woman he married. Er, was married off to. Almost as a kid. He has a nine-year-old daughter with her, Siddhi, but they have never kissed! She is so heavily weighed down by the expectations of a male child that she's hardly had the time to fall in love with Jayesh. The love, however, is there for all to see. The way he looks at her... aww!
He teaches her how to drive a car, a skill that comes handy later in the film. Or, steals soap for her. Yes, soap is kept in the safe so that women don't smell well to arouse the men! 
Jayesh's helplessness, his desperation are all aptly portrayed by Ranveer. He talks a lot through his eyes. The body language and the voice modulation is pitch perfect. Watching him after 83 where he brought Kapil Dev to life, Ranveer is probably walking home with more best actor awards. An absolute joy to watch, Ranveer is the livewire of this film as he is off the screen too, most of the time.
Shalini Pandey who makes her Hindi film debut with this film, plays the vulnerable Mudra assuredly. Jia Vaidya, who plays nine-year-old Siddhi, is sparkling too. She makes the precocious child lovable. Veteran actors Ratna Pathak Shah and Boman Irani are perfectly cast as Jayesh's parents.
Puneet Issar plays the muscled sarpanch of Ladopur, where due to female infanticide there are no women left. The men long for the blessing of the 'she' and manifest it in naming the village after 'her'. It is to this village that Jayesh plans to escape to. When Puneet Issar meets Siddhi and hands her the mace, any '80s child will be transported to the superhit Mahabharat which was produced by B.R. Chopra, Aditya Chopra's uncle. Jayeshbhai Jordaar is a Yash Raj Films production. Issar played Duryodhana, the champion of the mace.
You hum out of the hall singing the catchy Firecracker, a smile on your lips and blowing lots of kisses.
Jayesh and Mudra do fall in love, eventually. Or, rather are freed of the burden of expectations to find time for the love that was bubbling underneath.
Kiss. Pappi. Love comes under a huge umbrella, but conquers all.
Jayeshbhai Jordaar (u/a)
Director: Divyang Thakkar
Cast: Ranveer Singh, Ratna Pathak Shah, Boman Irani, Shalini Pandey, Jia Vaidya, Puneet Issar
Running time: 124 minutes