Ranjan Ghosh's Mahishasur Marddini is a layered look at gender violence through the lens of mythology
Starring Rituparna Sengupta, Parambrata Chattopadhyay, Saswata Chatterjee and Shaheb Bhattacherjee, Mahishasur Marddini is running at cinemas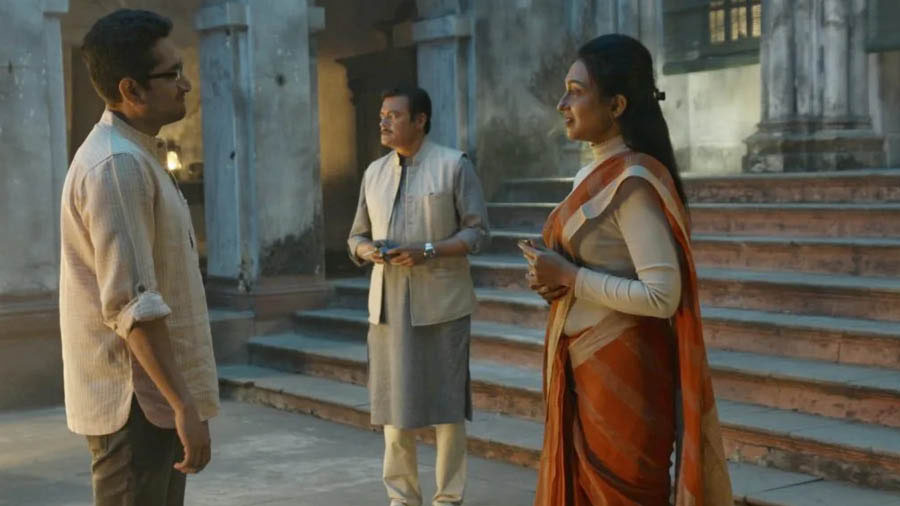 Mahishasur Marddini, directed by Ranjan Ghosh, has rereleased at the theatres.
Facebook
---
Calcutta
|
Published 02.01.23, 01:11 PM
|
---
After a brief stint in theatres in November last year, Ranjan Ghosh's Mahishasur Marddini, starring Rituparna Sengupta, Saswata Chatterjee, Parambrata Chattopadhyay and Shaheb Bhattacherjee, returned to the cinemas last week.
The metaphorical drama resorts to a retelling of mythology to touch upon the theme of gender violence. The film is presented in the form of a seven-act play. The characters, the performances, the dialogues, the staging, the use of props, the lighting and the shot-taking have all been arranged to assimilate elements of theatre into the language of film. 
Ghosh has made a marked departure from his earlier films like Hrid Majharey (2014) and Ahaa Re (2019) in Mahishasur Marddini. While his previous directorials were set on a large canvas, Mahishasur Marddini plays out in the thakurdalan of a derelict mansion in the city. 
Mahishasur Marddini brings together a diverse group of characters under one roof on the night before Sashthi in the house owned by Madam (Rituparna Sengupta), an Air Force pilot. She wears an ironed-and-pleated sari with a wrist-length blouse — a prim and proper look that hints at her social status. 
Four young students — two boys and two girls, also from privileged backgrounds — live in the house with her, as tenants. They are excited about the Durga Puja festivities but the news of the gangrape and murder of a deaf-and-mute village girl in the locality puts a damper on their fervour. 
Madam, who is set to start a stint as an astronaut, receives visitors throughout the night — some expected and some who drop in unannounced – who are here to say goodbye to her before she flies away for the space mission. 
Among the motley visitors are an Army jawan (Shaheb Bhattacherjee) who suspects his wife of infidelity; Madam's ex-flame (Saswata Chatterjee) who had once hit her in a fit of rage; and her brother (Parambrata Chattopadhyay), an election strategist who was once a silent witness to the gangrape of a tribal woman by upper caste men.
Every character in the film has a murky past. Around a bonfire, they pontificate over social evils. The news of the violence puts them in flashback mode, as each remembers how they themselves have committed acts of violence or have been complicit in abetting violence against women. 
Ghosh draws upon the 2012 Nirbhaya incident to address the issue of violence on women, constructing a narrative that hangs between reality and allegory. With mythological characters underlining the drives and motives of the characters in the film, Mahishasur Marddini portrays how gendered violence continues to hide itself behind an apparent liberal outlook and social privileges.