Rani unplugged
Rani's mindspace — from her December film Mardaani 2, to why it is important for women to tap the Shakti in them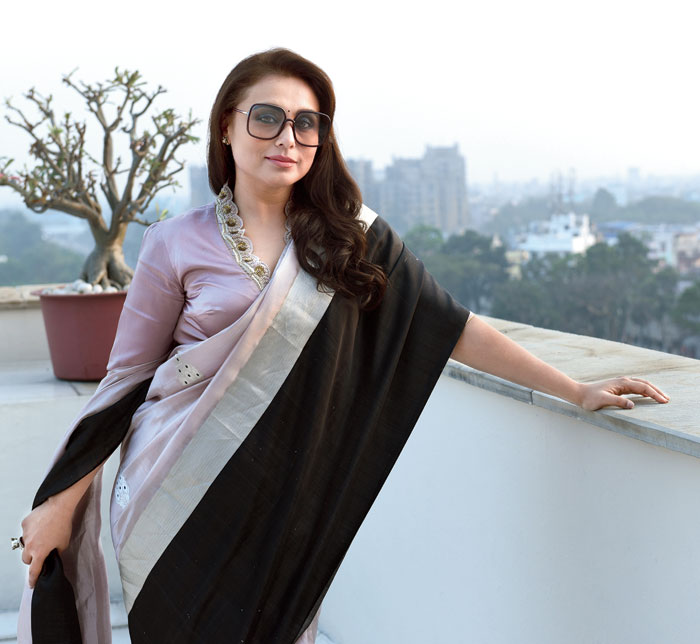 ---
---
A Team Telegraph meeting with Rani Mukerji isn't complete without us walking in with her favourite chocolate cake. That's exactly what happened earlier this week when we landed up at the actor's suite at Hyatt Regency Kolkata for a chat with her.
Dressed in a Raw Mango sari and sporting a pair of cool indoor glares, Rani was her usual warm self, her smile turning into a squeal when she spotted us trooping in with a Mardaani 2-themed cake, with her character of top cop Shivani Shivaji Roy perched on it. "You guys always get me such wonderful cakes! I love this!" laughed the 41-year-old stunner, holding up the cake, courtesy Paris Cafe.
Time for us to get chatting with the 'mardaani' — on screen and off it — on her December 13 sequel to the 2014 hit Mardaani, what me time with daughter Adira means to her and why Rani calls herself a 'first-generation dinosaur!'
Priyanka Roy (Team t2oS): It's quite a short trip this time…
Rani Mukerji: What to do, I am a mother, na! I just spoke to my daughter (Adira) and she asked me, 'Mumma, when are you coming?' I told her, 'I am coming before you go to bed'. So, I have to rush…
Priyanka: Is she cool to stay the day without you around?
Rani: Yes, she goes to school and is back by 1pm. Then she goes to the office (Yash Raj Films) and to my husband (Aditya Chopra). She roams around there and plays with everybody. She's the queen of the office. If she feels like going to the park, then she does or else comes back home. She then has her dinner, changes, takes a bath and then it's bedtime.
Saionee Chakraborty (Team t2oS): So, she's the real 'rani'?
Rani: Yes, she is the real queen… definitely the queen!
Priyanka: We definitely would like to see more of you in Calcutta…
Rani: When I come next time, I will bring my daughter along because then I will be able to stay for more time. Since the time she was born, I haven't spent a single night without her. I don't do that yet. When she grows up a little more, I will probably try and achieve that as well. But now, I get a little nervous.
Priyanka: Are there any Bengali things that you miss doing in Mumbai or do you get to do them anyway?
Rani: A Bengali anywhere in the world is a Bengali! When I first told my daughter that, 'Babu, I am going to Calcutta tomorrow,' she said, 'Okay Mumma, just get me my rasgullas and sandesh. So, that's all packed! I can't enter the house without rasgulla and sandesh!
Priyanka: We loved Mardaani and from the trailer, Mardaani 2 seems like a level up. Does it get a little darker this time around?
Rani: We wouldn't have done Mardaani 2 if we couldn't come up with content that we thought would give more credibility to this franchise. Mardaani was loved so much and the subject of child trafficking was so relevant that it touched a chord. As parents you do go through that anxiety… there are a lot of question marks about what society we are living in today. We need to be aware of the evils around us. Though everybody wants to believe that we are in a society where everything is hunky-dory, the reality is different. We are getting to see that side of society which, when I was growing up, wasn't heard about that much. It's the kind of talk that schools are having today with kids… awareness is growing.
Mardaani made people aware that child trafficking isn't something that happens only at the borders. It happens in cities, too, and you can have a person next to you committing that crime. It can happen outside schools, colleges or you could meet a guy on the Internet who could take you for a ride. As a girl, as a woman, you need to be aware of this. And once you are aware, you are actually half-safe. But if you turn a blind eye, then it's scarier.
With Mardaani 2, the whole idea is to come up with a social menace that exists in our society. And we want to make girls, children, women, aware. It's not a chest-thumping-woman-kind-of-sentiment film. It's also a film for men. I truly believe that men are equally disgusted when they hear about cases of rape or torture on women. They are equally appalled and angry.
But then there are some men who think, 'What's the big deal?' For them it may just be a touch or a catcall, but for a woman it's much more than that. With a film like Mardaani 2, we want them to think, 'Whatever I did was wrong'. Films like these start a conversation.
I believe that we are all descendants of Shakti. It's definitely true for Bengalis because we are brought up worshipping Durga who kills Mahishasur. We see that imagery right from childhood and pray to that. Bengali women, somewhere, get that power naturally. I can't explain this to non-Bengalis but Bengali women will understand what I am saying. There's an innate power in us from childhood and we feel it when we grow up even further… that nobody can mess with us. I tell women to tap that Shakti in them.
Saionee: The trailer fills one with rage. How did you channelise that anger into your performance?
Rani: You will see it in the film. I can probably have this conversation with you after the film releases.
Saionee: Was there a feeling of helplessness each day on set?
Rani: That's there. And that's the reason I choose to do a Mardaani over something else. As an actor, if I am getting an opportunity in a film to be able to bring in a message, in an entertaining format, and guide women in a way where they are a little more aware of the situation around them, it's win-win for me. And when the film does well, which I am hoping it will, I get the confidence that if that many tickets are being sold, many women have seen it.
(Rani asks for some water and is handed over a copper bottle)
Rani: Main Bombay se paani laayi hoon. Amaar ekta fetish aachhey je baarir jol chhara aamar hoy na. Nowadays, it has become difficult because I can't travel with water…
Pramita Ghosh (Team t2oS): What happens when you are travelling abroad?
Rani: Then I suffer! (Laughs) When the taste of my water changes, something happens to me. I have a problem with drinking water, so I have now come to the conclusion that I can drink home water really well. Otherwise, it's a torture! (Everyone laughs)
Saionee: Is it some special kind of water?
Rani: No, no, baarir jol. Baarir jol khetei hobe!
Pramita: For Mardaani, you had trained extensively in martial arts. How did you have to push yourself, physically and emotionally, for this film?
Rani: Physically, this was more about natural combat. Here, I am dealing with a 21-year-old nemesis. So, you don't need martial arts, na … it's just the basics. Just chapkaano! (Laughs)
Nandini Ganguly (Team t2oS): Given that you have now played her twice, is Shivani Shivaji Roy one of the characters closest to you?
Rani: Mardaani was different because I was playing a crime branch officer and the challenges were very different. 
I was in civil clothes and wasn't recognised as a police officer on the road. I could move around and blend in. In Mardaani 2, I play the superintendent of police… I am the SP in Kota. With the uniform, there are certain changes that come into your body language, so obviously there is a little change. But emotionally, Shivani is the same. She has the same no-nonsense attitude towards crime. She is still very fearless.

Pramita: What makes a...?
Rani: Bong? (Everyone laughs) Some Bengali food and genes!
Pramita: What makes a woman 'mardaani'?
Rani: I think we all are, in a way. Every woman who stands for herself, who stands against wrongdoing in society. All the women in uniform... air force, navy, police, army... they all do their jobs incredibly, though less credit is given to them. Through the Mardaani films, at least I am being able to showcase them in the daredevil way that they actually are.
Saionee: If you were the mother of a young, adolescent boy, what would you tell him about women?
Rani: Worship women. Respect women. I think teaching of a boy starts at home from the mother and, of course, the way the husband treats the wife… that's what children see. So, if he sees his father disrespecting the mother, that is what he is going to learn. It also starts with your husband respecting you and talking to you in a tone that is not derogatory. All these things matter when you are bringing up a boy child, because girls naturally learn that. But boys need to be taught how to respect their mothers and sisters and when that happens, I think we'll see a huge change in our society.
Priyanka: A certain fearlessness has always defined all the characters you have played. Do you naturally gravitate towards such strong, shero roles?
Rani: I think so. I think my personality as Rani overtakes my personality of an actress at times (smiles). I have still not done roles where I play a criminal or a villain. I haven't challenged myself as an actor to that extent… yet. What come naturally to me are the good roles, the positive ones, the ones that make a difference. In future if there's any role like that, I'll have to really convince the audience that I can be evil. But filmmakers don't come to me with such roles. (Pauses) Probably I could play a chudail or something… that might really challenge me… a chudail with a really good heart! (Everyone laughs)
Nandini: How important is it for female actors to play such strong, empowering roles?
Rani: Let's be clear about one thing. Films are an entertainment medium… that's the number one criteria. Films are a reflection of our society. With time, the changes you see in cinema have happened because of the society they were reflecting at that point of time. Today, you see a huge surge in content-driven films, which the audience is giving a thumbs up to. At one point, it was, 'Yaar, we have a lot of troubles at home and we want to go and see something which we can enjoy over popcorn and cola… have samosas and enjoy and leave our brains at home'.
Today, they are ready to spend their hard-earned money and watch content-driven cinema. So, as an actor, we need to tackle different kinds of characters, we need to be part of different kinds of films and genres. But with that you have to have a good balance… with content-driven cinema and the entertainment bit also. If you keep doing one kind of film, you get stereotyped. I have been lucky to have had content-driven and entertaining films throughout my career. When I did a Raja Ki Aayegi Baaraat, I also did Kuch Kuch Hota Hai, I did Ghulam and a Mehndi, I did Yuva and then Bunty Aur Babli…
I did Black and then made Chalte Chalte, I did Saathiya and Veer-Zaara. At every point, I have been able to balance both kinds of films really well. That's not only because of me. Filmmakers and writers have come to me with those films.
Pramita: Hichki released in March last year and Mardaani 2 is coming up next month. Will we now see you making a film every year?
Rani: My daughter is growing up… she turns four next month. I am hoping the more she grows up, she'll want more space from me! (Laughs) So, I'll be able to use that space and do more films. I would like to do two films a year. But I have had my mother close to me when I was growing up and I know how important it is. Children crave for their mothers at a certain age, especially when they are growing up. I don't want to take that away from my daughter. But at the same time, I don't want to have my fans miss out on me. I don't want them to say, 'Abhi dikh nahin rahi toh forget her'. I'd like to do more films. That's always on my agenda.
Saionee: So Adira is now old enough to understand what you do?
Rani: She has, on her own, kind of understood that, 'Papa goes to office and Mumma goes to work. Sometimes, Mumma works at Papa's office also!' (Laughs) She understands what meetings mean. She knows about shooting as well, but she hasn't completely understood it. She thinks that I dance! (Everyone laughs) She sees a lot of my songs… and I dance a lot with her at home. So, she knows that 'Mumma dances!' Right now, she's amazed by the fact that wherever we go, people want to take pictures with me. I move her out because she's not allowed to get photographed. So now, she herself says, 'No pictures!' (Laughs) She moves away and she keeps looking at me and perhaps wondering, 'Why do these random people want pictures with my mother? Do they all know her?! How is that possible?!' She's most comfortable at home because she knows that she has my attention completely. But when she is out, she doesn't feel odd, but I think she feels, 'Okay, this is Mumma's space'.
Saionee: You had told us last time that she would lisp-sing the Hichki title track…
Rani: She only sings and dances!
Saionee: Any of your songs?
Rani: She's more into her nursery rhymes. I have got her to watch Sound of Music and Mamma Mia!, which are my favourites. She's seen a few of my films. Once I tried to show her Bunty Aur Babli but then there was a scene where I was crying, and she started bawling! So I realised that maybe it's too early for her to watch my films. Songs she's okay with watching because she sees me being happy in them and can relate to that.
Priyanka: Veer-Zaara just turned 15. What's your topmost memory from making that film?
Rani: Getting fired by Yash uncle (Chopra, the film's director) and Adi (Aditya Chopra, Rani's husband and the film's producer) because Shah Rukh (Khan) and I were constantly giggling! I look at him romantically, not as a father figure.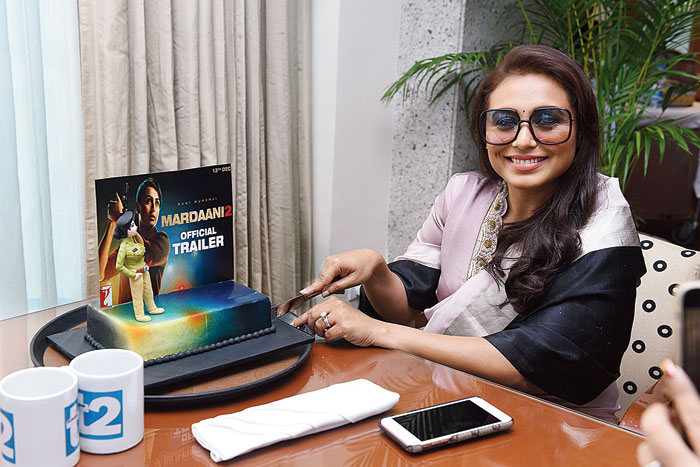 And he would look very funny, with that lock of white hair! Shah Rukh wanted me to feel like I was his daughter, but obviously those feelings wouldn't come to me! (Laughs). Of course, I remember those Urdu lines I had to deliver which were never-ending. They just decided to give me all the lines possible! Tu hi dialogue bol, Shah Rukh will be quiet aur Preity (Zinta) nachegi! (Laughs)
Nandini: Do you see your husband ever directing you?
Rani: Definitely not!
Nandini: If it ever happens, how easy or difficult do you think it will be?
Rani: It won't even happen in my dreams!
Priyanka: You've already decided that?!
Rani: We both have decided… because it's too close for comfort. Though we are in the same profession, we think we need to give each other that space. Also, the director-actor relationship is a very dynamic relationship. You have to have that proximity in a different way. If my husband tries to direct me, I think I will 'redirect' him! (Everyone laughs) It will be like every husband-wife relationship. We will both try to direct each other and the film will go in no direction. At this time, Adira is directing us both!
Saionee: You are not on any social media platform…
Rani: The young generation can consider me a dinosaur… and I won't feel bad about it (laughs).
Saionee: So no 'FOMO' happening there?
Rani: What is FOMO?!
Team t2oS: Fear Of Missing Out!
Rani: No, no! See, if I don't know that then I am definitely not missing out on anything! (Laughs) I have no idea about millennial lingo…. I am hardly on my phone, I anyway only message. And my friends get irritated with me because they don't want to pay and message me… they want to WhatsApp me…
Team t2oS: You are not on WhatsApp?!
Rani: I only use SMS and iMessage. I am from the first generation of dinosaurs! (Everyone laughs) I know you are all in shock! A lot of people who work with me as well as my friends are upset that I am not on WhatsApp. All the mothers (the mothers of Adira's classmates) ask me very politely whether I want to be a part of their WhatsApp group, but I say, 'No'. I don't know what they think of me, but I tell them, 'Aisa kya hai WhatsApp mein ki aap mujhe SMS nahin kar sakte?'
Priyanka: So you have never come close to wanting to be on social media?
Rani: No. When social media was on the rise, I was not doing that much work and I really didn't need to publicise anything. I became a star without social media, people know me without social media… so I didn't need to tell people that I exist because they know that I exist! Also, I don't understand this thing of taking selfies and telling the world, 'I look like this' because they know how I look. Thirdly, I have nothing to share because my husband won't let me shoot him, I am not allowed to shoot my daughter… so what am I really clicking?! So, the most important aspect of my life, which is my family, I won't get to show. And I think that fans would get disappointed with it… 'Why are you on social media and not sharing your life with us?' And if I am not allowed to post a picture that is about my life, then what is the point of me being on social media? I can't be showing my ring, my fingers, my face in different lights… it doesn't make sense.
Also, I like to spend time with my daughter and I don't like the feeling of just staring at my phone all the time.
I just use my phone to connect to people. My romance with my fans happens through cinema and now so many friends of mine are on social media that some picture of mine eventually reaches out. I would rather do something more constructive with my life than just stare at the phone. That's not something I would teach my child as well.
Pramita: What if she loves social media when she grows up?
Rani: That's great, that's her life… but at least, I will not be the one who has initiated it. I do FaceTime with her. She understands that the phone is a way of connecting, seeing pictures, reliving memories….
Pramita: How are your 40s different from your 30s?
Rani: I have just turned 40, so I can't comment. I would know that in my 50s. I can tell you about my 30s… it was fab! (Laughs) I had my baby. It was great being in my 30s, and it's great to start my 40s… nothing different, actually. If you have a good lifestyle — you eat well, you exercise, you are healthy — then any age is just a number. If you think I look 40, then that would be different (smiles)….
Team t2oS: Not at all!
Rani: I don't look a day more than 28, right? (Winks and laughs)
Saionee: In such content-heavy times with great films and more and more streaming platforms, what are you watching now?
Rani: I can't remember what I watched last. I guess I will have to ask my husband because we watch a lot of stuff together. That's how we unwind. We have to do that every night. Sometimes one of us is too tired and then we fight, 'No I want to watch! No I want to sleep!' (Laughs) Our choices are pretty much the same. When I am shooting, then he watches the stuff he would like to watch by himself.
Pramita: Did you like the final season of Game of Thrones?
Rani: Oh ya! Not all the episodes, but some. The episode where Daenerys went mad and started setting everything on fire, I was like, 'What just happened to her?!' I thought that was a bit too much, but that White Walkers episode was something else!
Nandini: Ten years down the line, who would you pick to play you on screen?
Rani: No one! I would rather not! (Laughs)
Priyanka: Why is that? Is it difficult or you don't want anyone to play you?
Rani: Because there is only one me. And I don't have such a colourful life to be shown on screen. The first thing would be, 'She is a dinosaur, she is not on WhatsApp or social media!' And I think that would be one thing that would bore people. It will be quite a boring biopic (smiles).
Saionee: How are you so rooted?
Rani: Because I have Bengali parents, no? I feel lucky that I have been born in a family that has grounded me at all times. And now I have a husband who grounds me even further. As it is I am short — I am happy with that — but they want to make me shorter!