Raja Kumari's rajaissance
Indian-American singer-rapper Raja Kumari is out to prove that she is no cute 'Indian princess'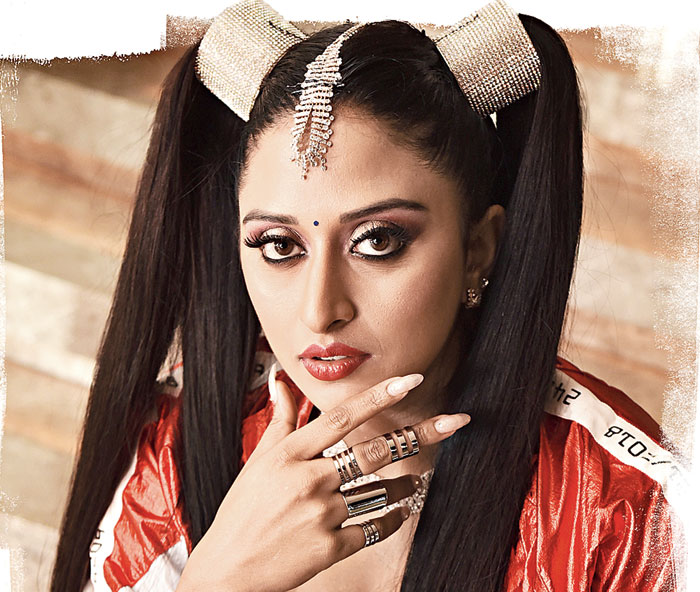 ---
Published 27.07.19, 01:23 PM
|
---
The feisty, fearless, fabulous Raja Kumari is turning the beat around, shaking up the music industry with her music and persona. The 33-year-old has not just managed to tackle pop and rap like a pro, she has also penned tracks for the likes of Iggy Azalea, Fall Out Boy, Fifth Harmony and Gwen Stefani. The California-based musician also celebrates her musical roots through hits like Husn Parcham, Allah duhai hai and the current favourite The wakhra swag, which is featured on the soundtrack of Judgementall Hai Kya.
The Telegraph caught up with the artiste during her recent visit to Calcutta.
When did Svetha become Raja Kumari?
Very young. I realised I would become Raja Kumari at a young age. I think it took a lot of experiences and the more I put out there, the more I became the artiste I wanted to be. It was always the projection of myself that was greater than me at that time. As a kid I could see myself…(pauses) I think by 13 I knew….
You started dancing at a very young age.
Yes, I started dancing when I was six. When I was 10 years old I think I had come to Calcutta for a dance performance. By 14, I had performed at so many dance festivals; I had done three different styles over three (consecutive) days at Ravindra Bharathi in Hyderabad and many revered gurus were there. But I didn't feel I had expressed myself in a way I had wanted to. I was training in classical (dance) while growing up in America . I really liked music; it felt something personal and not something that my family was gung-ho about. I just felt alive when I was singing and writing.
When did you realise that music was your calling?
It was a practical decision. I was doing a charity event featuring dance and at that time I was working towards an Indic Foundation study chair at The Claremont School of Theology. In a lot of schools, textbooks portrayed a different picture of India. I really wanted to get to the source. So I did a performance and I invited every person I knew... my richest family members and friends came and they made big donations, like $20,000... it was crazy. I raised $80,000 that night and I was like: 'Wow! I don't know how I could do any more with my art' but it turned out that we needed $2.5million and the $80,000 went towards operational costs for a year. And it did bother me because I gave everything I could and I still couldn't get my charity to work. Around that time I was listening to a lot of NSYNC, Britney Spears, and I was like: 'Man that's unfair'. Because if Justin Timberlake had mentioned Indic Foundation, it would have got funded even before he got off the stage (pauses). I realised I needed to be a pop star. I was then like, how do I get a platform and make an impact. I just had this lofty dream and you couldn't tell me as a child that I was not going to achieve it (smiles)!
As a teenager you were quite mature. At that age most tend to be a rebel....
I was both. I was really committed to the arts and music was a way to rebel. I remember writing letters to my dad saying, 'You can't change me, I want to be a musician'. And then my dad was like, 'Take her to the class if she wants to be a musician and get her to learn music'.
And what's the story behind Raja Kumari?
In high school, when I was a cipher, other rappers would call me 'Indian Princess'. I was obviously obsessed with Sanskrit because of classical dancing. The first dance that I did as a six-year-old was to Mahishasur Mardini, so I was a demon slayer at six... I was just out there. Then I was like Indian princess... sounds so lame, like the dainty kind… and then I was like it's Raja Kumari. I didn't know what kind of music I would make but I just knew that sounded right. I think I was moving towards making music worthy of the name.
How did hip-hop and rapping happen?
When my brother gave me a Fugees album. I was very young and Lauryn Hill was the first person I was inspired by. She was effortlessly good with rapping and singing and she was with two male artistes in Fugees — Wyclef Jean and Pras (Michel) but I felt she was the best. I love all of them but she was so inspiring.
I liked poetry, we studied Shakespeare, and things like the iambic pentameter and a lot of stuff about the arts. So when I heard rap and hip-hop, I immediately appreciated it as an art form. It's poetry set to rhythm. See, I had (already) toured India with an orchestra, so I had spent time with the violin, mridangam, nattuvangam, veena and flute. I would be intimately involved with ragas but I did not learn it. Like I know adi tala but as a child, nobody sat me down and beat that in me. I learned classical dancing but the music was just something that I was moving to. And I realised that rap was just like jaathi. I remember the day I unlocked the art form, I was like: 'Oh my god, we have been rapping for thousands of years.' (Smiles.)
Also, I have always felt that hip-hop has been the voice of the marginalised, the minority… it speaks of struggle. I mean, I wasn't struggling financially because my father was a doctor and as with most American success stories, dad gave me the American dream. But in way of identity, I struggled a lot, especially having to make sense of the two worlds.
I think the first time when I heard the Fugees album, I didn't feel like an outsider. I felt I could use it as a vehicle to express myself. I wrote poetry as a child. I had a lot of friends who liked hip-hop and they didn't have the same lifestyle as me. They were not from very rich neighbourhoods… my best friend MC Bird, we made a hip-hop group together; actually he taught me a lot about hip-hop. The genre also helped me feel and understand everyone.
Did you ever doubt your decisions?
There was probably two-three occasions... when I had a shady manager… and so many levels of b******t in the American music industry. And I think on two separate occasions I felt: 'Mom, I am done'. And my mom would play me a song that I had written and she would say, 'I don't think you should stop'. My parents were supportive and they saw me through when I thought of giving up. Now everything is okay (smiles).
Who are the artistes you grew up listening to?
Timberland, Aaliyah and Missy Elliott, and also Jay Sean and Rishi Rich from the UK. They were inspiring. That's when I saw myself in a different way because I had never seen anybody make music like that. There are also many American artistes I loved... actually I listened to all kinds of music. I have these phases.
How do you think hip-hop would evolve in the Indian music industry?
Oh so much. When I came as an artiste to India at the end of 2016, I was friends with Divine and he had helped me set up some shows. I had met him online. We started working on City Slums before I had come and I had sent him my song Meera. When I came here we set a couple of shows and I remember seeing like two girls in the audience... the guys were really responsive and supportive of me. I felt there was this need to represent India because people in India didn't know who I was. How could I speak for the people if I had no idea what they were feeling? I realised this when I talked to Divine, JD and musicians of my age… I was like wow, my perception of India was based on that of my parents when they had come in the 1970s and, yes, I am connected to my roots. And yes, I was the only one wearing a bindi in the entire house. What was going on?! I felt luck had been on my side in America in the last six years... going to songwriting camps in Denmark, Sweden , Finland, Jamaica, Bali and I was in the camps with all these Grammy winners. I knew that the opportunities I had been given were rare.
How did you end up writing Iggy Azalea's Change Your Life?
I have not met her... ever. Yes, I wrote the song and I gave it to these publishers and they played it for her management. The song got nominated for a Grammy and it was my first song that got published; it did open a lot of doors.
I try to stop talking about it in my interviews because I don't care about it any more but it woke me up! She did that video of Bounce, so she came to India and it was like a cartoon. She is in full bridal, her blouse was loose, she had the malle poolu and she ruined everything I loved about my culture. I wrote in my diary about this... the video I wanted, with an elephant and be this powerful person like Durga. Something inside me said: 'Oh my god, if you don't do it, somebody else would and they would say you are copying them.' I was like: 'I am done with this!' and then I wrote Karma.
Talking about songwriting, what do you want to speak about through your music?
Manifestation is the main message. Positive reinforcement, the power of words and speech. I think that is the message running (through my music) and a lot of times I think I like to write songs about victory and overcoming obstacles. I feel my voice kind of suits that.
What would you say has been the biggest turning point in your career?
So many. Meeting A.R. Rahman in 2015 because that's when my parents accepted that I was doing something that they could respect. Then releasing City Slums because it got two million views in 24 hours and in America people respect numbers... it was a time when I turned around and said: 'I told you so... that there are a billion of us and if you don't think you are not interested in our culture then you are going to have a rude awakening because if you are impressed with numbers then, here you go'.
Let's talk about Bollywood. You have rapped in Allah duhai hai (Race 3), Husn parcham (Zero) and recently, The wakhra swag from Judgementall Hai Kya. Tell us how did Zero and Judgementall Hai Kya happen.
Shah Rukh Khan called me. He had heard my song I Did It and he had became my fan and he was like: 'I want to hear more strong female voices'. They had been asking me to work on some ideas around that time but it didn't work out. I was like, okay cool, next time if you have a project please think of me and I would love to do anything for Shah Rukh; I am a big fan. I was boarding a flight to to Miami to shoot the video for Shook and I had told them that I had zero time left... I told them that I am about to leave and I had done everything that I could... and then he (SRK) called me and said he needs it by tomorrow! So I did a 15-hour shoot and wrote the song that very night and I sent him the vocals and Katrina had to learn it off an iPhone recording!
Even with The wakhra swag, the same shit happened, I did it on tour. They called me and said we need it now and I was like okay and I wrote it.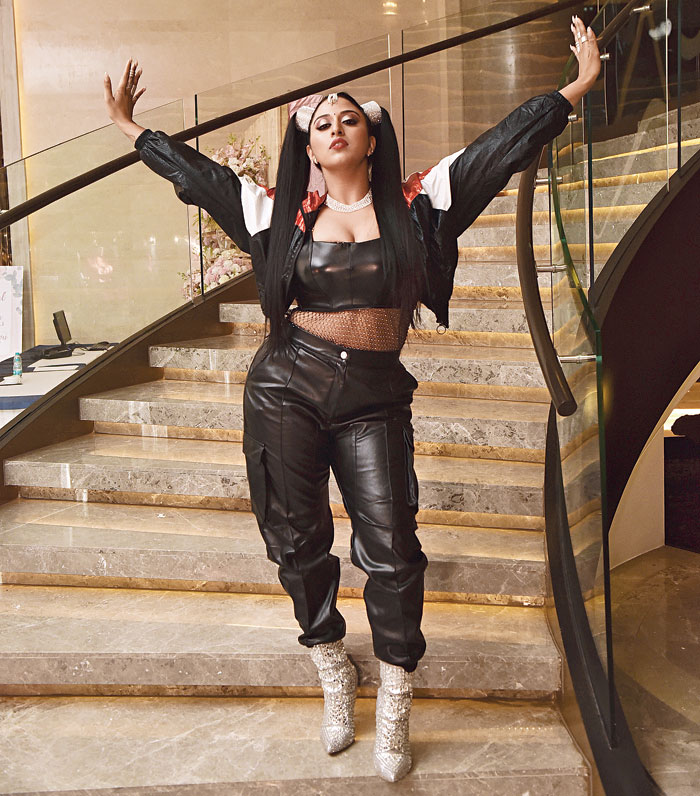 Let's talk about your style. How would you define it?
I am in the neon mood and Anup (make-up artiste) does this UV make-up and it's crazy... and they glow in the dark. My music video for Karma is coming up and it's all neon. It's insane... I am excited.
My style is forever evolving, definitely colourful, bold and it's got to be about jewellery because it is my biggest fashion statement. I might wear a white T-shirt but I would wear a full kundan bridal set.
We love you wearing the bindi!
Mum always wore bindi with her American clothes and it was a sign of Indianness. When I was younger I tried not to wear it and my dad would ask why I don't wear the bottu. As I grew older and learned more about where I came from… also what it meant, I realised that its my spiritual third eye. As soon as I became aware of the chakra system....
How do you perfectly blend LA and Indian swag, something that seems to come naturally to you?
I can't get rid of either of them… like both of them are so authentic to who I am and I think that's why my fusion is like that. And I do not know how to not be either of them.
Besides your India tour, what's keeping you busy?
I am doing this show MTV Hustle and I am very excited about that. It will air on August 9 on MTV and we are looking for the next rapper. Raftaar, Nucleya and I are the judges, and it's a cool balance because Raftaar is professor rap, Nucleya has so much experience and knowledge in production and I think I am bringing my knowledge in songwriting and vocal production, performance and tone that's of international standard. I see so much talent and a lot of it comes from girls... that makes me so happy.