Prosenjit and Rituparna talk about their Friday film 'Prosenjit Weds Rituparna'
The actors engage in a candid chat about meeting each other for the first time and their 50th film, which will begin in 2023!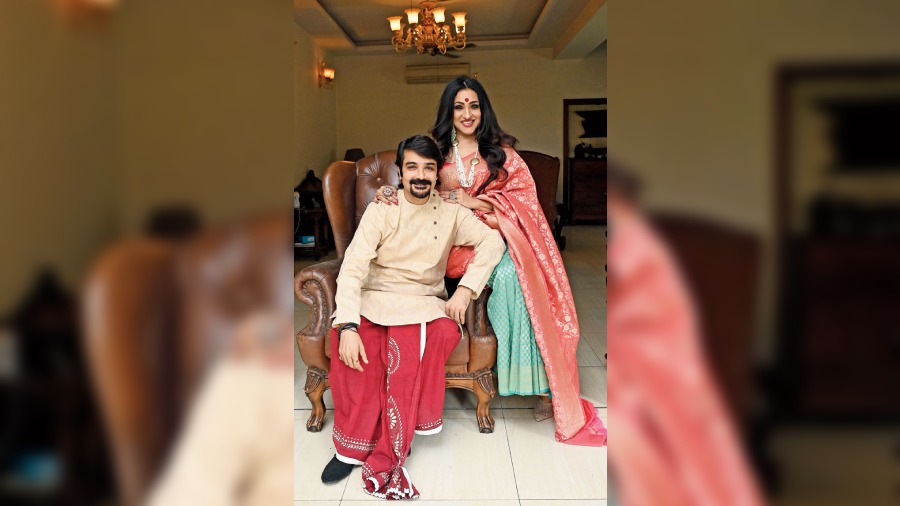 ---
Published 25.11.22, 01:46 AM
|
---
Their on-screen chemistry is the stuff of legends. One of the most successful lead pairs of Bengali cinema, Prosenjit and Rituparna Sengupta are set to rock the screen once again in the film Prosenjit Weds Rituparna, which releases on November 25. The Telegraph chat with the two superstars about the film directed by Samrat Sharma...
How do you see Brand Prosenjit and Rituparna Sengupta evolving over the years and then coming together for this film?
Prosenjit: Both of us are presenting the film Prosenjit Weds Rituparna. Our teams had done extensive research and found out that these two names, and the brands, are much talked-about in Bengal. They are hugely popular. People are constantly talking about the secret of our on-screen chemistry. The script of this film focuses on how our brand value has become an integral part of every home. People love us, and come up with their own observations, comments and assumptions around us, and our brands, too. My memes have gone viral and I enjoy that. And such a pairing of two superstars and their brands with a title like this hasn't happened in Indian cinema. It is a wonderful film, which is really entertaining.
Rituparna: This was so organic. It's been more than two decades and it is amazing to see the craze around us. And people are very sensitive about our pairing. So much of brand association and identification is there.
Initially, were you surprised with the film title?
Prosenjit: We have been working in films for so many years now... we wanted to explore a new genre, and present a new director. We are also bringing back the commercial flavour of Bengali films. This is what we used to do for many years. And this film is a love story, and one cannot have an endearing Bengali love story without Prosenjit and Rituparna!
Rituparna: Initially, I was a little surprised but then when I got to know the concept of the story, I really loved it. Our pairing was reborn with Praktan after 15 years, which was a blockbuster, and when the announcement of Prosenjit Weds Rituparna went viral, we realised once again that the excitement among people reaches a different level when we come together for a film. Our on-screen chemistry is eternal. We are really thankful and blessed. People really look forward to our screen outings. Both of you must be flooded with offers to star in a film together. How do you pick the film?
Prosenjit: We had got many offers after Praktan and Drishtikone.
Rituparna: But we are very selective about this. The film has to be really special. And we talk it out thoroughly.
Prosenjit: We'll come together in a film at a gap of three years. The film has to be unique. Before Praktan happened, we were offered Kontho. It was a wonderful subject but somehow we felt it wasn't our comeback film. When we were offered Praktan, we knew that it was the right film for us.
Rituparna: We also wanted to come back in a film directed by Nandita Roy and Shiboprosad Mukhopadhyay. I had full faith in them.
Prosenjit: We did Drishtikone after Praktan and that was a huge hit.
Rituparna: The songs were so popular in both of our films.
When can we expect your 50th film?
Prosenjit: It'll release in 2023! Prosenjit Weds Rituparna is the teaser!
Rituparna: We are waiting for the right script.
What is the secret to your chemistry?
Prosenjit: We don't have words to explain it. It just happens. The first shot that we did for Praktan was a difficult one. And after the scene got over, our cinematographer Gopi Bhagat walked up to us and said that it was as if he was watching us in Rituparno Ghosh's Utsab. Gopi had assisted Avik Mukhopadhyay on Utsab. One cannot decode this chemistry. The magic happens once we are in the moment during the shot.
Rituparna: It comes naturally to us. It doesn't matter whether we meet often or not, talk or not. When we come in front of the camera and face each other, it just happens. We are creating some sort of an effect, some sort of an impact and difference in people's lives.
Prosenjit: Also, we have been constantly reaching out to the young audience. 
Rituparna: And we try to reinvent ourselves always. I have this hunger to do something more. This is the drive.
Bumbada, do you remember the first time you met Rituparna on set?
Prosenjit: I saw her dressed as a bride for the film Nag Panchami. It was our superhit film. So our screen journey started off with a phool sojjya sequence (laughs out loud).
Rituparna: It was a romantic scene. It was my first film with Prosenjit Chatterjee and I had goosegumps.
What's the one thing you really like about each other?
Prosenjit: She gives everything to a performance. I remember Ritu shooting for Aparna Sen's Paromitar Ek Din and Sasurbari Zindabad simultaneously. She would shoot for Paromitar Ek Din in the morning and Sasurbari... at night. It is about tenacity. I have shot for Baba Keno Chakor and Utsab just like that.
Rituparna: His focus is immense. He has to hit the bull's eye every time. That is fantastic.
Pictures: Pabitra Das