Producer Firdausul Hasan writes about the journey of Aparajito
'We have plans to release the film in about 30 states across the USA, in 60 theatres'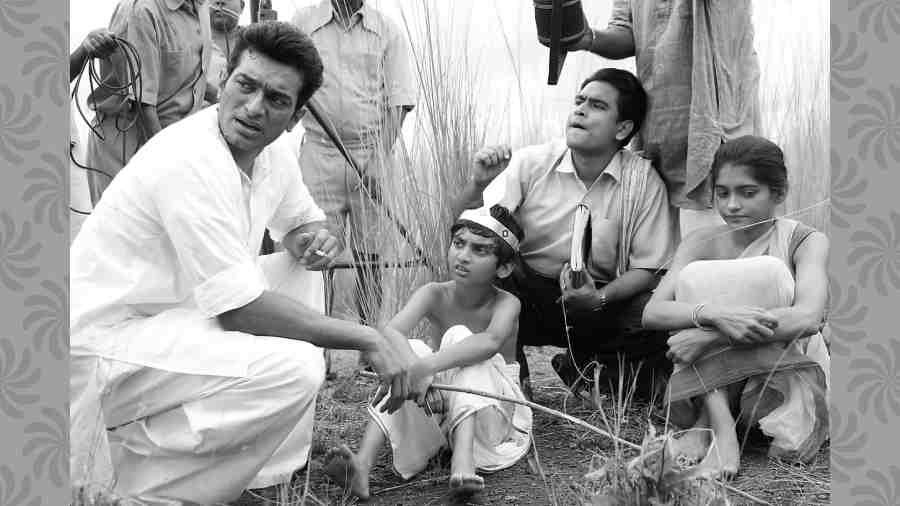 ---
Published 24.08.22, 12:25 AM
|
---
I believe that any work of art transcends the borders of not only countries but also languages, if the content holds a timeless and universal appeal, specially in today's world when globalisation has in a sense made the world seem borderless. And I think that our film Aparajito has touched that chord in the heart of the audience. The love and appreciation that Aparajito received from Bengal emboldened me to think beyond boundaries. We thought that just as we enjoy movies made in other languages, we should also take this film to world cine-lovers.
After its show in NABC, requests for the release of the film was pouring in from many other countries, like the UK, Australia, UAE and USA. So we decided to have a premiere show in USA, and what better place for the brilliance of Ray than at the Village East Theatre at Manhattan!
The response to the show was overwhelming and other than the Bengali-speaking audience from India and Bangladesh, there were many people of other nationalities too. We have plans to release Aparajito in about 30 states across the USA, in 60 theatres. It is our way of thanking the audience for giving us the strength to carry on making good films, despite the odds we often face. Since Bengali is the seventh most widely spoken language in the world, I think it is time for all Bengali movie makers to think of the commercial release of our films in a global way.
This will cater to the craving of our large audience and help the business as well. As a producer, I believe that there is no such thing as 'good luck' in business, it's only hard work, determination and drive. I am grateful to the audience in Manhattan for giving us that 'drive' to make more films! We are humbled and grateful for the love we received in Manhattan. It is rightly said that Manhattan has a throbbing heart of its own and art there exists somewhere between living and dreaming!
Incidentally, Aparajito was not the only script that I had heard at my meeting with the director, Anik Dutta. Anikda discussed other stories too and although the script was a little unconventional,  I decided to make a film on this particular script because it was kind of different and that struck me as a challenge... also we thought this would be the best way to pay tribute to the master film-maker Satyajit Ray on the hundred years of his birth . The entire process of making the film was very challenging right from the time of choosing the story till the time of release. The entire shooting for the film was done during the pandemic, which was a huge obstacle in itself. However, we completed it in spite of all odds . Actually, even  at the time of release I was a little apprehensive and it was released at a few halls and we got very few shows. However, within 24 hours of the first show a kind of magic started happening and overnight we had to increase the number of halls and the number of shows. Such was the craze that the 9.30am morning show, as well as the 10.30pm show, went houseful. The response was miraculous!
Just as requests for shows started pouring in from remote places and smaller towns like Bhopal, Raiganj, Jalpaiguri, towns in Assam, similarly requests for the show started pouring in from from USA, UAE, Poland, Australia and Canada. What touched me most was that people were writing on social media about it and spreading the word. We have seen people who had come to watch a film in a theatre after 19 years... there were people who had gone to see the first show of Pather Panchali and now they have come to see this film.  This kind of a response really humbled us as a production house. I have heard people requesting their friends to first watch Pather Panchali and then watch Aparajito, to enjoy it even more. There were many who were watching this film multiple times... they went back home, watched Pather Panchali and then came back again to watch this film to enjoy it even more and understand the movie even better. It was heartening to see entire families, parents and grandparents coming to the theatre together to watch Aparajito and that I think makes the film truly undefeated.
I have a lot of faith in the young and I feel that if we can give them something worth watching they will come back to the theatre. I have seen the craze for Aparajito among college-goers who have gone to watch the film in big groups and I have also seen young people who have come with their grandparents and this is truly heartening!
Strangely, the publicity for the film was largely done by the audience and not the production house or the distribution house so people were reacting to it spontaneously... that is what made me feel very positive about the future of Bengali films. I'm not sure whether it has happened with any other Bengali film before, but Aparajito was released in 13 states together. What touched me was that people from all over the world were writing excellent reviews about the film and urging others to watch this film. I got many messages on my messenger thanking me and the team for making this film.
I would say the publicity of Aparajito simply happened by word of mouth and the amount of love it received really humbles us. There were fans who made posters of the film on their own and posted it on social media. I have not seen this kind of love for a film in a long time. I am extremely grateful. One thing I would like to say here with no offense to anyone is that movie-goers down South watch films made in their own language... it is  a must in the South, it is kind of like religion for them to watch their own films and that I find is excellent.  Sometimes we wonder why it doesn't happen here in Bengal. But during my childhood I had seen my grandparents and my parents go and watch a Bengali film every weekend and used to wonder if this will ever happen again. And it did, with Aparajito! I am grateful for the love that has been showered  on this film. Like I have said before, I do make films out of passion and this will give me the drive to make more such good films in the future.