Popular pair Karna and Radhika tied the knot in the serial #KKBT
We decode the wedding shoot that took place during a pandemic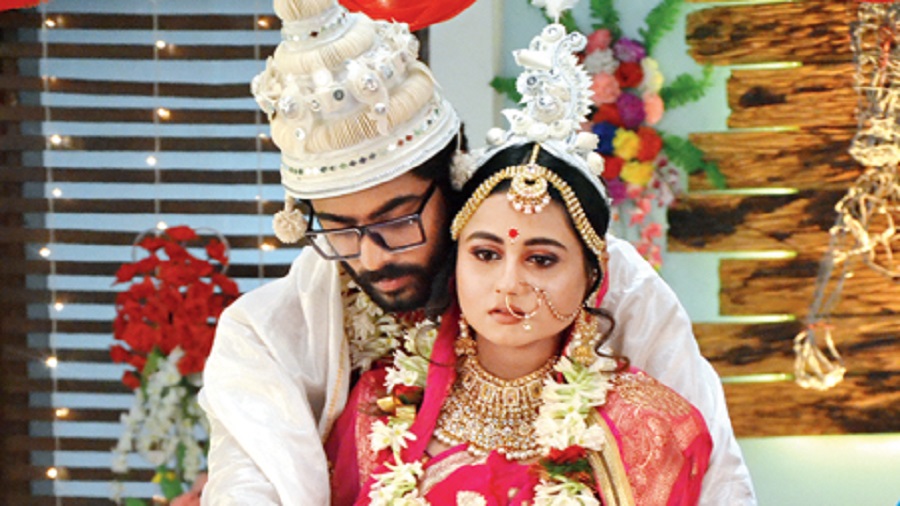 Krushal Ahuja and Swastika Dutta in the serial Ki Kore Bolbo Tomay
Still from the show
---
Published 21.08.20, 09:45 PM
|
---
After braving all odds, Karna Sen and Radhika Mitra (lead pair from the popular Zee Bangla serial Ki Kore Bolbo Tomay) have finally tied the knot. The (new normal) shoot of the wedding ceremony with its rituals happened recently, "following all the safety guidelines". The fragrance of flowers mixed with the smell of sanitisers on the set. The Telegraph caught up with Swastika Dutta and Krushal Ahuja, who play Radhika and Karna, to decode some memorable moments from the wedding…

The Preparation
Swastika: I wanted this shoot to be memorable and Radhika's look and make-up to match the situation. I really prepared myself for this one. I checked my eye make-up, did my homework, worked on my expressions. And I bought two-three new lip shades as well! I shot a sequence like this in the new normal for the first time in my career. Our fans were waiting for these scenes for a long time… and the marriage between Karna Sen and Radhika Mitra finally took place. However, the circumstances are a bit grim, so Radhika could not be really exuberant and excited.
Krushal: Of course I was very excited for the wedding shoot. The feeling was normal. I guess the new normal has actually become normal. Hats off to our entire team of #KKBT for executing the scene with all dedication and hard work even in this pandemic. It was an important scene just like other important scenes, so I read the script properly and the rest followed.

The look
Swastika: I was given a modern bou look. It was the look of a Bengali bride with a non-Bengali touch.
Krushal: For a proper Bengali groom look I was wearing a golden punjabi with a cream-coloured dhuti and a topor.

Fun anecdote
Swastika: He was more concerned about his dhuti (laughs)!
Krushal: Dhuti khule jacchhilo! So I asked the costume AD to give me a belt!

First reaction
Swastika: The thought which came to my mind — when I had first heard about the wedding scenes — was a question actually. Do we wear masks on the biyer piri? Nothing like that happened.
Krushal: Keeping the situation in mind there were limited guests.

Fave reel moment
Krushal: When Karna comes out of his mom's room with the vermilion in his hand and puts it on Radhika's forehead.
Swastika: Despite knowing that he is going against his family, Karna Sen was giving me support and we exchanged a lot of real and reel glances (during the wedding).

The most challenging part
Swastika: That my character was dressed for the occasion, getting married but she was in pain because of a few things that happened in her life. The most difficult part to portray was that she won't shed tears, though she will have tears in her eyes. I cried without shedding tears, which I had not done ever.
Krushal: To stay calm and in the character even when the situation is not going as you want. It doesn't really matter how cool or calm you are in your normal usual days. But the actual challenge is to maintain your dignity and be calm even in extreme situations. Not less not more but somewhere in between playing with the thin line you know. I hope I made it look like that.

Wedding ritual reference
Krushal: Director Ayan Sengupta is well experienced to guide me for the wedding rituals (laughs). I prefer taking real-life references rather than from already-made movies or series, be it for a scene or a character sketch. In cricket there are balls which you play to take singles and doubles or maybe just defend and then you wait for that one or two balls which you hit for a six. Similarly you need to judge and understand which scene is for single or doubles and which scene is for a six. And this scene was one of the latter. How could I miss it?!
Swastika: My characters have got married before in daily soaps but this is the first time I performed all the rituals and shot for it in the new normal. This wedding sequence will always have a special place in my heart. One ritual which I love is the khoi daan!

A 'special' guest at the wedding: Payel Sen, played by Manosi Sengupta, is responsible to a large extent for the dilemma Karna and Radhika are facing now. "She is against this union. My character Payel Sen was totally against this wedding from the beginning. Fans are really angry at me and trolling me on social media because of my actions on the show. So I guess I am doing a good job. I am enjoying it a lot," smiles Manosi. How did she prepare for this one? "Wedding sequences automatically involve a lot of people on the sets and are shot for a long period of time. We are used to it. But because of this pandemic we had to shoot it differently. I was wearing my mask when I was not going for a shot. After a shot got over, I would sanitise my hands. We followed all rules and regulations," says Manosi.

"We could smoothly shoot the wedding sequence because of the amazing teamwork. We sanitised everything that was used for the ritual before using it, from the topor, jewellery, costume, mala. When they came close during khoi daan, we sanitised their hands immediately. It is a new experience for me. I have shot wedding rituals before. But this was completely different. Sanitiser played a very important role in the rituals for the first time," says director Ayan Sengupta.