The London Indian Film Festival (LIFF) has selected two works by the Calcutta-based production house Roadshow Films for display in their 2021 edition — Parambrata Chattopadhyay's film Abhijaan and National Award-winning documentary Swimming Through The Darkness, directed by Supriyo Sen and produced by Aritra Sen. Roadshow Films was formed in 2016 by the renowned actor-director Parambrata, the internationally acclaimed documentary film-maker Supriyo Sen and the engineer-turned-content creator Aritra Sen. Since then they have been associated with a number of successful web shows like the Kaali franchise, Sharate Aaj, Mafia, the Damayanti franchise and feature films like Sonar Pahar, Tiki Taka and the recently released Tangra Blues. They have co-produced the feature film Abhijaan, which is the biopic of legendary actor Soumitra Chatterjee, in association with Ratanshree Nirman. A candid chat with the founding members of the production house on this feat and much more.
Congratulations! When did you get the news? What are your thoughts on this?
Param: It's a matter of great honour and joy for us. We've been trying to do meaningful work with integrity and artistry. It's not always easy to hold on to such virtues in the present times. Seeing that being doubly validated feels rather good.
Aritra: The organisers of the film festival reached out to Parambrata in February expressing their interest to showcase the film in this year's section. We had sent them the copy of the film to preview, which they really liked and confirmed that Abhijaan would be part of the festival this year.
Swimming Through The Darkness has already won the National Award and two other international awards so far.
Supriyo: It premiered internationally in the prestigious Busan International Film Festival in 2018 where it was part of the Asian competition, following which it was broadcast in NHK world (JAPAN). Selection in LIFF is a continuation of the success that the film has been receiving all these days and we are very happy that it is resonating with global audiences.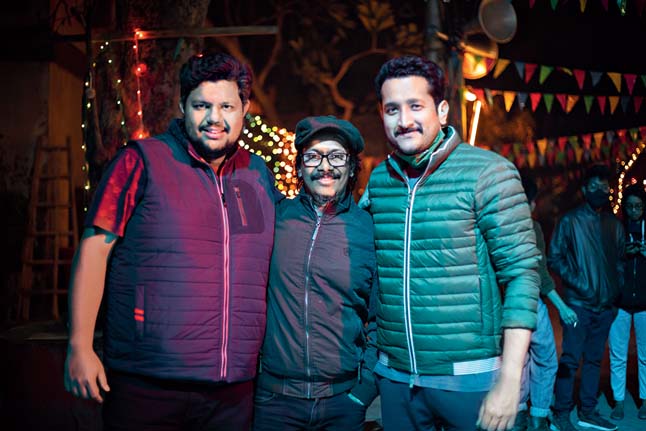 Aritra, Supriyo and Parambrata Sourced by the correspondent
The showcase is on June 26. What happens then?
Param: I wish I could be there during the screening, as it's going to be the very first time an audience will be watching the film. I had intended to be there but obviously that's not possible right now with the restrictions imposed by the second wave.
Aritra: We as the makers were supposed to be present at the festival but due to the pandemic we are extremely unlucky to miss out as the travel restrictions are on. Roadshow is one of the few production houses that produces such diverse content. Our efforts have come a full circle to see that two of our very prized works, albeit completely different in nature, have been selected in the same edition of such a prestigious Indian International festival. This is a proud moment for us. After the showcase we are hoping that some of the international media will write and talk about our films and we will also engage online with them through a serious of itineraries that are planned. Next step is to plan the release of these films so that the broader international audience can view them.
Why did they select Abhijaan and Swimming Through The Darkness?
Aritra: Soumitra Chatterjee is an internationally acclaimed actor. His biopic has definitely piqued interest among a wide variety of people. Hence an Indian film festival would definitely like to include this iconic film in its repertoire. Swimming Through The Darkness is a human story that follows one character and his trials while he chases his dreams. There has been an universal appeal about the film from its first screening. People connect with the protagonist and almost root for him throughout the film as if it's a real-life situation.
Param: Both films attempt to capture slices of Indian reality, in very different ways. Hence the selection in the festival I presume.
Supriyo: STTD tells the life-affirming story of visually challenged swimmer Kanai Chakraborty from Krishnanagar. I think this local story has an universal appeal because of its humane approach and powerful visual treatment. I think this is the reason it is appealing audiences across cultures.
When are you planning to release Abhijaan?
Param: Theatrical release of Abhijaan is still uncertain because we don't know when theatres will be reopening, or when would be a suitable opportunity to release a film of this stature.
As uncertainty remains over the reopening of cinema halls and the return of audiences, what is the way forward for the release of your films?
Param: The uncertainty is looming large over films in India in general. For Bengali films to earn something back or break even, a combination of theatrical, satellite and digital... all three avenues are needed. Hence the coming days will be all the more crucial for Bengali films which are awaiting releases.
Aritra: Many big production houses who have produced feature films of substantial scale and budget like Abhijaan are facing this problem. We at Roadshow are trying to build a slate of films now that the release is uncertain. When we see people coming back to the theatres again then we can release our films, with the other avenues as back up. Once things become normal there may be a shortage in supply of films to release as production has gone down. But we are planning to produce two to three more films in the coming one year so that we can provide the theatres with a steady flow once things normalise. Paoli in Abhijaan Sourced by the correspondent
Will you stream them online?
Param: Online streaming is inevitable right now to increase shelf life. The idea is to strike a coexistence by releasing them theatrically first and then moving online.
Aritra: Every film in today's world has a major chunk of revenue from online sources. We also plan to do the same. But at the moment we are pondering on the correct balance as to when we can plan the streaming post-release and how much will it affect us financially.
Supriyo: NHK World has streamed the film online from its portal but that is a television version of the film. The cut that will be shown in festivals is a feature documentary. We would like to stream Swimming Through The Darkness online in a major portal by the beginning of next year as this fascinating journey must resonate among a vast majority of people, which only streaming can provide for documentary films.
What kind of stories would you like to tell in the future?
Aritra: Roadshow is developing a varied slate of content both for the web as well as for the theatres. A very exciting sports documentary is also being planned, which will be really big for us. We always focus on human stories that connect with common people irrespective of their class or nature. Every story has a cynosure which usually revolves around human lives and all the myriad trials that we face. We are planning on different types of stories — there is a travelogue coming up about a group of Bengalis exploring the UK, a popular literature franchise will be brought alive which tells stories of adventure and magic, a road thriller about three individuals caught on an act panning out over one night, a story of five millennials who were college friends and who reunite and plan to open a pub in Calcutta, a love story about a pair of musicians who are caught in their own warps but suddenly discover magic through the music when they start collaborating. Some of our upcoming projects have these themes. We cannot wait for the pandemic and restrictions to lift so that we can start our projects with the same vigour of 2019-2020, which was our best year when we made Kaali 2, Mafia, Abhijaan and Tangra Blues.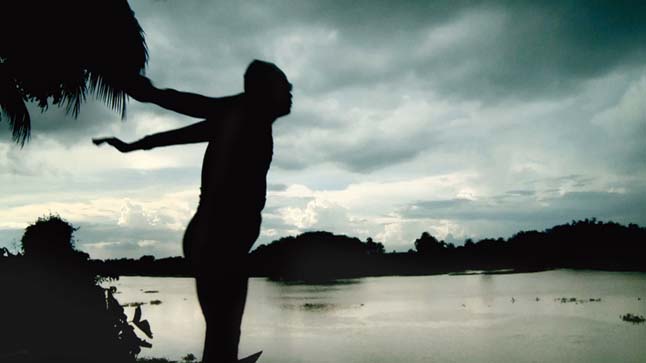 A moment from Swimming Through The Darkness Sourced by the correspondent
What are your memories from the shoot of the documentary Swimming Through The Darkness?
Supriyo: Like many visually challenged people, Kanai is not cynic, reclusive or sad, he never considers himself as a victim. He is positive, articulate and charming. And these virtues lead him to the centre of many curious interactions, which we have recorded from a close proximity for four years. We followed him participating in the world's longest open-air swimming competition, where he swam from early morning till the evening in the turbulent river of Bhagirathi during the monsoon. Shooting this particular event itself was really dramatic.
Aritra: The shoot of Swimming Through The Darkness was filled with unbridled energy. The whole team was as if connecting with Kanai's journey. His philosophy of trying to achieve his dreams despite all odds coming from such a humble background and with so many physical challenges is something that drove the makers. The entire crew became like family. For years we have followed his life so that we could capture the drama, the despair and the hope in him.
Why did you produce Swimming Through The Darkness?
Aritra: Imagine covering a rustic swimming competition on the turbulent Ganges during monsoon where so many diverse people have converged to achieve their dreams. It is fascinating in itself. On top of that, imagine a visually challenged person trying to compete with the rest and reaching the finish line despite all the challenges. One cannot just ignore this journey. Like tackling the turbulent tides of the river on a treacherous monsoon day, his life has also been a journey of complete highs and lows. His philosophy transcending all physical and financial challenges, his never say die attitude and his will power to become a professional swimmer really drew me to Kanai. Such stories are rare to find and suburban India surprises you time and again with this. We wanted to tell this local story globally and make an impact. We hit it off when we pitched it at Docedge, Kolkata, and bagged the YES BANK AWARD for best project in that edition. This helped us get connected to numerous international commissioning editors who loved the project. STTD has had a great journey travelling to so many festivals, broadcast in Japan's NHK World and winning the National Award. It is a fulfilling journey and I believe we have produced a film that is here to stay in the hearts and archives for ages.
How does the production house green-light a project?
Param: The process always starts from the germ of an idea. When we are excited about an idea we sit together, an extensive brainstorming session follows. It helps that we are three creators and directors working in tandem. Each of us help the other to mount their projects and develop them. We have always worked as a team. Much of our world views and sensibilities match and that helps.
Aritra: When we thrash out the seed idea, our wonderful team of young writers who work very closely with us help us in developing the concepts. After we put together the entire story that we wish to tell, we pitch the idea with some visual references to people who can facilitate making them. It can be an OTT portal or a television channel or individual equity producers or a combination of one or more such agencies. Then we collaborate and produce the project once any such agency green-lights it. It is an extensive effort. One sees the finished product but development takes many months to create, to deliberate and to lock a project before we start preparations to execute. But this is the process which makes us robust, makes us re-align and mount the project in the correct way.
Supriyo: For documentaries we usually start capturing some elements before we get into the final production. One chooses to produce a documentary out of intuition. Usually our collective intuition connects. We are three great friends in real life and we spend most of our time jamming about our ideas and reaching a common ground. From some initial shoot and extensive research we start developing the project. But in documentary some part is left to chance. One has to constantly evolve as a creator while following a particular subject.