Our show, in one word, signifies hope: Christina Chang
Over a video call, The Telegraph caught up with the Taiwanese-American actor to chat about Audrey's character arc and what we can expect from Season 5 of The Good Doctor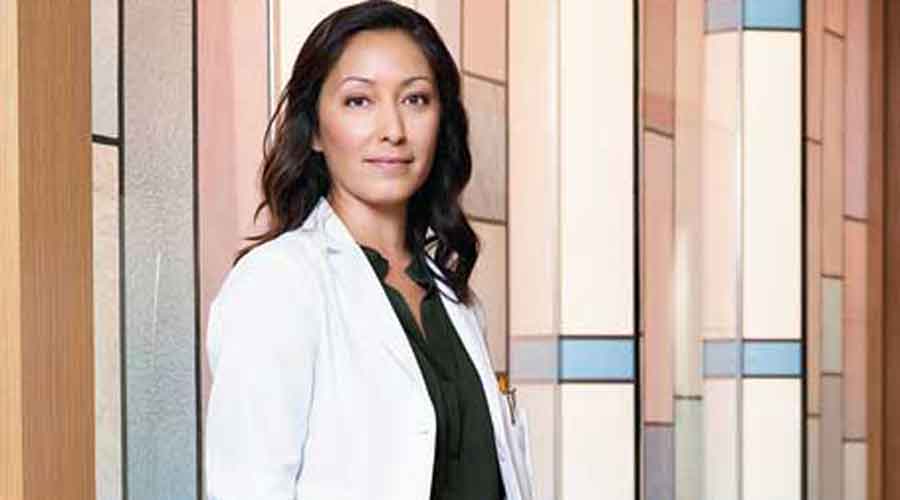 ---
Published 19.10.21, 11:44 PM
|
---
'The Good Doctor' — a medical series revolving around Sean Murphy, a young autistic savant surgical resident at the fictional San Jose St. Bonaventure Hospital, and played by Freddie Highmore, has just dropped its fifth season that's now streaming on SonyLIV. Actor Christina Chang has been an integral part of the show, and in Season 4 we saw her character, Audrey Lim, chief of surgery, developing post-traumatic stress disorder from her experiences of handling the Covid-19 pandemic.
Over a video call, t2 caught up with the 50-year-old Taiwanese-American actor, who has appeared on shows like 24, CSI: Miami and Nashville, to chat about Audrey's character arc and what we can expect from Season 5 of The Good Doctor.
Where do we find Dr Audrey Lim in this new season?
Well, I think we can expect that she will still be the sort of fair, benevolent boss that she has been. She will be grappling with issues like a personal relationship in the workplace, potentially. What's nice is that we know she went through quite a year with the PTSD (post-traumatic stress disorder). It hasn't gone away, but she gets just a little break from the sort of constant pressure and pain. She's got the help she's needed and she's sort of hopefully leveled out a little bit.
The first episode is aptly titled 'New Beginnings'. I think that's true for all the characters, not just Lim, and it'll be really exciting and interesting to see how everybody moves forward because everybody is kind of in a spot romantically. Whether it's the end of something, the beginning or the middle, and where are we all heading personally is going to be kind of interesting for this season. Audrey is getting a little bit more comfortable being in the position she's in as chief.
What have been the most challenging aspects of playing Audrey?
In Season 4, it would probably be the PTSD storyline... carrying that through the season. It was really important to me to do it justice. I know that PTSD looks differently on everybody and there are also different types and then everybody is at a different place with it. So we just needed to make sure we crafted this carefully and as realistically as we could for somebody who is functioning and in a leadership position with it.
It was interesting for me to learn about it, but it was also about how do we weave that into scenes.... What does that look like for somebody for whom it's constantly there and sometimes she's better at hiding it than others?
What is it about Audrey that resonates with you?
I'm similar to Audrey in terms of her frankness and directness. I don't know if I'm a boss in real life, but I like that she gets to be a boss. I think some of her sassy, sarcastic quips might sort of be like me too. I don't know. She has trouble with relationships... I don't think I do. Talk to my husband about that one! I don't know... I'm kidding! (Laughs)
I think it's fun to play characters that have things that aren't yours too, you know? And the challenge is to find like, 'Okay, how do I play somebody who  has trouble with vulnerability or doesn't want to be in a relationship?'
How do you think the way in which the show deals with PTSD and Asperger's Syndrome will help in changing audience comprehension about the two conditions?
I think it would be remarkable if we can be a part of that conversation and help heal in some way. I hope we have. I think we have, and we've got some feedback from viewers that they have immensely appreciated the storylines and what our characters are, how we're dealing with that, (the credit for) which, of course, goes to the writers.
Antonia Thomas, who played Claire Browne, left the show last season. How does that affect the team and you in real life?  
The team does feel it, you know. She was such a beloved person on camera and off, so I can understand if the audience misses her because we miss her too. She's in Guatemala right now and and we're moving merrily along. We have new characters that are infusing the show with new energy, and that's exciting and affords new storylines. Personally, I loved working with Antonia, and we are good friends still. I miss her. I just saw her a few days ago.
According to you, what is it about the show that has endured for so many seasons?
Well, I think given where we are now, you know, this year and last, it does provide a place to go in your mind and your heart. It helps provide some respite from what's happening in your life. Our show, in one word, signifies hope. I think that's a feel-good thing. Yes, we deal with a lot of challenging cases and emotions... we cry in it, but we also laugh. I think Sean Murphy (played by Freddie Highmore) is somebody that we can relate to. The show is about how to lean on your friends and to talk about it and to push past what feels like adversity and coming out on the other side, when you see our characters doing that. That feels good. People want to keep watching other people succeed, I think.
Which is your favourite medical series/ film? Tell t2@abp.in