You have a birthday coming up! (Parineeti celebrated her birthday on October 22)

Yeah! Even last year, I had a film release (Golmaal Returns) days before my birthday. I remember last year speaking to Rohit (Shetty) Sir and Ajay (Devgn) Sir on the night before my birthday. When they told me we're going to have a Rs 34 crore opening, I put down the phone and jumped into the pool. That's when my birthday celebration officially started! I just hope I can do that again this year.
It's the big 30. What are the plans?
I don't know what people mean when they say they "feel" 30. To me, post 25, the years all feel the same. I hope this year is brilliant, because I'm in a very good space. I'm very happy with both my personal and professional life; there are a variety of films that are coming up and I'm stronger today to handle things if films don't do well. I feel like a little more in control today. I hope this year is truly a turning point in my life for the positive.
Before we talk about Namaste England, I have to ask you... what is with the red hair?
(Laughs) Now it's quite brown, though there's still a lot of red. I turned it burgundy for Jabariya Jodi (opposite Sidharth Malhotra), and obviously the promotions for this film have come bang in the middle of that shoot, so I've had to keep it red. But I'm loving it now, I don't remember my brown days; when I look at my older pictures, I wonder why I'm looking dull. Now it's a part of me — it looks that bad?
No, it looks really nice.
It looks fine, na? It suits me, I think, if I may say so myself. It works.
Namaste England has you playing a typical heroine. Was that fun to do?
Yeah. Most people do the heroine thing and then they spend most of their careers trying to prove to people that they're good performers as well. I started out not as a glam doll or not as a stereotypical heroine. My performances have never been questioned… if people say that I'm bad in a film, it would be the end of the world for me. So I'm in such a good place where I can dabble in a lot of commercial cinema now. And I love doing it.
Is there something required of you while being a commercial heroine that, maybe, took you by surprise?
There is a lot of focus on physical beauty when you're a heroine, and that is non-negotiable; flaws are not allowed. You have to jump into it completely and you can't be half and half. To be a full-on heroine, you have to be flawless the way Madhuri (Dixit) was or Katrina (Kaif) is and so many others, physical beauty-wise. You have to look perfect even when your heavy outfits or jewellery give you wounds. In my first few films, hair and make-up weren't even a feature. It was just something that was done.
On films like Namaste England or Golmaal (Returns), I enjoyed working on my look every single day; I enjoyed doing slow-motion shots, my hair had to be perfect.
How much have you and Arjun changed since Ishaqzaade?
Arjun always says, "Sab kuchh badal gaya aur kuchh nahin badla." It's really true for us. Our personal lives have changed, and so much has happened in our professional lives. We were debutantes, nobody knew who we were and today, both of us are there with security because we have fans. While all of this has changed on the periphery, both of us are still the same with each other. In fact, I think the bond has just grown deeper over time.
I read somewhere that you want to be married...
(Laughs) What I meant was that I'm definitely ready for a lifelong commitment to someone, whenever it has to be, and for kids whenever they have to be. I'm excited to enter that phase of my life right now, and if I find the right person, then it would be amazing.
Because you mentioned a three-year period, is there already somebody?
(Laughs) Kahaan?!
Is it tough to date as a celebrity?
Absolutely, but it's changing today. Girls like Sonam (Kapoor), Bebo (Kareena Kapoor Khan), Anushka (Sharma)have not shied away from their relationships. At the same time, there are two people involved. I am an actor, the rules for my life are very different. It's not necessary that my partner be a celebrity. He may not want the fame or have people taking photos all the time. As a celebrity, unfortunately, there's absolutely no privacy. I could be getting a blow-dry or be at the airport or at the chemist, there are phone cameras everywhere. So, then how does one protect one's relationship when you're not ready to talk about it?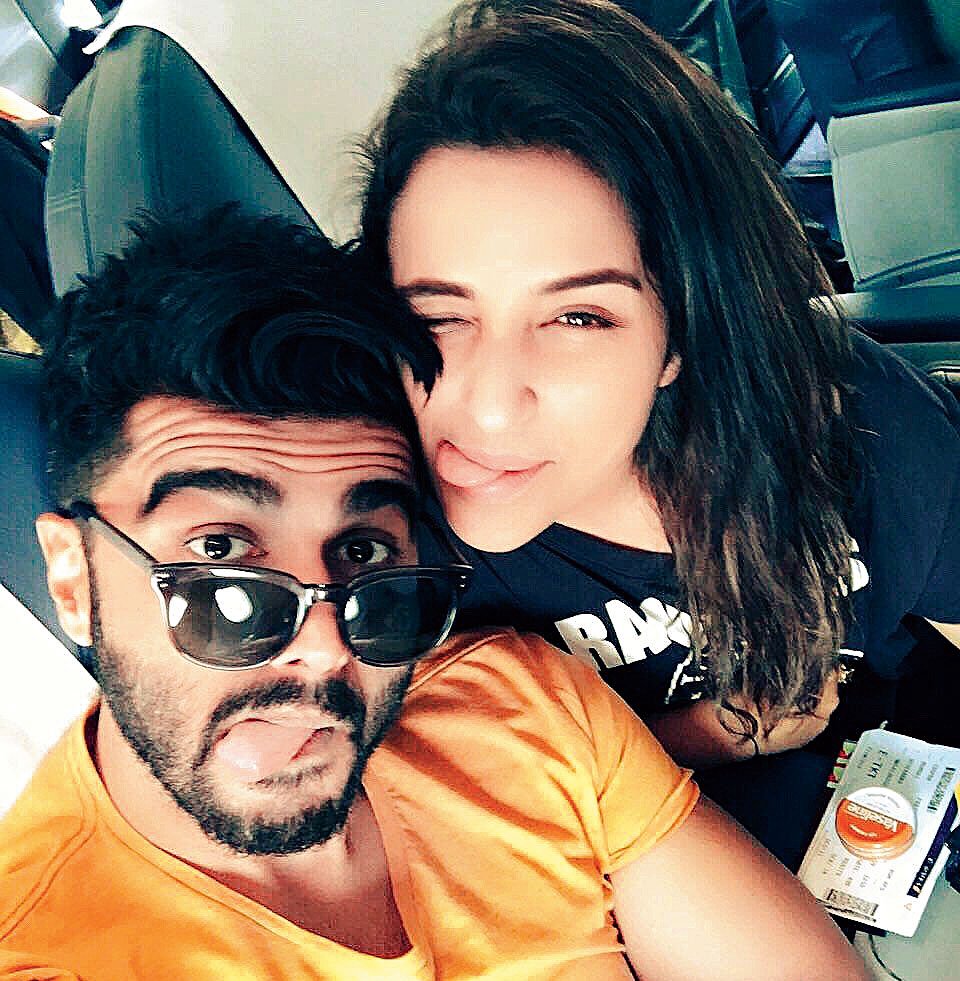 Arjun always says, "Sab kuchh badal gaya aur kuchh nahin badla." We were debutants, nobody knew who we were and today, both of us are there with security because we have fans. While all of this has changed on the periphery, both of us are still the same with each other. In fact, I think the bond has just grown deeper over time
So when was the last time you went on a date?
Only when I'm abroad when I can really be at ease. And that is why I travel a lot, so I can spend time with someone I'm dating and there will be no scrutiny. It's also true that there are Indians everywhere, so it's not like one gets privacy in places like London or New York. So, you find places that are not on the map yet — that's the only way! (Laughs)
Would you take a stand if you got to know that you might be doing a film with someone who's accused of sexual harassment?
One hundred and ten thousand per cent! There is nobody who's a bigger supporter of this movement than I am. Touchwood, I've never been through a bad experience in my life, so I can't imagine what it is like for a woman who has actually gone through it. First, she has to live through that moment and then live in the aftermath of it; and go on to have relationships, a work life and done it all with a smile.
Not working with someone who has abused someone is the smallest thing I can do. I genuinely feel just affecting their careers is not enough. There should be some sort of punishment for what they've done. Unfortunately, in most cases, the evidence doesn't exist because in that moment you're just trying to escape. Nobody says, "I'll first take out my phone and record." How do you try such cases in a court of law? We just have to believe everyone and I would like to always give the benefit of doubt to women, that they aren't making these stories up.
If you can't legally incarcerate these people, what do we do? Maybe it starts by not working with them. Let's take away that passion for cinema that they have, or any industry that come from. Let's boycott them. But also remember to support their families because they're also going through a big shock. I know of many people who have been named, who have daughters that I know and they're the sweetest girls in the world. Imagine living with the knowledge that "my father has raped or molested someone." This is the time to support each and every woman and man, who might have been violated in any way. I'm sad to hear all these stories but in a weird way, I'm so happy this is finally happening.