Netflix's Inside Man is a thriller minus the knockout punch and yet it's binge material
The miniseries, created by Steven Moffat, stars David Tennant, Stanley Tucci, Dolly Wells, Lydia West and Lyndsey Marshal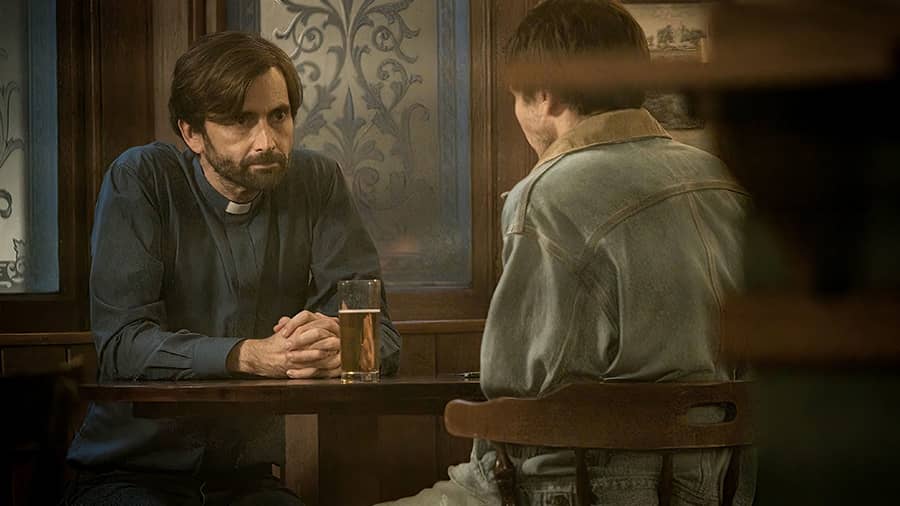 ---
Calcutta
|
Published 17.11.22, 10:55 AM
|
---
Prolific British television creator Steven Moffat's latest BBC miniseries Inside Man, currently streaming on Netflix, delves deep into how an ordinary citizen turns into a hardened criminal — if not in action, then in mind — through circumstances. The series, which is trending on Netflix at no. 7 globally, is a crowd-pleasing thriller with an intriguing premise, witty characters and strong performances but fails to land the knockout punch. 
The case of the 'death row detective' 
The miniseries primarily explores ordinary people falling down the rabbit hole of extraordinary criminal activities. The titular Inside Man is a prisoner called Jefferson Grieff (Stanley Tucci), a former criminologist now on death row for murdering his wife. Imprisoned in a maximum security prison in Texas, USA, the soft-spoken, highly intelligent Grieff solves crimes from prison and, hence, gets the nickname 'death row detective'. 
David Tennant, another excellent casting, plays Harry, a vicar in a quiet little English village, who accidentally takes his son's maths tutor Janice (Dolly Wells) prisoner to save his son. These two seemingly unrelated stories are connected by a journalist, Beth (Lydia West), who is looking for a story. Thriller laced with black humour
The British dry humour, typical of Moffat's works, is present in Inside Man too. The series is witty and endearing in its depiction of moral indignities despite grim issues it deals with, like sexual assault, paedophilia, suicide and murder. When Grieff's Watson-like sidekick Dillon Kempton (Atkins Estimond), a serial killer with a photographic memory, cracks jokes about his shenanigans and mental state, the audience is forced to chuckle awkwardly.
The show also keeps up a steady reminder of the characters' errors that place them in perilous positions for the audience. The witty exchanges among characters add laughter even in the bleakest circumstances.
From Moffat's Sherlock to Dr Who to the most recent television outing, Netflix's Dracula, there is a sense of mischievousness to the storytelling that transcends the characters.
'Everyone's a murderer' What transpires when regular individuals fall victim to spectacular criminal activity? Over the years, this idea has attracted mainstream television, from Noah Hawley's grim reimagining of Coen Brothers' Fargo to Sally Wainwright's stunning Happy Valley. Moffat's Inside Man is another addition to the sub-genre that deals with the notion of ordinary individuals who are caught in a cycle of poor choices, some who capture our darkest fears and remind us of our predatory instincts.
The series immerses us in a world where criminals are not hardened psychopaths but rather everyday people trying to protect their loved ones and themselves. They act in ways they otherwise wouldn't even consider due to their vulnerability and dread of being caught. As Grieff's Hannibal Lector-ish character points out — "Everyone's a murderer... All it takes is a good reason and a bad day."
One too many coincidences kills the thrill
Like several noteworthy works of the genre, Inside Man also takes the route of connecting two parallel stories — one with an ordinary man spiralling into criminal activities and the other where a "death row detective" solves several cases from inside a prison.
The problem here is that the two storylines are taking place on opposite sides of the pond. In the first two episodes, we get to see both unfold individually — the vicar stepping into the dark side in the UK, and a death row inmate solving mysteries in the US — and both are equally gripping on their own, with their individual subplots. It is the connecting dot between the two, the journalist Beth on the lookout for a story and clues to the missing Janice, that takes the zing out of it.
In the end, there are too many whys and one too many coincidences that undermine the thrill of a smug, suave criminal solving crimes.