Neeraj Pandey: The untold story
COVER STORY: Special 4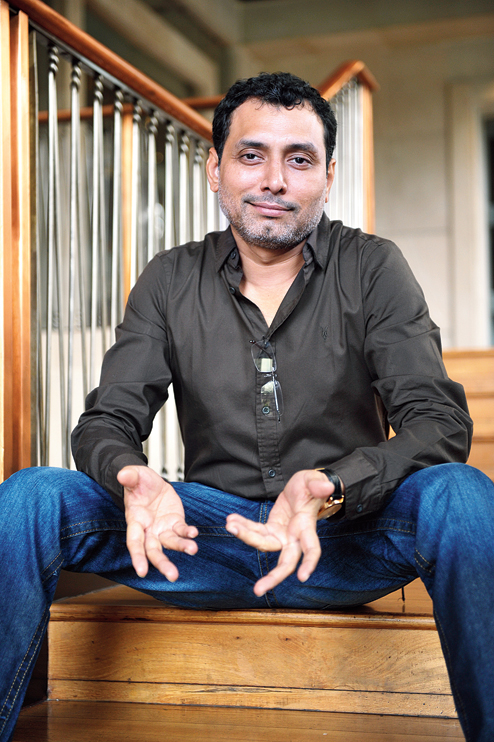 ---
Published 16.04.17, 12:00 AM
|
---
More than two decades ago, a Howrah boy in his early 20s arrived in Mumbai with a dream — to tell his own stories. His first film in 2008 — made after three aborted attempts — was a sleeper hit, becoming a talking point from its first show. His next two films, both thrillers, were not only critical successes but also notched up big money. And he delivered his biggest box-office hit last year, telling us the 'untold story' of one of modern-day India's biggest heroes.
Today, Neeraj Pandey is a brand. Starting off with A Wednesday!, the student of St. Aloysius School in Howrah who played cricket on the Howrah Maidan, has delivered films like Special 26 and Baby, managing to marry edge-of-the-seat entertainment with solid storytelling. With M.S. Dhoni: The Untold Story, he offered the world a peek into the man behind the cricket superstar.
With just four films as director — and a few more as producer, including the recent Naam Shabana — he has built a reputation for spotting real-life stories and telling them in the mainstream format. He has also formed a solid team of actors — led by Akshay Kumar — who would never say no to a Neeraj Pandey film.
t2onSunday caught up with the 43-year-old filmmaker to trace his rise from a "cinemchi" to one of present Bollywood's most talked-about directors.
---
The GRADUATE
I was like any other kid growing up in a middle-class household. My family is originally from Bihar, but I was born and brought up in Howrah. We lived in Panchanantala and I studied at St. Aloysius School till Class X and then at St. Thomas', where I did my Class XI and XII.
As a kid, everyone knew I liked stories… and I liked reading a lot, but I was very bad in academics. So barring English Literature where I could read a lot, I hated every other subject. I was pathetic in maths and science. I flunked Class IX... I had no interest in academics and it showed! My dad was very insistent that I complete my graduation and my only condition was that I could be a graduate only if I pursued English Literature. So I left Calcutta in '92 and went to Delhi and completed my graduation there (from Sri Aurobindo College).
---
THE CINEMCHI
I was a movie buff right from childhood. I had no idea about how movies got made, but I would devour everything related to movies. There's a term called "cinemchi", in north India it's a very popular word, and it means that you are addicted to movies. I was a cinemchi and I would be called that ever since I can remember. Movies would fascinate me … the power of a film to hold my attention and suspend reality for three hours really intrigued me as a kid. I would watch everything… across all genres and it would surprise many, but my dad would actually encourage me to watch films… Hindi, Bengali, English… I would watch them all.
I must have watched thousands of films as a kid, but there are a few that left a lasting impact. They are very diverse though, and you are free to judge me all you like! Many thought I had weird choices in cinema for a teenager… like I loved Guide and Jewel Thief. Later, when I connected the dots and started thinking seriously about why I liked these films, I realised that it had more to do with Vijay Anand than Dev Anand. I didn't like actors… I liked stories and I wanted to know more about the people who made these films and these stories. I loved Kaagaz ke Phool as a kid and when I say as a kid, there were serious doubts about my intellect at that point of time! My parents were like, how can he like a film as dark as Kaagaz ke Phool at this age?! A film that stayed with me for a very long time was Lion of the Desert (1980) in which Anthony Quinn played Omar Mukhtar. For some strange reason, I loved films that no one expected I would. Gulzar saab's films have had a huge impact on me. Ijaazat was one film I loved because of its writing… so intimate and personal and at the same time, so universal. Naseerbhai (Naseeruddin Shah) and Rekha were phenomenal.
---
A FEW FAVES
TV THE TUTOR
After my graduation, I went to Bombay and started working on small projects in television. I wrote three scripts before A Wednesday! but we couldn't get those three films going because of various reasons, as it happens with any other aspiring filmmaker. Rejections are always very disheartening but it becomes very easy for you when you know you have no option. Honestly, I had no option but to become a filmmaker. I didn't know how to do anything else! I didn't have any other skill set and I had to keep trying.
Television was a stepping-stone to films. I wasn't very serious about TV and I never went into soaps. I was doing stand-alone shows at that time… 45 minuters or one-hour specials, stuff like that. It was like net practice for me… I was trying to see if I could successfully tell a story in 45 minutes… and then move on to a 90-minute or two-hour film.
A Wednesday! was 100 minutes long and wasn't too different, lengthwise, from what I was doing on TV just before that.
But whatever I learnt was all because of television… working on smaller budgets… on TV you have to work very hard to make small budgets look much bigger. On TV, deadlines keep you on your toes and the deadlines that I worked against on TV so many years ago still help me deliver fast even as a film director. Homework, planning... I learnt all of that simply by working on TV. Television can teach you a lot, if you are cognisant of quality, that is. There can be no better medium than TV as a learning ground.
---
THE MAKING OF A WEDNESDAY!
I knew no one in the film industry at that time... this was around 2006-07. I had this habit of putting my phone number on the last page of my scripts, hoping that if an actor liked my script — that is, if they reached the last page! — they would know where to reach me. I sent the script to Naseerbhai's office and I was told that he wasn't interested in doing the film.
They said he didn't like the script... and I took it in my stride and started talking to other actors.
About a month later, it was 10.30 in the night and I get this call on my phone from a landline... Naseerbhai was at the other end, saying that he had just finished reading the script and he would like to meet up. I told him that I had got word from his office that he hadn't liked the script and his reply was, 'Fantastic! Can we meet tomorrow?' We met the next day and he was on, just like that!
Mr (Anupam) Kher coming on board was another interesting story. He read the script and met me and I saw he had made some notes on the side of the script. He started telling me that he thought these were some changes that would make the script even better. He, of course, had good intentions at heart and is someone I really admire and respect, but his changes didn't fall in line with the vision I had. I chose to tell him very nicely why I thought his suggestions didn't work and I remember he did get a little irritated… 'Jab aapko sunna hi nahin toh main kyon bolu?' he muttered. But I had written the script... and I knew what I had to do with it... it could be right or wrong, that's a different issue altogether, but I wanted to do it my way. Mr Kher still keeps pulling my leg about this incident, and that he started believing in me and my vision is demonstrated by the fact that he's been a part of all the films I have directed so far.
So, I had two fantastic actors on board and the film was shot in 26 days flat. At that time, the most important thing was to complete the film. Usske baad kya hoga woh toh mere haath mein tha nahin. But then UTV (the producer) decided to sit on the film for a whole year and I didn't want to start working on a new script till the time I knew what was happening with my first film. They couldn't get a release window, which is what they claimed. When it finally released a year later and became what it became, I was out of town with my family on holiday. I was in a very low network area and I would get a signal only if I went to a certain height. I used to do that every evening just to get a sense of what was happening. But through the day, I was completely cut off... and that was actually the best thing. I had no idea that the film had created such a stir, that the country was talking about it, that it had become the sleeper hit of the year, that I was being hailed as an exciting new filmmaker... I knew nothing!
When I came back, 15 or 20 days later, I was like, 'Okay, this happened'. But being away kept me from experiencing the natural head rush that comes from the success of your first film… I count it as a blessing because I don't know if I would have been able to handle it.
---
ORDINARY PEOPLE IN EXTRAORDINARY SITUATIONS
I am naturally more drawn to these stories because that's inherently what good stories should be. I am intrigued by a common man who rises above all his shortcomings and his hurdles to come up with an extraordinary feat. We all lead ordinary lives, but only some of us have the potential to stretch ourselves and do something more... and if you frequently keep doing something more, then there comes a day when you can actually pull off something extraordinary, no matter how small it may seem. I love underdog stories... stories where a nondescript guy takes on the system and proves a point. For me, these are genuinely good stories... and inspiring at the same time.
---
THEY ON HIM
WITH AKSHAY, IT'S A SENSE OF COMFORT
I wouldn't agree with people who say that Akshay Kumar's career has been given a new dimension because of my films. For me, it's a collaboration where he's invested as much as me. Trust me, it's tougher for him because before we started working together, he had already spent so many years in the industry and so his willingness to try out something new at that time was very commendable. All said and done, maybe he took the
larger risk.
It's fantastic to work with him. I think we get each other very easily. We don't really need to talk that much to understand what we want from each other in a shot. Neither of us socialises and so we don't meet often. It's only when we collaborate on a project that we get to see each other. And every time, we pick up from where we left off. It's a sense of comfort and the faith grows with every project.
When I was casting for Special 26, I was very sure from the beginning that I wanted him because first, it was an expensive project and needed a star and second, he fit the cast in my head. I felt this was one actor who could pull it off without any hassle. It was a very odd film in his filmography at that time. It was an odd mix also because we had Manoj (Bajpayee) opposite him. Akshay didn't do any action in the film... whatever action was there in the film was done by Manoj! It was one of those films where we tried out many different things… and thankfully, they all worked. That gave us strength and faith to keep collaborating.
---
A BORING GUY!
I don't like going to film parties and I am not personally on social media… I have an account on Twitter that's managed by a team and I have very little to do with it. Films are my social media. It's only on the cusp of a release that I feel that I should be talking to the media and the audience to introduce my work. It's my duty to the investors who have put money on my film to go and make the audience aware that my film is releasing and this is what it is about. Outside of films, there's no point talking about myself.
When I am not making films, you will find me spending time with my family, watching films or reading books. I am a boring guy! But yes, I love travelling and I take off at the drop of a hat. In fact, I do mock recces, just so that I can travel!
---
NEERAJ PANDEY THE BRAND
I don't take it very seriously… I don't know if I can be called a brand. But I know it would be very wrong on my part to assume that it solely belongs to me. It's a result of the team's effort and even though the films carry my name, they are not mine alone.
---
NO TWO FILMS OF MINE ARE THE SAME...
All my stories are very different from each other. A Wednesday!, I personally feel, was a drama more than a thriller. It spoke about something very relevant. It was definitely packaged as a thriller because we wanted a certain pace to the story, the contours were set in the world of terrorism, but for me it was a drama about two people — one who is defending the law and another who is on the cusp of breaking it. And Naseerbhai's point of view, though it sounded wrong and skewed, made sense on some level.
Special 26 was a heist film… a little dark in tone and very different from A Wednesday!. Baby was an espionage thriller and M.S. (Dhoni: The Untold Story) was a biopic on a sportsperson… Ouch, the short that I made last year with Manoj (Bajpayee), is a black comedy.... I ventured into the short film format because I wanted to see if I could pull it off. Ouch was told with a poker face, there was self-mockery involved and I absolutely loved making it. I am very proud of it.
For me, stories should be told at a certain pace. That's the only common thing between my films. I have an audience and they are the only people I am bothered about, to be honest. I feel that I am answerable to my audience because they invest time and money and I better live up to a certain quality. I don't want boredom to set in when someone watches my films… I don't want them to squirm in their seats and say, 'Yaar, yeh kya ho raha hai?'
I am contemplating a non-fiction book called 'My Romance with Lies' where I will talk about how these things work. It's fascinating… this world, the people who have been part of my journey. I cherish this every moment.
---
THEY DON'T MAKE PEOPLE LIKE MS DHONI ANYMORE
As a kid, cricket was a big point of interest for me. I would play cricket with my friends on the Howrah Maidan.... Dhoni's life story has always fascinated me. There were some hooks that got me excited. First, it was the story of a small-town boy and, second, I wanted this film to explore the making of MS…. a kid who's tenacious but has terrific odds stacked up against him. He's rejected at every step, but keeps working hard and waits for his time and finally makes it to the biggest stage in the world... it's an unbelievable story!
I first met MS during the making of Baby and the first thing I told him very clearly is that we would be meeting very often.
I needed a lot of time to understand him and I insisted that when he and I would talk, there couldn't be anyone else in the room — no friend, no family, no manager, nothing — and that we would interact one-on-one like friends. I told him I wouldn't record anything that he told me and that he could just go ahead and speak his heart out... I would just treat them as conversation pieces. I took no notes, but his life story is so inspiring, so interesting and so unique that it all stayed with me. The idea was to hear his life story, see what stayed on with me, write the script and then share it with him. If he has any issues, we'll see.
When it came to the prickly bits — like how he wanted the older players to be left out of the team or even his first girlfriend dying in a car crash — I had made it very clear to MS that his life was pretty well-documented from the time he became a part of the Indian team... it was the untold story, which is also the tagline of the film, that we were looking to highlight to the world.
For me, his life and struggle as a TTE (travelling ticket examiner) in Kharagpur, which I had also read about in The Telegraph, was most interesting. As far as his issues with Dada (Sourav Ganguly) or (Virender) Sehwag are concerned, it's all been written about already and there have been a million conjectures about it and I wasn't really interested in getting into that aspect. This had to be a story of the making of MS ... the journey of a small-town boy.
We zeroed in on Sushant Singh Rajput to play MS and as providence would have, Sushant had no other work! He had no choice but to dedicate himself to this part. And it's to his credit completely that the character became what it is. He went at it with a lot of hard work and dedication, hunger and intent and it worked in his favour that he had no other film in hand because he could single-mindedly just focus on this role. It took a lot out of him, but he came a 100 per cent prepared to the set. It was a tough and gruelling shoot, but Sushant's high level of preparedness made it very smooth.
MS took me into his world with an open mind and a lot of honesty. He knew what he was getting into. He had seen my earlier work and I remember him telling me, 'You are the only director whose all films I have seen'. And I was like, 'I have just made three till now!' He's remained the same person from the time I met him for the first time to now... he's a very rare kind of guy... they don't make people like him anymore.
---
OH CALCUTTA!
I don't have any family in Calcutta anymore… they have all moved to Delhi. Calcutta has shaped the person in me and the filmmaker in me. I want to document my growing up years here in the book that I am planning to write. As far as setting a film here, I still haven't really thought of a story. The day I do, I will be here the next day, shooting it.