Nawazuddin Siddiqui and director Honey Trehan let us into the world of whodunit Raat Akeli Hai
Actor, first-time film-maker on the world of their whodunit and the commentary it makes on society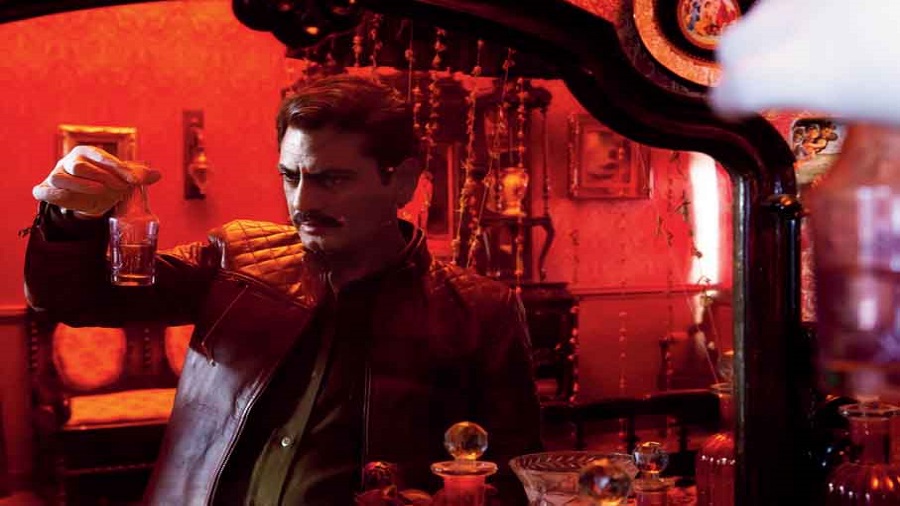 ---
---
With Raat Akeli Hai releasing to unanimous praise, The Telegraph caught up with actor Nawazuddin Siddiqui, who plays protagonist Jatil Yadav — a cop investigating a murder who gets embroiled personally in the events that unfold thereafter — and first-time film-maker Honey Trehan on the world of their whodunit and the commentary it makes on society. Raat Akeli Hai, that also stars Radhika Apte among a strong ensemble of actors, is now streaming on Netflix.

Given that we are speaking a day before Raat Akeli Hai streams, what's the audience vibe like? What are people expecting out of the film?
Honey Trehan: The audience is very intrigued by these characters. A couple of people have told me that they are very curious to get into this world and know who these people are. Rather than finding out who's done the murder in this whodunit, they are more curious in discovering the world of these characters. People are also saying that Nawaz is looking and feeling different from how we have seen him of late, a very fresh feel and a very different character.
Nawazuddin Siddiqui: Honey gave me a very tough time during shoot (laughs), but now I realise ki woh acchey ki liye hi tha. Woh sahi tha, main galat tha….

How did he give you a tough time?
Nawaz: Ek toh raaton ko shooting karwaaya… poori poori raat! Aur bahut thehraav pe focus kiya. Pause hota hain na, bahut karwaaya mujhse. Actors are mostly insecure, we want to deliver our lines and go on to the next scene. But Honey insisted that we take a pause in every scene, pause between lines, pause between moments…. Pause bahut khoobsurat cheez hoti hain. For a long time, I had forgotten about the importance of thehraav in a performance. Honey encouraged me to ruminate, take my time, aaram se karo… jis tarah aam life mein baat karte hain waise baat karo. I really liked that.
Honey, isn't 'thehraav' supposed to be the antithesis of a thriller, which is meant to be edge-of-the seat and pacy?
Nawaz: Wonderful question! I had the same question for him when we were shooting.
Honey: That's true to an extent, but for me, silence speaks more than words. Silence comes with its own mystery. In life, we don't deliver dialogues on remote control. When someone says something, we think and then answer. But because in films we are limited by time and pace, we mostly fall prey to the trap of yeh dialogue ke baad woh dialogue bolna hain. It comes across as everyone is just mechanically doing a job.
Maybe it comes from an individual streak... I am not a person in a rush. I like taking my time, being easy. I want the audience to understand things and feel the space. I remember we were doing that scene where Nawaz bhai (who plays Jatil Yadav) asks Shweta Tripathi's character (Karuna), 'Kya lagta hain, hatya kisne ki?' I told him, 'Nawaz bhai, ekdum aaraam se karo, jitna time lena hai lo'. I told him I would signal to him when he needs to deliver the dialogue. Nawaz bhai came and pulled the chair, sat on it, straightened his glasses, turned his hat, looked here and there and then finally delivered the line. He was like, 'Yaar, ab ruka nahin jaa raha!' (Both laugh out loud) I still hadn't signalled. My thing as a director is that I always want my actor to reach that stage of needing to say something.
Nawaz: When you get time to process things in silence before you deliver a dialogue, then, as an actor, you realise that your mind speaks to you. Saying one dialogue after another often becomes very clinical… but when you take a pause, your brain starts ticking and telling you things that help your performance. For me, the preparation for most scenes in this film came from those pauses. Usko hum pause bol rahe hain, lekin woh asal mein mere performance ka sur tha.

Nawaz, that must have been both a refreshing and a learning process…
Nawaz: Bilkul. Yeh sab hum theatre mein karte thhe. We would be given four dialogues and asked to deliver them in half-an-hour (smiles). You can deliver those same four dialogues in 30 seconds or in 30 minutes. When you deliver lines with a pause like we did, then the true meaning of these dialogues come out.
Honey, what was the genesis of this film?
Honey: I was looking for a script to debut with. I had a couple of ideas in my head, and I was meeting some writers. Before you meet any writer, you ask for a sample script. So this first came to me as Smita's (Singh, who also co-wrote Sacred Games) sample work. I read it, and asked for the complete script. While reading it, I instinctively felt that I knew these people and their world, given I have spent a lot of time in Uttar Pradesh. I felt this was the right film to debut with. I spoke to Smita and she came on board.
We worked on the script very closely for about two-and-a-half years. Smita is the 'mother' of this story and as a director, I had to be very closely involved with the script, to feel that I have actually lived with these characters. That's why Smita and I took time on developing the script together. Once that was ready, we went to Nawaz bhai, who was the most obvious choice….
I was actually a little scared, to be honest, when I went to him with the role. First, it's my first film and though I come from a direction background, I am a casting director. But we have worked together in many films — Raees, Manto, Photograph — as actor-casting director and there was a huge familiarity. Also, we both come from a theatre background, and Nawaz bhai gave me a lot of confidence.

Nawaz, Jatil Yadav is a uniformed cop, but at heart he's a sleuth and a seeker of truth, and that sets him apart from the average policeman. Did that play a part in making you want to sign on?
Nawaz: I never look at my characters as a gangster or a cop… I always look at them as people. Agar uske upar vardi pehen li toh woh doosri baat hain. As far as Jatil having a sleuth-like mind is concerned, every person is curious by nature. For Jatil, it's his job as well as his instinct, and he obviously has a personal motivation in the form of Radha (played by Radhika Apte).

What were the challenges of portraying a flawed hero?
Nawaz: Jatil fights patriarchy, and yet it's ingrained in him, he accepts it consciously or sub-consciously. He's as much a victim of the world he's grown up in as everyone else around him is. But he gradually transforms during the course of the film. He doesn't realise when he changes, and my biggest challenge was to ensure that that change didn't come across as deliberate. I had to go with the flow.

Honey, Nawaz just mentioned patriarchy. Was the commentary on patriarchy, colourism and casteism deliberately put in or did it flow into the script organically?
Honey: Most of the credit for that goes to Smita, it was in her writing. Whodunit may be the genre of the film, but it's actually a by-product.
When I went out to make this film, I wanted to tell a story about patriarchy. We all are part of systems that have patriarchy in different shades. So does Jatil. He's a protagonist, but he also believes in a world where patriarchy exists, in contrast to what his mother believes (played by Ila Arun). The story is about a person who is patriarchal and how he comes out of it while handling this case. It's primarily that.
Solving the murder mystery is just a part of him. So, the film essentially is his journey from Jatin to Jatil and back to Jatin.

Your film releases on a Friday which has multiple releases, but on different streaming platforms. Traditionally, a film of this genre would have had to fight for screens in movie theatres…
Honey: It's such a beautiful and healthy environment to release films now (smiles). We now have space for content-driven films. We are slowly moving away from the space where the audience would be biased towards big stars and big films. These OTT platforms have successfully removed the reservations from a film-maker's life. Yeh jo chhoti film aur badi film ka aarakshan hain, jo quota system hain… they have removed all this.
Nawaz: There are only a limited number of theatres and when multiple films release, the big films take up all the screens. A good film would come and go and people wouldn't even know that it had released. On streaming platforms, it's in the audience's hands to decide what to watch, whether it's a so-called big film or a small film. I have always been disturbed by the fact that so many good films have released in theatres , but they weren't given adequate space. Thanks to Netflix, people in 190 countries can watch Raat Akeli Hai at the same time.
Honey: I think we are now in a time when content will get its due respect.

To end, which are your favourite thrillers?
Honey: More than films, the names that spring to my mind are Agatha Christie and Cornell Woolrich. And, of course, Alfred Hitchcock, and in the new age, David Fincher. I am a big fan of Hitchcock thrillers like North By Northwest, Dial M for Murder, Birds… Rear Window is such great storytelling. In fact, Cornell Woolrich has written Rear Window. Gone Girl by David Fincher is another favourite.
In India, the problem is that whenever we try to make a noir film, we end up making it into a thriller. We don't stick to the classical elements of a noir. But Mr Vijay Anand has made some great thrillers… Teesri Manzil is a classic.
Nawaz: I just watched a Russian film called Loveless… amazing writing. And The Secret in their Eyes is a film I really like.