Mr Versatile Ranveer Singh is on a career high
Marriage to Deepika Padukone and 2 blockbusters, Ranveer Singh has had a stupendous 2018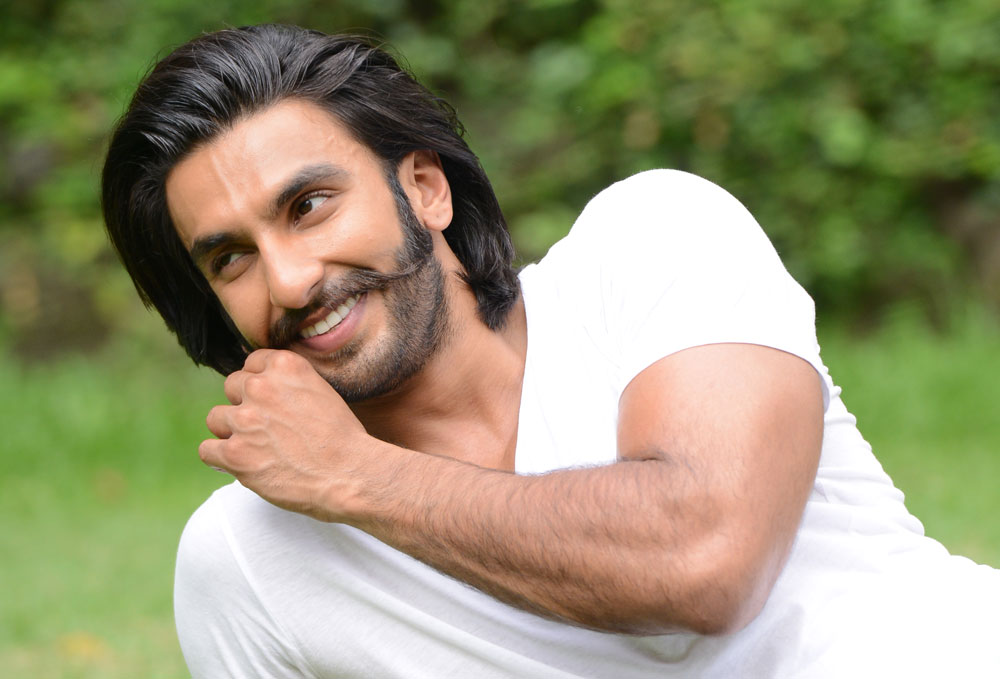 Ranveer Singh is raring to reach new heights this year. Where I stand today, I've never been to this place before.
Telegraph picture
---
Published 19.01.19, 02:36 PM
|
---
The last few months have been a whirlwind for Ranveer Singh. In between multiple receptions following a very private wedding to Deepika Padukone on Lake Como in Italy, Ranveer finished the dubbing for Simmba. This was followed by promotions for the Rohit Shetty masala blockbuster, after which the couple took off for a quick honeymoon in Sri Lanka. Now that he's back, Zoya Akhtar's Gully Boy is around the corner and he has multiple post-release interviews to do. It's no wonder that Ranveer is trying to multitask.
When The Telegraph dropped in to meet Ranveer recently at the Yash Raj Studios, the actor insisted on speed walking through the interview. "I'll get my cardio in and we'll do the interview. Everyone wins," he explained, adding, "I need to shed some holiday weight."
There's no excess weight in sight but I take his word for it. For the next 30 minutes we walked around the studio premises — sometimes holding hands or greeting the likes of Saurabh Shukla and Thugs of Hindostan director Vijay Krishna 'Victor' Acharya — past gawking delivery boys and dodged trucks bringing in material for building sets. And through the walk we chatted about the phenomenal year it's been for the newly-married actor.
From Padmaavat to Simmba and the wedding, there's so much that's happened in the last year. What for you has been the highlight?
My marriage to Deepika, of course. That's something that has changed my life for the better. I feel more secure, more grounded, more protected and loved than ever before; it's a beautiful feeling. The month of November was by far one of the more joyous months of my life.
On a professional level, it's been stupendous. It's been an extraordinary year, with two of my biggest blockbusters happening in the same calendar year. The response to both is something I've never experienced before. Where I stand today, I've never been to this place before!
In the beginning of the year, when Khilji (he plays Alauddin Khilji in Padmaavat) happened, the kind of acclaim that came my way was unprecedented and overwhelming. I had experienced that to some extent with Bajirao Mastani, but Padmaavat took it to a whole new level, and I thought to myself that this is as good as it gets; I'd never be able to top this. And then Simmba happened in the same year, and a whole new dimension has opened up. I'm getting recognition like never before. Now with the Gully Boy teaser out, I think somewhere or the other I have achieved what I was constantly endeavouring for, which is to showcase the versatility in my repertoire.
From the beginning of your career, one of the most important things for you was to showcase your range as an actor.
Absolutely. I'm trying to be the best actor I can be, and that by my definition is the most versatile. Growing up, the artistes who influenced and inspired me were the ones who were known to be versatile. They had an ability to transform themselves into different characters, they had chameleon-like qualities. You see one film of theirs, and you can hardly believe it's the same person when you watch their next film. These people have inspired me to have a diverse filmography and work in different genres, and be as effective in each and every one of them.
Early in my career, people thought of me as the guy from Band Baaja Baaraat, and that's all I was about. Then I consciously chose to do Lootera to break that, and Ram-Leela happened in the same year. That's when people sat up and took notice because those are two really different characters, almost poles apart. The same thing happened in 2015 when I played Kabir in Dil Dhadakne Do and Bajirao Mastani in the same year, and that just took the notion a step further. And now, with Khilji and Simmba followed by Gully Boy, the chatter about the versatility aspect is louder than ever before. That's what's heartening and fulfilling for me.
So you consciously look for films and roles that are diametrically different?
Of course. I can't repeat my tricks. I have to watch those films and live with myself and that filmography after that. So I can't allow that to happen. I have to be creatively stimulated. Going into Kabir Khan's '83, I have perhaps my biggest challenge lying in front of me. I've done Khilji and Bajirao, but here's Kapil Dev, somebody who's well-known, loved and admired and one has to work within certain parameters. There's a characterisation part, a physical part where I have to transform myself into one of the greatest athletes ever. As daunting as it seems, it's scary but I love that.
I hear you went to Gaiety-Galaxy (movie theatre in Mumbai) to watch Simmba over the weekend!
Watching the film with the paisa-paying audience is something else. When you are making a film, you make certain acting choices not knowing if they'd work. In a dark theatre, when a punchline lands and there's roaring laughter, when Rohit sir's (Shetty) treatment lands on screen and there's clapping and whistling and people going crazy, when the drama hits and suddenly there's pin-drop silence in the hall… it's insane!
This is the theatre where you watched films through your childhood.
To watch my own film there, and to experience what I did while watching Lagaan or Gadar when I was part of the audience, screaming and clapping, is the greatest feeling. I've been going almost every day. I can't peel myself away because it's the greatest trip and the greatest high; it feels better than any award.
You've been wanting to work with Rohit Shetty for a long time. Is there something that you learnt from him that no other director could have taught you?
Work ethic. The amount of value he attaches to the opportunities that he has, the drive —it's like work is sacred to him. His leadership skills are what I'll take away with me more than anything else. Here's a guy who knows how to lead a team. He's the best captain you can possibly have because he keeps his people well. He gives respect to everyone, from the person with the smallest portfolio to the most significant portfolio, he treats people equally and there are no 'lesser' contributions.
The way he galvanises his team, and the amount of love and respect they have for him means they put all their heart and energy into it. That's why his team is special and stands out. It's never a 'Rohit Shetty film', it's always 'a film by Rohit Shetty and team' because they're integral to the process and he's cultivated them. In the movie business, professionals are otherwise like mercenaries, they work on a project for six months and move on to the next one. But here's a team that's stuck together for 10-12 years and it's so rare. They're like a family and I'm like the kid who's been adopted into that family. It's a unique work environment and look at their track record — nine blockbusters on the trot, who can boast of that? That's teamwork. They're not doing a job, they're creating something with love and that's what makes the difference. This year promises to be another insane one for you!
Yeah…. We start with asli hip-hop… Gully Boy promo has gone mental and caught fire, and the movie comes out on February 14. Then I'll immediately jump into the raining for '83, which will be very intensive but I'm feeling damn good going into it, because I feel the creative momentum after the way 2018 has been. I'm so charged up, I can't begin to tell you what's happening with me. One would think the more work you do, the more content you'd be, but my hunger is only increasing. The overwhelming response I've gotten so far is like wind in my sails — I'm just propelled and more motivated than ever before to push harder.
Then there's Takht. It's a matter of great honour to be Karan Johar's hero, because he's a creative force of nature. His panoramic, kaleidoscopic, multifaceted talent is one of a kind. He's very casual and candid in his demeanour and doesn't take himself very seriously, which is what I love the most about him and it's so endearing. But he's a very, very serious filmmaker. He's contributed some cult films to Hindi cinema, and here he is on the cusp of making his biggest film, his magnum opus.
When he narrated the film to me, I saw a different side to Karan, a side that I didn't know existed. I saw a passionate, gritty filmmaker aching to make a lasting piece of cinema, and I said: "I'm on, I want to be a part of this." It's testament to the fact that I'll always put a story before myself, it's too delicious; Karan has landed himself an extraordinary script.
On this journey of exploration — because that's what it is — I'm just exploring. When I started off, I thought I knew everything but the more work I do, the more I realise that this craft is limitless.
There's no end to how much you can explore it and transform into another being. It's something I hope to continue, and with this new project, I want to see how much further I can go and how much more I can do.
After Gully Boy, your next two are ensemble films. One would expect that after the success of Padmaavat and Simmba, an actor would want to do only solo-hero projects...
A lot of people around tell me that I'm a star now and that I should be the hero, be alone on the poster… and things like that. It's imperative for me to put the story before myself, and I'm very clear about that. I want to be a part of tales worth telling because I feel a sense of responsibility towards the audience who has invested a certain amount of trust in me. It's like now they see my face on a poster and my name attached to something, they expect quality. A large part of my audience works very hard to earn money, and when they pay money to buy a ticket and come all the way to the hall, it's because they trust me to deliver entertainment to them. That's too precious to me, it's too valuable and I'll protect that till my dying breath.
I'm on a trip now, I'm going through a phase where I want to do films that bring people back to the theatres in this age of digital. I think that vertical is great and it's growing and I'm so proud of what Vikram (Motwane) did with Sacred Games, but footfalls are dwindling in theatres and I want to champion the cause of bringing them back. I want to put butts in seats, and that means the promise of a big screen spectacle. And that's why I want to do films like '83 and Takht.
You have two big films to shoot and one will release this year. In a recent interview, you were talking about the need for a better work-life balance. How is that going?
(Laughs) Currently it's very lopsided. I can't say I'm managing to cope with my new workload and new life. I can't say I'm managing to create a healthy balance at this moment, but I'm constantly working towards improving myself and finding that balance. Last year has been crazy, with Padmaavat at the beginning of the year, started and finished Gully Boy, went straight into Simmba, went and got married, released Simmba, came back and addressed my ad portfolio. I still have to release Gully Boy, jump into '83 — so it's mad hectic right now.
My wife, I have to say, is being very supportive.
There's a lot to learn from the kind of discipline she has. I'm very glad that I have her support because if there's anyone to learn from on how to be disciplined in your work ethic, it's her. She has that sportsperson's work ethic that's imbibed in her ever since she was a child. I'm hoping some of these virtues would rub off on me. I hope some of my virtues rub off on her.