Maayakumari: A film dedicated to 100 years of Bengali Cinema
'The Highest accolade a film can get is the absolute involvement of the audience. Maayakumari has done that with full ease from the title credit itself,' the title credit itself,' writes film-maker Raajhorshee De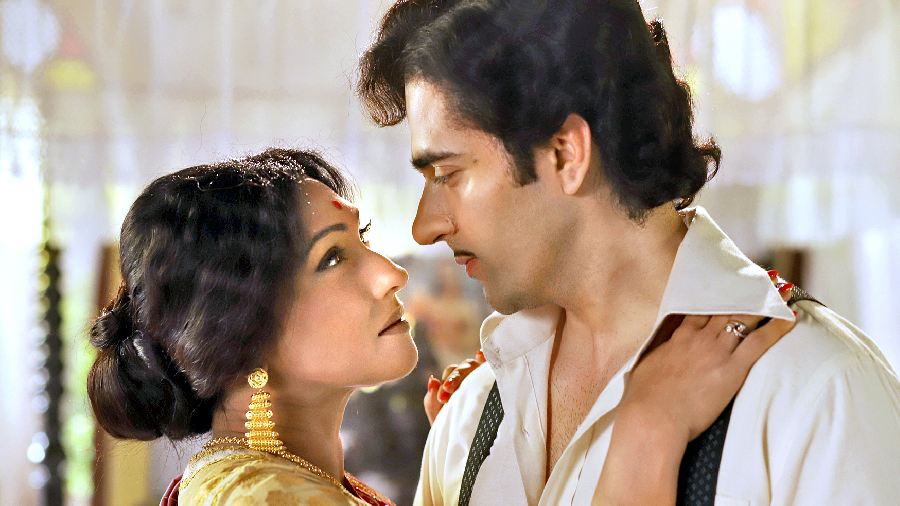 Rituparna Sengupta and Abir Chatterjee in Maayakumari
Pictures: Pabitra Das
---
Published 18.01.23, 04:57 PM
|
---
I may call it a conspiracy by the universe that I got an opportunity to write about the film Maayakumari whereas the name of my next release is Mayaa. This is something very uncanny. Maayakumari can be described under the famous quote from Hamlet — "There are more things in Heaven and Earth, Horatio, than are dreamt of in your philosophy."
I believe that the highest accolade a film can get is the absolute involvement of the audience. Maayakumari has done that with full ease from the title credit itself. The title of the film is extremely important for the audience to get an idea of how the film will progress. I remember a film called Patalghar which I still believe was quite an ahead-of-time Bengali film. The title of Patalghar was no less than a Hollowood sci-fi film. The title card and interval card of Maayakumari are sheer brilliance.
To begin with, this is a film dedicated to 100 years of Bengali Cinema. The details of production design have been meticulously done — starting from choosing the colour palette, to the props, the look of every single room, balcony and curtains. This is film within a film, which is a very difficult task to achieve and Arindam Sil has done it with full power. The film revolves around the lives of Kanan Kumar and Mayaakumari who were once the most important screen couple from the silent era to talkie. This clearly implies that Arindam Sil and Suvendu Dasmunshi (writer) have woven a fantastic plot of a Shakespearean revenge narrative with a little essence of Om Shanti Om. 
It even talks about the first kissing scene in Bengali cinema. It was Himanshu Rai and Devika Rani's kiss in Karma (1933) which was the first longest kiss in Indian cinema. The four-minute passionate lip-lock between Devika with her reel-life co-star and real-life husband Himanshu Rai raised many eyebrows. The on-screen kiss was shared in an era when Indian cinema wasn't open about bold scenes. Rani was considered the first lady who accepted the challenge and made a bold move. However, this kiss plays a very important premise in the film. Popular Bengali film culture today demands the emotional participation of the movie-goer. For the directors and actors, it is important to initiate this dialogue of participation. Unless the audience identifies with the emotions in the film, unless the audience is involved they will not come back for more. Through this identification, the audience experiences emotions.
CINEMATIC IDEAS
Abir Chatterjee as Kanan Kumar and grandson of Kanan Kumar, Ahir Chatterjee, reminded me of a blockbuster film from my childhood days when I saw someone who played the father and son with equal ease. The name of the film was Aakhree Raasta and the actor was none other than Amitabh Bachchan. Abir has played his role stupendously well. He is BIG in the film. Big in every sense. 
After many years I heard the audience clapping in scenes, that too on emotional scenes and who else than Rituparna Sengupta can create that magic? The conversation where she describes how she feels as an actor reminds me of the famous scene from one of the most popular plays in the history of Bengali theatre called Tiner Toloar where Moyna the female protagonist of the play says, "Parbo na, theatre chhara ami bachte parbo na babu." Maayakumari will remain as one of the best performances in Rituparna's journey. Once a diva always a diva.
Three other pillars of the film are Indrasish Roy, Arunima Ghosh and Rajatava Dutta. Johny Depp once said, "With any part you play, there is a certain amount of yourself in it. There has to be, otherwise, it's just not acting. It's lying." Three of them not only act as a cathartic point for the audience but leave it with a hope of a better future that Bangla cinema is safe in their hands. Arunima is a revelation in this film. Arunima should work more often. The Bengali audience missed her on screen.
Special mention for two actors — Arna Mukhopadhyay and Sauraseni Maitra They prove that goals on the road to achievement cannot be achieved without discipline and consistency. They are consistently good in all films that they have done. But with Arindam, I believe both Arna and Sauraseni share fantastic chemistry. Ambarish Bhattacharya, Joydeep Kundu and Ashim Roy Choudhury are equally brilliant. Falaque Rashid Roy and Subhashree Kar are really good. Subhankar Bhar is one of the best cinematographers our industry has and the combo of Subhankar and Sanglap Bhowmick (editor), one of the best editors of Bengali Cinema, is like Uttam Kumar and Suchitra Sen (hope they take this in good humour)!
And probably in every scene it is said: "Somenathda ebar National Award ta niye jaabe." Somenath Kundu, if I'm not wrong, started his best work under Arindam. If I remember correctly it was Byomkesh Porbo where there was a post-bomb blast prosthetics of Rudranil Ghosh. It was so painfully realistic. Somenath Kundu is a magician when it comes to prosthetics. He is an autograph now more than a signature. Abhishek Roy is brilliant when it comes to the costume of the film. Nothing is more complicated than learning lines and putting on a costume.
Bickram Ghosh and his team with his favourites like Indranil Sen, Iman Chakraborty, Ujjaini Mukherjee, Manomoy Bhattacharyya, Madhubanti Bagchi, Shovan Ganguly and Ankita Bhattacharya have always been the best team. Bikram and Arindam once again are like Hamlet and Macbeth of Shakespearean tragedies — without their duo, English Literature is somehow incomplete and an Arindam Sil film is incomplete without Bickram Ghosh. Bickram's music is an incredible force when it comes to Arindam's films. Last but not least Rupa Dutta, Niloy Dutta, Ankita Dutta, Nilanjan Basu and Nilratan Dutta (popularly known as NRD) are the producer team. There's something so special about this team who dominates Bengali cinema. It takes a certain grace, strength, intelligence, fearlessness and the nerve to never take no for an answer. They waited for the film to get released in the theatre when OTT is a very alluring option. The soothing power of Maayakumari is miraculous. The best cinematic ideas are conceived within the walls of love and Maayakumari and Arindam Sil are love and magic because everything revolving around Maayakumari is magical.