Lucky Ali and Israeli artiste Eliezer Cohen Botzer share a message of positivity
Their latest song, incorporates four languages, has a message of hope, unity and connection
Eliezer Cohen Botzer and Lucky Ali
Sourced by the correspondent
---
Published 27.04.21, 01:39 AM
|
---
Earthy, uplifting and soul-stirring describe the new Lucky Ali and Israeli artiste Eliezer Cohen Botzer collaboration. Amaraya, which means 'mirror' in Arabic, is the second release from their album Lemalla. The song, which incorporates four languages, has a message of hope, unity and connection. The first song, On My Way (from the same album), was released in 2019, which marked three years of Botzer and Lucky Ali discovering each other.
The latest release is a soulful mix of cultures, representing musical traditions of Israel and India. The Telegraph chat…
Do share the story of how the two of you found each other in 2017?
Eliezer Cohen Botzer: We (Botzer and his team) were looking for a friend on our list. We had been visiting India often for 15 years and have always loved the people here. We love the land, the sounds, the tastes.... And we were looking for the right artiste to collaborate with. And when we saw his (Lucky Ali) performances and heard his voice, we were fascinated. So we got in touch with Lucky and was immediately struck by his beautiful personality. We exchanged music and ideas. Soon, we wanted to meet each other. This is when we visited India with our team of musicians to Lucky's studio and Lucky's farm in Bangalore. Lucky was with his musicians. That's how the collaboration started... a journey started.
Amaraya and On My Way offer a glimpse into two cultures. Can you tell us how things shaped up in the studio?
Botzer: We shared ideas and then we came up with a framework. We worked together on the lyrics and the process of composing.
The new song is soulful and there is a sense of hope. It's something people would like to listen to at the moment, when the pandemic is at its worst....
Botzer: The song was written before the pandemic but yes, the message is very relevant to the present situation. We decided to release the song now because there is a lot of energy in it and a message of unity... the thought that we're one (entity).
Lucky Ali: The song was, of course, recorded much before the pandemic, but it wasn't put together. The ideas were still in the air and then we kept in touch. Now is the time for introspection, and we would often think about when it would be a good time to release the song. Now the pandemic is raging... and the album is done. I mean, there are still parts of the album that still need to be done. But as it (the pandemic) uncovered slowly, it felt right to put out a song about positivity. All the music on the album is quite a positive, beautiful expression of each other's culture, aspirations and goals. It's almost like looking at yourself from another side and this experiment... this song kind of showed that.
Everything just fell into place. The way we put the video together from there (Israel)... we did some shooting here and there were earlier shootings that we did, we incorporated some of that. So they were pretty hard at work there in Israel, I was quite chilled out (laughs). Because I was going to Goa and all these places... on the beach (laughs). So it was fun for me. There is a pandemic happening but we need to be optimistic and we need to be positive.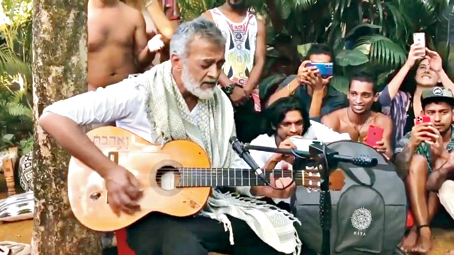 The song is also also a mix of the cultures that the two of you represent. Was it a challenge to come up with this fusion?
Lucky: How I understood it was that I would sing in Hindi, but also, there's an understanding of English and there's also an expression in Hebrew and also with the environment around, there was that need to also express in Arabic. So he took on the English and the Hebrew parts and I took on the Hindi and Arabic parts. And then in some places we just sang together and I also sang some Hebrew parts and he sang to my Arabic and Hindi parts. It was an amalgamation of just what we could put together.
Botzer: Like I said, it was natural for us to communicate this way. The way we communicate is mainly in English. But yes, in our respective countries, it's natural to combine languages.
The pandemic brought everything to a stop in India. What was the situation in Israel?
Botzer: It keeps changing, depending on statistics. But we all understand that this is a time of being careful in a lot of ways. The lockdown has been there for a long time over here. The whole world is in the same situation now, we're all in the same zone and we're all in a place from where we are praying to God to heal us.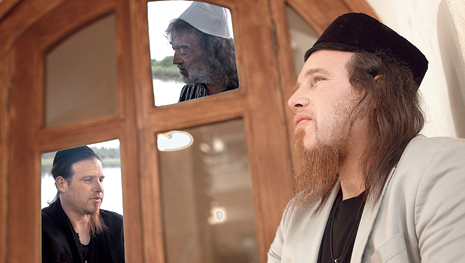 The music industry was hit very hard, with concerts disappearing overnight. How do you think the music industry is fighting back?
Botzer: From our side, there weren't any live performances, but yes, this whole year was the time for artistes to review their material and pay attention to what things are being said... of reconnecting with the audience. It's a time when we are reminded that all of us are equal. When it's dark, we're all stars in the big starry sky. When it lights up we can see everyone's face. There is hope and there is a demand for creativity.
Lucky: The industry itself must have gone through a massive crunch, in terms of the economy and other aspects. But as musicians, I think everybody was creatively involved in making new music. We worked on old stuff and we also made some new content. There was a cheer from the industry to promote the culture of playing live again because that is an integral part of what we do, like going on stage at a virtual concert. That started off with things like NH7 last year. But again, we are dealing with something that's uncertain, so the industry has to adapt to the challenges. We hope and pray that things improve quickly.
Are we better equipped to take on the second wave?
Botzer: I hope so... we're praying for that. But in a lot of ways, we're also learning to function with a new reality. I think people are also learning about how to continue with life even with the given situation. God bless India and all the people. Be strong.
Lucky Ali: I do understand that a lot of the cases are coming from people who are in close contact with each other. It is with communication that we will be able to understand things better and where things are headed. This has been here for a while now and it needs to be dealt with.