'You'll like the show. Trust me, I am saying this to all the women journalists I am speaking to. For once, female characters on screen are being shown as very cool," were Lara Dutta's first words when we dialled her recently to talk about her new show. Hundred, an eight-episode series directed by Ruchi Narain and now streaming on Disney+Hotstar, sees the 42-year-old former Miss Universe make her debut on the web. Dubbed as an action comedy, Hundred has Lara in the role of a no-nonsense cop who teams up with a terminally ill girl — played by Rinku Rajguru, who starred in the 2016 Marathi blockbuster Sairat — to accomplish a mission in a period of 100 days. We got chatting with Lara on her reasons to pick the show and how her eight-year-old daughter Saira is her "biggest critic".
Apart from the fact that Hundred is frontlined by women, what made you want to be a part of it?
There are a couple of factors. I have been wanting to be directed by a woman for a really long time. I've known Ruchi for many, many years and followed her career as a friend, admired things that she's done... Hundred came to me completely out of the blue. There was not any calculated move that, 'Let me now go and look for content in the digital space'. It was definitely something that had crossed my mind but I wasn't actively looking for anything. But when Ruchi came to me with this, I decided I wanted to do this.
The second was the fact that Rinku Rajguru was going to be playing the character of Nethra Patil. I was very excited about that because we come from two completely different mediums, we have totally different styles and we are almost completely different generations! (Laughs) That, for me, was interesting because I wanted to see what kind of chemistry would happen with two different schools of actors coming together.
And then, of course, was the script. I have done a lot of comedy in my career and have worked with some of the best directors of comedy in the business, from David Dhawan to Sajid Khan to Priyadarshan. But the comedy in Hundred is very different... it's slightly more of a dark kind of humour, the dialogues are quite cheeky and Saumya's (Lara's character) take on humour is quite sarcastic.... I also liked the fact that I had never played a cop before.
The writing for the women on the show is very good. Saumya is extremely complicated, she's someone who has seen quite a bit of life, she's jaded and frustrated by the lot she's drawn in life. She thrives on making situations as complex as she can because that's the environment she functions best in. That's very, very different from me in real life since I am someone who tries to simplify her life as much as possible (laughs).
For a show headlined by two women, one is always curious to know what the response will be like, given that most of the subscribers to the digital platforms comprise men. This show is not frivolous. It's a kickass script frontlined by these two fantastic women characters. I thought it was a great project to make my debut with in the digital space.
This is anyway a good time for female actors, given the kind of roles that are being written and the fact that women characters are now the driving force in many a script…
For sure! I am so glad that I am still around as an actor at this time and in this environment. I am also happy that I am an actor who is in her early 40s because the characters that we are getting offered now are just fantastic and one needs a wealth of experience in life to draw on in order to play these characters, to do them justice and to bring in the nuances that are required. It's so liberating. For the first time, in a very long time, I actually feel alive as an actor.
I never came into Bollywood to be a star. I just wanted to be an actor, and finally I am getting an opportunity to do that (laughs). It's an amazing time to be an actor and a producer.
At this stage of your career, how do you pick and choose your scripts and is it different from how it was 15 years ago?
There are completely different parameters now. Today, I am at the liberty and luxury to pick projects on the basis of the fact that this is something that I really, really want to do, with no other compulsion. For me, the biggest factor is time away from my child. The project has to justify me spending time away from my daughter, which is also why I didn't do a lot when she was much younger. I wanted to be there with her in the formative years of her life. But now that she's eight years old, it gives me more leeway.
Even then, I am very selective about what I do. After I signed Hundred, I was inundated with different scripts that I actually turned down because it has to be worth my while, both as an actor and as a mother. I always need to find that balance and between Mahesh (Bhupathi, husband) and myself, we have always taken care that no matter what's happening in our careers and our personal lives, one of us will always be a constant in Saira's life. When I went off to shoot Hundred for four months last year, Mahesh literally held down the fort. He made Saira his priority and everything else came second. So now that I have done the dream project that I wanted to do, I have to give him the opportunity to do his work as well (laughs).
Does Saira get excited watching you on screen?
She does. Till she was three-and-a-half or four, she had no idea who her mother was or what she did. As she grew up, it came as a revelation to her, 'Oh, that's you on screen!' (Laughs) But in my house, it's like ghar ki murgi dal baraabar (laughs). She's also my biggest critic... 'What are you doing Ma... you don't look nice Ma...' (laughs). My husband and my daughter are my biggest dose of reality (laughs).
Are you looking at doing a film anytime soon?
The medium really doesn't matter. I am not looking at headlining a film or anything, but the character has to be someone that drives the narrative. I don't want to be just another character. It has to be worth its while.
Belated birthday wishes (Lara turned a year older on April 16). We know that you had a 'virtual' birthday party with friends and family. What else is keeping you busy now?
Hundred was always supposed to come out at this time in April, whether this Covid-19 scenario existed or not. But after the country went into lockdown in March, everything related to the post-production of the show had to be done by people sitting in their individual spaces. It's absolutely commendable that the team is delivering the show on the date they were supposed to and even I have been occupied with that.
It's been a really busy time for me and there hasn't been any scope for boredom or to reflect on life, to be honest (laughs). We have a pretty full routine every day. Saira does online classes for a couple of hours, there's the house to look after.... The only thing that I have done different is sign up for two Harvard courses online, something that I had always wanted to do but didn't have the time earlier.
Any streaming favourites that you would like to recommend to our readers at this time?
I wanted to watch Special Ops since it was a Hotstar show and I wanted to see the positioning and all of that. I was quite amazed at the budget and scale of that show and I am a big Kay Kay (Menon) fan and I loved him on the show. We binged on quite a bit of Money Heist... my ringtone at the moment is Bella Ciao (from the show). I also watched Panchayat, which I thought was very sweet.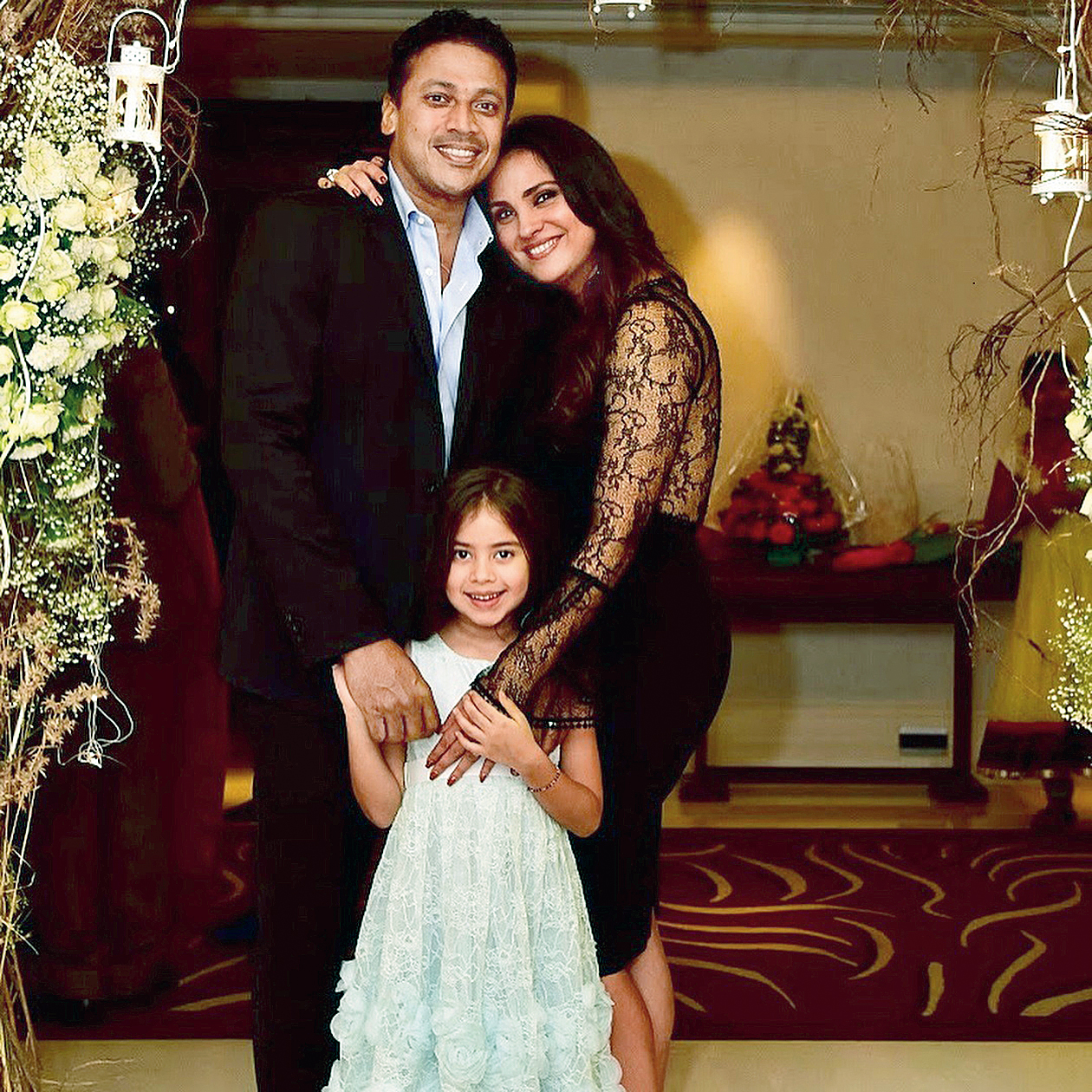 Lara Dutta with husband Mahesh Bhupathi and daughter Saira. Sourced by The Telegraph