Kubbra Sait on her new show Illegal and life in the times of corona
My whole life seems like a trailer compared to this disaster movie called 2020! —Kubbra Sait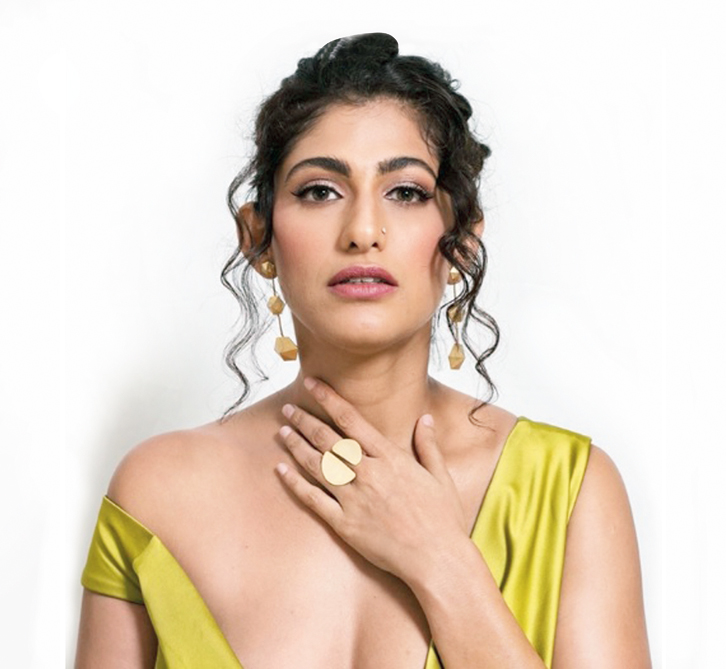 ---
---
I can't wait to get back to Park Street and eat rolls!" Every conversation with Kubbra Sait is always full of love and laughs, and this was no different. The anchor-actor, whose breakthrough role as Kukoo ("ka jadoo") on Sacred Games put her front and centre, now stars as a murderer on death row in Illegal, available to stream on Voot Select. We got chatty with the full-of-beans Kubbra on her new show, life in the times of corona and how her brother and stand-up comic Danish has become the social media star of the lockdown.
For someone who's always raring to go and who always tries to be positive no matter what, what have the last few months been like?
Chal raha hai aur chalta rahega. It's been good and bad days. I've never been the kind of person who posts a different version of my life online. That's been me for a very, very long time. I have never fallen into the pressure of putting my life on social media. Main gym jaati hoon lekin post nahin karti! (Laughs)
But I think yeh 'Stay positive' sunn ke ab log thak gaye hain. I think it's okay… jaisa feel karna hain waisa feel kar lo. Just make sure that you go through what you are feeling… don't make them permanent. It's easier to be with reality if you are not fighting something that's unreal.
You have a show on air and that's something positive…
Yes! Illegal is receiving some very good reviews. It's a pat on the back when you give a part of yourself to a project and it turns out to be a good show. It's a good feeling that, despite being a murderer, people are being able to empathise with the character and feel that I have done justice to the role of Mehr Salam. It's being compared to what I did in Sacred Games.
It's a very intense role. She's someone who wants death… she doesn't want to be pardoned or given a reprieve. She, of course, deserves death for the crime she's committed, but her biggest win lies in the fact that the audience, despite that, feels for her.
It's a very interesting character to get into the head of. You have no choice but to make peace with playing her. This is the truth, she has killed members of her own family and she's okay with it… that kind of darkness is a little difficult to understand and accept. I had to play her with honesty and not judge her at all… she's feisty, she's angry and serious and she's asking the legal system for the justice that's been promised to her, which is death. I didn't know and I am sure that until they watch the show many people won't know, that capital punishment is not carried out for women in our country because we don't have female executioners. It's a very interesting loophole that exists between our legal system and our political system. That's what Niharika Singh, played by Neha Sharma, is questioning and fighting for on the show.
Do the characters you play change you in any way?
I work a lot with (actor) Sumeet Vyas and I once asked him about this whole thing of taking one's characters home and he told me, 'Hum set se trailer (van) tak character ko nahin le jaate, ghar tak kahaan le jayenge?!' (Laughs) OTT platforms mein kahaniyaan lambi hoti hain lekin time bahut kum hota hain. So if in the moment between 'Action' and 'Cut', you are able to do the best when you are in that zone, then I think that is justice to the character.
But the one thing that I have learnt in the last two years is that you can't judge any character that you play. That's because no character that you are playing is you. Every character is someone who has been written sincerely on paper.
I try not to get involved in the people I play. There are several schools of acting… some people become the characters they play, and some don't. Last year, for me, was so many characters. I had a cameo in Tripling (Season 2), then there was Illegal, Jawaani Jaaneman (co-starring Saif Ali Khan), then another show…. So the best thing I could do for the sake of my own sanity was to compartmentalise. I don't allow my characters to overtake Kubbra.
How are you keeping it sane during this time?
I beg that last year comes back. Please come back! (Laughs) My whole life seems like a trailer compared to this disaster movie called 2020! I am very tired. I am actually on my knees begging every night saying, 'Bas khatam kar do yeh saal… aagey badhte hain'. But then, we have to go through it. And the lesser we punish ourselves, the easier it will be for us. If we survive this time, we will be fine.
I will compare it to my lesson learnt in diving… you never swim against the tide. You have to go with the current… woh jahaan jaaye aap chale jao, and eventually you will come out on top… don't waste your breath fighting it.
Well, I am meditating for about 20 minutes every morning and before I go to sleep. And during my meditation, I concentrate on thinking about the things I am grateful for. I do understand that times are uncertain, but we are also so much more fortunate than so many people out there. And if we don't acknowledge that with gratitude, then I don't think there will be greater fools than us. Meditation gives me a lot of peace.
Also, I am watching some stuff between cooking, cleaning and doing other house chores. On Voot itself, I enjoyed Asur… I was like a child watching Arsahd Warsi back on screen, cheering like a mad person. I would also recommend that people watch documentaries because these are the ways to expand one's knowledge.
I have never been a good reader, so my books would be a shame to recommend! (Laughs) I just shared a picture of a book I was reading and it's called Life is a Bitch and Then You Die (laughs). I am taking it extremely light… I don't have the mental capacity right now to indulge in 300-page biographies and stuff like that. Keeping it light overall is my mantra right now.
I am also so excited about films going straight to OTT platforms! This is the future of entertainment. Until last year, there was this slotting of people… 'Arre, aap toh web actor ho'. And now imagine, Amitabh Bachchan is an OTT actor! (Laughs out loud) I think it's a phenomenal journey for the web.
Your brother Danish is at least keeping the laughs coming during lockdown. His quirky 'talking on the phone' capsules on social media are a hit!
I think he's become a national treasure right now! (Laughs) I am so proud of him. He's gone back to being a child. He's totally uncensored right now… jo aap soch rahe ho woh keh raha hain. His Instagram has become a huge outlet for all our collective frustrations. Everyone's following him, everyone's retweeting him… and I am like, 'Yes, yes, yes! That's my brother!'