Remembering Khayyam: A poet's melody man
Khayyam's music will live on, not kabhi kabhie, but eternally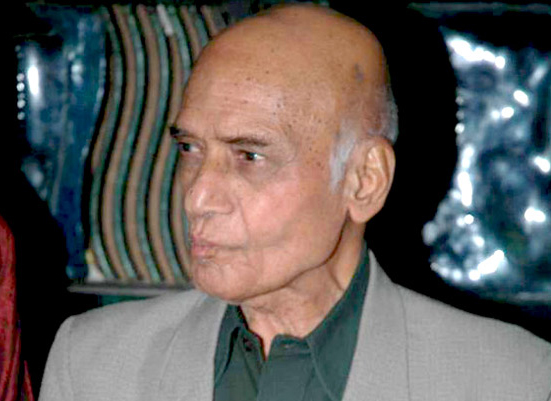 ---
---
Mohammed Zahoor Hashmi, better known as Khayyam, left for the great blue yonder on Monday. At the risk of rehashing a cliché, Khayyam's music will live on, not kabhi kabhie, but eternally, thanks to its stillness that defied trends.
Amid stalwarts like SD Burman, OP Nayyar, Shankar-Jaikishan, Roshan, Madan Mohan, and in the later decades, RD Burman and Laxmikant Pyarelal, Khayyam's music also stood out for another reason — it never drowned the lyrics. Especially because in Hindi films, lyrics of songs speak complex adult emotions of love, loss, longing and betrayal, that dialogues don't.
A young Khayyam teamed up with co-composer Rahman Varma for their debut with Heer-Ranjha in 1948. Wounds of the Partition raw, the duo named themselves Sharmaji-Varmaji. But in Zia Sarhadi's 1953 film Footpath, Khayyam came into his own with Sham-e-gham ki kasam, Majrooh and Ali Sardar Jafri's poem seeped in melancholia, sung by Talat Mahmood.
Many would say Sahir brought out the best in Khayyam, and vice versa. From the cynically sprightly Aasman pe hai khuda, aur zameen pe hum, aajkal wo iss taraf dekhta hai kam and sarcastic Cheen-o-Arab humara (sung by Mukesh in Phir Subha Hogi, 1958) to the poignant Tum apna ranj-o-gham (to which Khayyam's wife Jagjit Kaur lends her unforgettable vocals in Shagoon, 1964). And of course, the entire album of Kabhi Kabhie, 1976, where the title track is virtually India's love anthem for all ages and all seasons.
Kabhi Kabhie would be Khayyam's biggest commercial success. Author and film historian Anirudha Bhattacharjee narrates an interesting story on how the movie went to Khayyam. "Sahir Ludhianvi was known to be choosy about the composers he worked with and had reservations about some big names. Meanwhile, Khayyam had already started working on Razia Sultan in 1973 and had recorded Ae dil-e-nadaan. Yash Chopra heard the song and decided to sign Khayyam for Kabhi Kabhie. So Khayyam got the assignment on the basis of a song that released 10 years later," said Bhattacharjee.
Kabhi Kabhie, and Asha's timeless ghazals of Umrao Jaan (1981) may be said to be Khayyam's towering contributions to Bollywood's playlist. But Khayyam, equally rooted in ragas — Raag Pahadi was said to be his personal favourite — as to the ghazal tradition, is so much more. From Kaifi Azmi's brooding Jane kya dhoondti rehti hai ye aankhen, sung by Rafi for one of Dharmendra's earliest hits Shola aur Shabnam in 1961, to Lata Mangeshkar's haunting Ae dil-e-nadaan by Jan Nisar Akhtar — Kaifi Azmi and Jan Nisar Akhtar were fated to be related when their children Shabana and Javed married — for Razia Sultan two decades later, Khayyam's signature stasis is evident. In Bazaar (1982), Khayyam got Jagjit Kaur to sing Mirza Shauq's Dekh lo aaj hum ko jee bhar ke, one of Hindi film's most heartbreaking songs. Lata in Noorie (1979) sang Chori, chori koi aaye, Khayyam's lilting melody capturing poet Naqsh Lyallpuri's innocent evocation of first love. He gets the contrasting vocals of Kishore Kumar and Yesudas to balance Lata's sweetness in Mohabbat bade kaam ki cheez hai, teaming up with Sahir again in Trishul (1978).
Khayyam could not be boxed — not by what his peers were composing, not by the demands of his producers, not by what was the rage of the age. He just lived his music.