Kankana on her brand of films
'All my stories so far have been set in a very simple setting but the inner struggles and relationships between the characters lead my stories'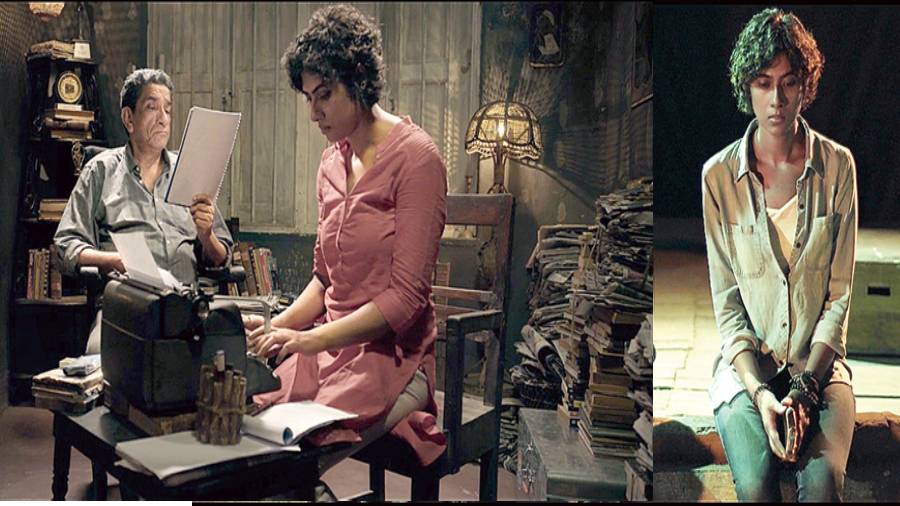 (Left) Sabyasachi and Kankana in Written By? (Right) Kankana in Anurup
Sourced by the correspondent
---
Published 13.05.21, 01:04 AM
|
---
Film-maker-actor Kankana Chakraborty loves telling stories. "And people who know me well do call me a storyteller. I feel an entire film crew is a group of people who are storytellers. They just use their means to tell the same story. A director is the conductor of the storytelling process," she smiles. Kankana's film Written By? is now streaming on Amazon USA, UK and MovieSaints, and Anurup on MovieSaints. A candid chat...
Tell us a bit about yourself? Did you grow up in Calcutta?
I was born and brought up in Calcutta. Both my parents are doctors. After finishing college, I directed my first docu-drama, Women Prayed & Preyed Upon. It had eminent Indian film industry personalities like Amitabh Bachchan, Shyam Benegal, Surekha Sikri, Reema Lagoo, Lopamudra Mitra, Dwijen Mukhopadhyay, and others. The docu-drama went on to garner several accolades from all over the world, the most recent being the Official selection at World Peace Awards, Indonesia. After that, I went to New York Film Academy, Los Angeles.
How was your experience there?
I completed my Masters in Acting, from New York Film Academy, Los Angeles. It was a two-year course. I thoroughly enjoyed it. NYFA gave me a different perspective. I have never done acting before nor did I ever dream of becoming an actor. But being at NYFA helped me find my love for acting. It also helped me realise direction better. After my graduation, I worked in LA as a professional actor for six years.
Why did you decide to take up direction?
I did not decide to be a director or an actor. I wanted to study economics. But growing up I was a fan of Amitabh Bachchan. I used to think about what could I do to meet him someday. Long story short, I applied for journalism and mass communication… and even before I knew I ended up falling in love with film-making, and, I ended up working with him in my very first project, the docu-drama. Thus my fanaticism turned me into a director and now an actor. Also, now through the process, I have realised that I love telling stories.
How did you conceive Written By?
I was in Calcutta for some time in 2018. I used to meet up with a couple of writer friends. We would discuss stories. But the conversations would always end with the same saying, "Please don't share my story with others." This made me realise, how much we are scared of plagiarism. But the more I thought about it, the more it made me question as to who owns the story? We conceive ideas based on our surroundings mostly, consciously or subconsciously. Then at the end of the day, the biggest question is, who owns the right to a story, the one who experiences it and narrates it, or the one who writes it down? That was the seed idea for Written By?.
How was it like acting with and directing Sabyasachi Chakrabarty on both the films?
I grew up watching Feluda and our generation's Feluda is Benu Sir. I was called over to his house to pitch the story. He is a team player. For him, the story is more important. He is not a self-absorbed actor. Benu Sir is fantastic with his logic. If you can satisfy him logically, then he won't question. I was anxious and worried as to how would he accept a newcomer being the director and the co-actor. But he didn't care. If he likes the story and the person's intentions, he will do it. He is one of the biggest reasons for me to be able to juggle multiple roles on set. He will give you tough love, only because he cares.
Why did you decide to write and direct Anurup?
Written By? was in one location, two actors, and two days shoot. It was much more methodical and restricted. Anurup was shot in Siliguri with multiple actors, including Mithu ma'am (Chakrabarty). Anurup was conceived from a very personal point of view. I am close to my parents but I share different equations with my mom and with my dad. I feel my mother is the thread that connects my dad and me. Often my dad and I will argue and then after a point, we both say, 'It's ok I've moved on'. But, the question is, have we moved on? Or do we carry the residues? And those residues become the root cause of the next argument. Sometimes it is just easier to sit next to each other and address the issue instead of piling them up. How was your experience on the sets of Anurup?
Anurup was a priceless journey. From the pre-production stage itself, I realised that it is a universal story. Initially, I thought every father and daughter would connect with it. But after the film was screened, from the reactions we received, I understood that it is beyond a father-daughter story. It is a parent-child story. My parents were present during the filming process, which was precious for me, as somehow I was dedicating this to my father.
People of Siliguri helped us beyond imagination. The film doesn't capture the tea gardens and hills of Siliguri, but it has captured an almost extinct theatre of Siliguri, Arya Samity. The filming process of Anurup has taught me the real meaning of the word surrender. As a director and an actor, after the preparation stage is done, all you can do on set is be present and surrender. Both the shorts have also taught me the importance of the trust between a director and a cinematographer.
Are you planning/ writing a new feature film now?
I have written a feature film, a web series, and another short. All three are of different genres.
What kind of stories would you like to tell in the future?
I believe in stories that deal with relationships. All my stories so far have been set in a very simple setting but the inner struggles and relationships between the characters lead my stories. I am personally growing every day. So I don't want to decide the themes or I don't see myself being stuck to one specific genre of storytelling. I want to continue working both as an actor and a director. I want to learn, observe, and tell stories that I feel I can tell, at that moment.
There is no one type of telling a story. There is no one way a character should look or behave. We tell a story from our perspective and hope that people will connect to that. A story can be told from any part of the world. I want to continue both acting and directing, and continue to be a storyteller.
You have also acted in Bengali films.
I am fortunate enough to work in my country and that too in Bangla. I am not a traditional-looking Bengali. I have short hair and I am 5'9.5" tall. People find it hard to figure out the right casting for me. Because fortunately or unfortunately, in our industry, certain things are still guided by stereotypes.
I am hopeful that it will change. Directors like Sourav Chakraborty (Shobdo Jobdo), Anindya Chatterjee (Prem Tame), Abhirup Ghosh (Rahasya Romancha Series), and web platforms are giving us that hope.