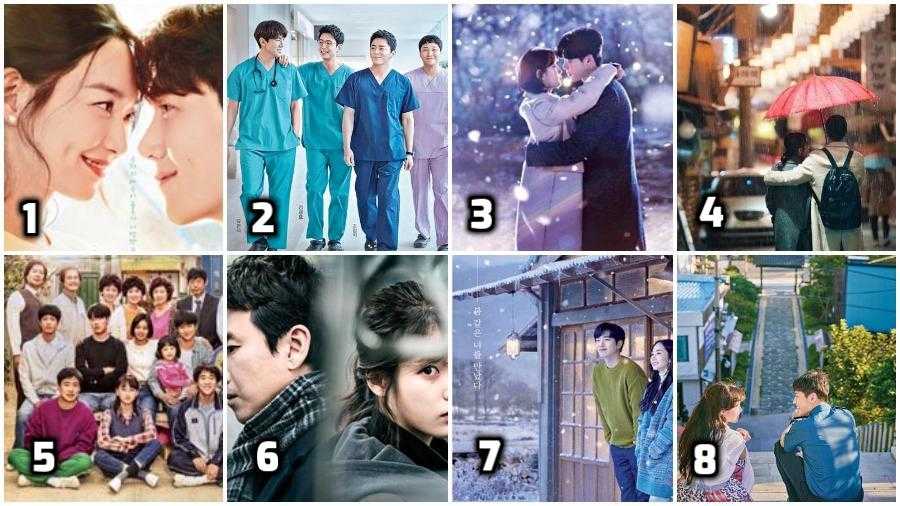 ---
Published 24.11.21, 03:52 AM
|
---
1. Something in the Rain
Forbidden love in the form of a Noona romance, Ahn Pan-Seok's Something in the Rain is a melodramatic romance show that explores the nuances of love, acceptance and milder cultural taboos. Jin-Ah, a supervisor at a coffee house franchise, stumbles upon her childhood best friend's younger brother in the same office building. The two rekindle their friendship as they explore the boundaries of their relationship while hoping to not offend those around them. Intimate and light, Something in the Rain, attempts at putting the most subtle things about love and life into perspective. If you have time to spare and invest, this show invites you to experience the little joys of life and romance.
2. When the Camellia Blooms
Integrate yourself into the Ongsan community, where small-town life meets a series of serial killings. Follow Dong-baek, a single mother, who wards off her child from the nasty talks in the town as she runs a bar called Camellia to make ends meet. Things take a turn when the whole town is thrown upside down when a killer emerges. As Dong-baek situates herself amongst these circumstances, trying to find happiness, she finds herself with a target on her back. Inspiring, and oddly calming, When the Camellia Blooms provides a perfect tonic that concocts the best of healthy human relationships and the pursuit of happiness with a little twist that lurks in the background.
3. When the Weather is Fine
Haven't all of us, at some point, dreamt of being by serene, snow-capped mountains, in a small, cosy bookstore with steaming hot cups of coffee? Well, Im Eun Sob seems to be living the dream in this slice-of-life drama. The drama tells the story of Mok Hae Won, a cellist, who after some unsuccessful endeavours decides to move from the busy city life to the tranquillity of her hometown. Discover love with her as the show offers a beautiful insight into life. Be raptured by the picturesque shots of Yeongwol County that are bound to leave you stunned. The changing colours of fall descend into wintry tones as the story unfurls at a mellow pace, making you feel one with the show during winters. This truly is a winter must-watch.
4. Hospital Playlist
What accompanies a chilly winter morning better than some hot cocoa and a heart-warming slice-of-life story about five friends who have been through it all ever since medical school? Hospital Playlist promises to make you cry both tears of joy and misery as it invites you into Yulje Medical Centre where it all unfolds — a mundane yet stunningly depicted tale of friendship, love, and the many difficult decisions undertaken by the five brilliant doctors both at their workplace and in their personal lives. Don't let the medical jargon deter you, as this K-drama proves to be the emotional and yet low-intensity fix that you need this winter to get those warm, fuzzy feelings going. And what's more, add a soundtrack that you can see performed by the five friends at band practice while they de-stress after work, to the mix, and you've got yourself the perfect winter companion in Hospital Playlist.
5. Hometown Cha Cha Cha
Travel to the small seaside breezy village of Gongjin, and attach yourself to characters that will simply warm your heart out as they sail through the waves of life. Hometown Cha Cha Cha was dubbed as one of the best feel-good dramas of this year. Yoon Hye-jin, an intelligent and socially awkward dentist, was ostracised from the Seoul circle of dentists after an incident that forced her to return to a small village dear to her heart. She crosses paths with the village favourite, much-adored, a multi-licensed freelancer whose philosophy of life is completely opposite to hers. Struggle with her to settle and open up in a small town as humour meets slice-of-life drama in this quaint and heart-warming show that brought together over 3.2 million viewers.
6. Reply 1988
The third instalment in the Reply series (preceded by Reply 1997 and Reply 1994), Reply 1988 is yet another heart-warming K-drama set in the late 1980s and follows the story of Sung Deok-Sun, her family, and her friends' families who all live on the same street in Ssangmun-dong. If you remember reading that before, then you probably have the right idea — Hospital Playlist, too, was directed by the brilliant Shin Won Ho. Reply 1988 invites you to relive the 80s in a spectacularly stunning rendition of the same — complete with references to South Korea's socio-economic struggles and the warmth of the tightly-knit neighbourhood that this show revolves around. Hilarious on the surface, this show is also unafraid to get into the nitty-gritties of humanity and deals neatly with issues such as adolescence, financial hardship, and single parenthood. Lastly, Reply 1988's soundtrack is the perfect musical accompaniment to a slow winter's day, so snuggle up in bed and prepare to bawl your eyes out to the sound of Lee Juck's Don't Worry.
7. While you Were Sleeping
The Lee Jong Suk and Suzy starrer has been a phenomenal winter must-watch for years. Want a wintry show that combines romance with thriller, mystery and hints of the supernatural? While You Were Sleeping provides the perfect balance. It brings together three people with the ability to foresee accidents, who join hands to prevent disasters that take place all over the city. Things take a turn when additionally their premonitions begin to give insights into each other's future. The drama is astounding in its magnificently mellow soundtrack and breathtaking cinematography that captures the essence of a winter-laced Seoul. Cosy up in your favourite blanket and be mesmerized by While You Were Sleeping as it lulls you into a beautiful experience.
8. My Mister
Winner of the Best Drama category at the 55th Baeksang Awards, angst lovers have found their spot with this IU-starrer drama. Sublime in its utterance on the finest and deepest aspects of human connections that surpasses any romantic bond. The story emulates a one-of-a-kind arc as it explores the co-dependent relationship of two struggling individuals that keep each other from drowning. Embark on a philosophical journey with a young woman who nurses her deaf grandmother as she struggles to make ends meet, seeking comfort with her supervisor who is not without his own scars. This heartbreaking tale of healing and conviction will surely shatter you with its captivatingly human tale that spins the extraordinary out of the mundane.