Jonita Gandhi: 'Female artistes have to take as much control of their own music as they can'
Jonita is one of the 12 influential faces of the second edition of Spotify's AmplifiHer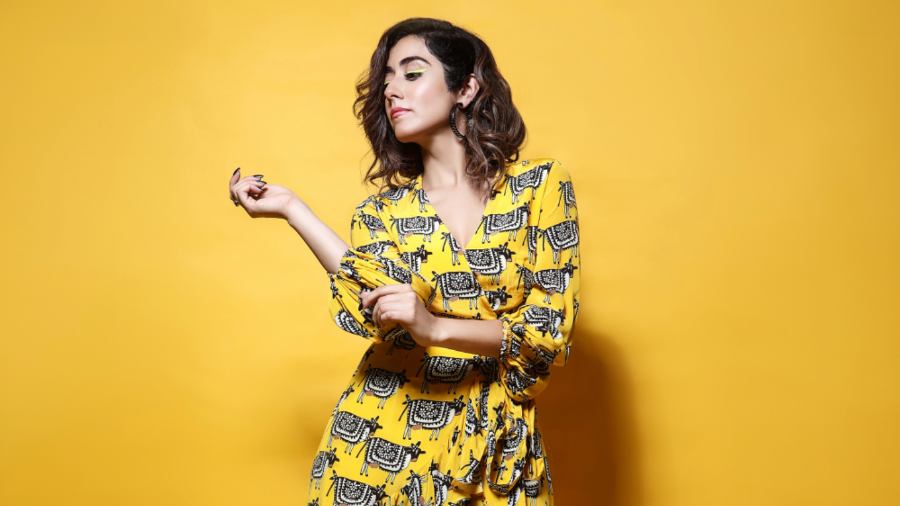 ---
Calcutta
|
Published 24.09.22, 12:21 PM
|
---
Having first tugged at our heartstrings with her mellifluous song covers on YouTube, Jonita Gandhi has gone on to become one of the most multi-faceted artistes of her generation since debuting with the title track of Chennai Express in 2013. Today, she is not only a singer and performer with tracks in nine languages to her name but also a social media influencer intent on diversifying her skills.
This year, Jonita is among the 12 influential women recognised as part of Spotify's second edition of AmplifiHer, an initiative designed to uplift women in India's audio industry.
In an exclusive interaction with The Telegraph Online organised by Spotify, Jonita spoke about her formative years in Canada, getting her big break in Bollywood, the song that is closest to her heart and more.
Tell us about your formative years in Canada. How did they shape the performer and person you have gone on to become?
Jonita Gandhi: Growing up in Canada, I was exposed to a variety of musical styles. That shaped how I sing today, the kind of music I listen to and make. I grew up surrounded by people in my social circles who were listening to pop and R&B (Rhythm and Blues), while at home my dad would always listen to Bollywood music. That combination of an Indian upbringing and being exposed to a melting pot of cultures in Toronto through my network of friends from all around the world really shaped the performer in me. 
In terms of personal growth, my values and growth both came because of my parents. So, it would've been the same anywhere. At the same time, because the schooling system was very different in Canada, it made me think a certain way, which may have been different had I studied in India.
What is the secret behind your multilingualism? And how many languages do you speak?
Jonita Gandhi: The only language I feel I'm perfectly fluent in is English. It's the language I grew up studying, thinking in and the one I'm most comfortable in when expressing myself. My Hindi is also quite good, but outside English and Hindi, I wouldn't consider myself to be fluent in any other language. As for my multilingualism when singing, it's all about ear training. I love experimenting and trying my hand at new languages through songs, but it doesn't mean I can actually speak those languages.
When you take up a song in a tongue that is not native to you or a tongue you are not fluent in, how do you go about the process of singing it? Do you translate the song to understand the emotions better? 
Jonita Gandhi: I create my own legend. I write down the words in a way that makes sense to me, with capital letters indicating a certain kind of sound and smaller ones indicating another. That definitely helps me with pronunciation and diction, but I still need people who are native speakers of those languages to be more accurate myself. Translation is necessary, because I have to know the general meaning of every line I sing. Without that, I can't bring the right expression in my voice. How did you start making cover songs on YouTube? Did you anticipate the traction and popularity they would go on to have?
Jonita Gandhi: It all started with me just fooling around and making some home videos on my phone. Then I started singing and saw a lot of people with Indian backgrounds doing covers. That's when I decided to take up covers myself. Obviously, at the beginning I had no idea how big it would become, but a year or two in, especially when I started doing covers with Akash Gandhi, my videos started going viral. That's when I realised that my covers were getting a fair amount of traction.
How did you get your big break in Bollywood with the title track of Chennai Express? 
Jonita Gandhi: I was in Mumbai visiting the sound engineer at Vishal Shekhar Studios. He was a friend of a friend and I was expecting some feedback from him and some guidelines about how to proceed in the music industry. I don't think Vishal (Dadlani) was supposed to be there that day, but he popped in. We met and he was able to identify me as the cover artiste from Canada. He told me that they were doing the editing for a song (the title track of Chennai Express), which was originally supposed to be sung entirely in a male voice. But they had decided to add female sections and Vishal asked me if I'd like to give it a go. Of course, I said yes, and everything fell into place from there.
'Kahaan Hoon Main was genre-defining for me' You have lent your voice to some of the biggest chartbusters in the last decade. If you had to pick any three of your songs till date that are the closest to your heart, which ones would they be and why?
Jonita Gandhi: I'd rather pick one which is the closest to me and that's Kahaan Hoon Main from Highway. That was sort of genre-defining for me. That was the first time where I experimented with a very Indian style of singing in the same song where I'm doing Western sections as well. I was given the freedom to mix both and weave in and out, which meant I could play around with a jazz delivery alongside a more Hindustani delivery. For me, that song stands over and above everything else. It's also extra special because it was my first film collaboration with A.R. Rahman. 
Given that your songs are available on so many platforms across different media, how do you decide if a song has been successful or not? 
Jonita Gandhi: I choose to do different songs for different reasons and I measure their success accordingly. I'll do a certain song because it's a great opportunity to experiment with my voice, and for that I'll rely on my closest friends for feedback. There are songs I'll do just because they are fun tracks for wider audiences and that's where I'll look at the numbers more. 
What is the most memorable feedback you have received for any of your songs so far?
Jonita Gandhi: I recently did a song called Hauli Hauli and my mom texted me this really sweet paragraph, saying that nobody could've emoted the song the way I did it on screen. She's usually my harshest critic, so coming from her, that meant a lot!
Over the last decade, there has been a steady rise in the number of female artistes in India's music industry. Do you feel that we are at a position where there is a level playing field between the genders? 
Jonita Gandhi: I definitely don't think that gender representation has levelled out yet. Female representation is improving, but we still have a long way to go. One way to get closer to gender equality in the industry is for more and more people to invest in their own music. You can't entirely focus on film songs and expect storylines to be gender equal, which aren't happening much anyway.  Female artistes have to put themselves out there and take as much control of their own music as they can.
Going forward, what is on your bucket list? 
Jonita Gandhi: I'm working on an English project right now involving a lot of my own music. That's something I really want to see through to the finish line. The goal is to achieve that without stopping any of the other things I'm doing parallely.
What would be your advice to youngsters who want to follow in your footsteps?
Jonita Gandhi: I'd tell them to stop comparing themselves to other people. You've got to realise that your journey is your own and if you're trying to do something just because someone else has done it, it's probably not going to work out. Focus on your own path instead.
Time for a rapid fire. Any one song in the last year you wish you had sung…
Jonita Gandhi: Kesariya (from Brahmastra).
Your dream artiste to perform with…
Jonita Gandhi: Bruno Mars.
Your favourite music genre to perform in…
Jonita Gandhi: Soulful stuff, such as ballads.
The song that you have sung the most at weddings…
Jonita Gandhi: Ironically, it's The Breakup Song. Although, of late, I've been getting a lot of requests for Arabic Kuthu.
Your favourite city to perform in…
Jonita Gandhi: Toronto.
Your music idols growing up…
Jonita Gandhi: Beyonce, Christina Aguilera, Shreya Ghoshal and Sunidhi Chauhan.
The best piece of advice you have received in the industry…
Jonita Gandhi: Don't burn your bridges