Jaideep Ahlawat shines as Hathi Ram Chaudhury on the smash-hit Amazon Prime Video series
'Paatal Lok is an immersive watch without any fancy gimmicks… it's just built on solid writing'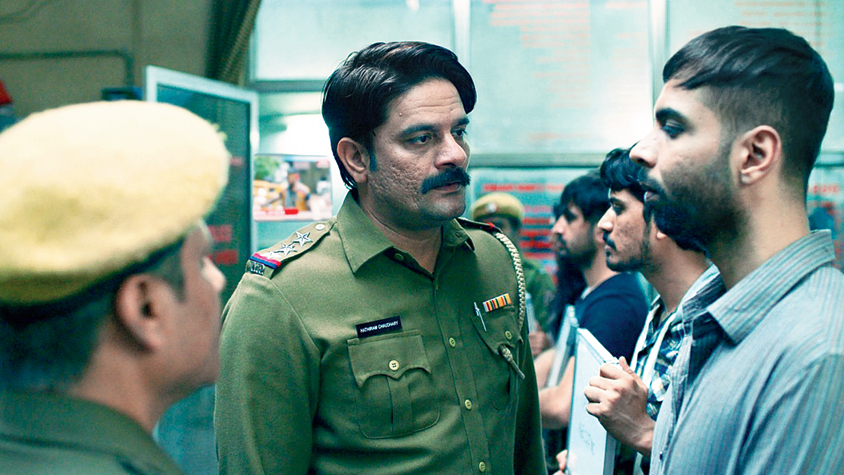 ---
---
Paatal Lok is coming in for some major praise, and the man at the front and centre of it is Jaideep Ahlawat, who plays the lead role of Hathi Ram Chaudhury. The Amazon Prime Video series — that holds up a mirror to society in more ways than one — has the actor, seen in films like Gangs of Wasseypur and Raazi, acing the part of a downbeat cop who sets out on a life-changing, and life-threatening, mission to uncover the truth. The Telegraph chatted with Jaideep on being Hathi Ram, his process as an actor and what makes Paatal Lok special.
When we had spoken last year just before the release of Bard of Blood, you had mentioned that when you pick a part to play, you don't see it in isolation but in the context of the other characters in the story. Was this the chief motivation to sign on for the part of Hathi Ram Chaudhury in Paatal Lok?
That's exactly what drives me to choose all the parts that I play. Sometimes, the part in itself may be very good but in the context of the plot or the other characters, he may not be fleshed-out too well. It's then that I avoid such characters.
Of course, the fact that Hathi Ram Chaudhury is the lead role was a major incentive for me to sign Paatal Lok. But the responsibility was also that much more... mujhe pata tha ki show ki bahut saari zimmedaari mere kandho pe aane waali hain. It's a very well-written thriller... it has its finger on the pulse of everything that's happening in the country today and the characters have been etched out very well. Script (written by Sudip Sharma) bahut kamaal ki hain aur maine apne aap ko bola, 'Mujhe yeh karni hain. Jo bhi taiyyari karni hain kirdaar ke liye, chahe woh jitna bhi mushkil hain, main karunga'.
The best thing about working on this show — besides being on set and playing this character and getting to live in his world day in and day out — were the numerous discussions we had... with the writer, with the directors (Prosit Roy and Avinash Arun), with the creative team as a whole. What hooked me, to sum it up, was the show's amazing writing and the fact that it's the lead role... kaun 'naa' karega? (Laughs)
Also, this is a show that is an immersive watch, without employing any fancy gimmicks. It's just built on solid writing.
What was your understanding of Hathi Ram Chaudhury?
Life is not about being totally black and white... it's about the greys in between. It's a part of everyone's life... every individual is about black, white and grey. Hathi Ram is very honest, very idealistic and he's someone who is dedicated to his job. But despite that, he's never been able to rise in the ranks of the police force... zindagi ke bhaag-daud mein woh kahin peechhey reh gaya hain, both on the professional front and even when it comes to his family life. When the show opens and even during it, he's shown struggling with his failures and inadequacies. And then, a case arrives that gives him a chance to reset his life and to be counted as someone who still has something left in him.
I liked the mix of world-weariness and yet the strength the character has, it gives him a lot of shades... the arc of this man through the show is huge and gave me a lot of satisfaction to play. I liked the fact that even in circumstances that may be in his favour, he's never sure, he's always vulnerable... and yet he's always resolute. Till now, I have mostly played men who are dominating, consistently strong and those who know what they want from life. Hathi Ram is someone who is still trying to find his space in life... he's still in the quest of respect. It's a role that challenged me in various ways.
So, what were the biggest challenges?
Just to build this character, you know. He's written brilliantly, but I had to add flesh and blood and emotions to what was on paper. I had to make the audience empathise with him and in the relationships that he painstakingly builds with others. As an actor, mujhe hamesha lagta hain ki aap shayad emotions easily dikha paate hain on screen, but it's far tougher to show the relationships that a character builds... you constantly keep second-guessing whether they will work with the viewer or not. Hathi Ram has a lot of relationships to sustain... at work, it's working right through the hierarchy of boss and subordinate and even beyond, while at home it's a very tenuous relationship with his wife (Renu, played by Gul Panag) and his son (Siddharth, played by Bodhisattva Sharma). Then there are so many equations that may not be visible on screen, but which bubble under and contribute to the character.
I think the most difficult part of being Hathi Ram Chaudhury was to articulate what he feels and thinks at different points of the story, but without putting it in as many words. Mere liye iss character ki yeh sabse badi jeet hain... jahaan pe aap kuch naa keh ke bhi bahut kuch bol jaaye aur iss dauraan aapko jahaan pahuchna hain aap wahaan pahuch jaaye.
Does Hathi Ram Chaudhury have any kind of a common thread with Jaideep Ahlawat?
He does and then he doesn't. I had to put in a lot of work to not only make the viewer believe in Hathi Ram but also make myself believe in him. He is an honest guy with a lot of integrity, but he's not someone who has been able to build a good belief system around himself. But yes, like me, he's someone who wears his emotions on his sleeve, but he doesn't normally show them. Life has dealt him a tough hand and he's slowly evolved into someone who isn't easily trusting. Like him, I have struggled a lot to make my place in life, so I relate to his frustrations and failures and his inability to set things right even when he's earnest enough and honest enough.
You seamlessly blend into every part you play. Do you have a set process or does it vary from role to role?
It completely depends on who I am playing. The idea that I set out with when it comes to every character is to try and reach as close to him as he's written on paper. Of course, there is always scope for improvisation but I always like giving respect to how the character has been written, with minimum deviations. Good writing always ensures that characters are well defined and I just have to make some tweaks to make him even more believable. Also, I need to believe in my characters. If I don't believe in them, then the audience never will.
Do you also have to be non-judgmental of the people you play?
I try and look at my characters objectively, as much as possible. The challenge lies in bringing in objectivity and yet making him personal. That's a tightrope to walk but I mostly try and maintain a certain objectivity... that's important.
Your best work, in the last few years, has been on the web. Going forward, is that going to be the medium of choice for you?
It's an astonishing time and I am trying to just ride the wave. The writing on the web, for the most part, is of the highest standard. The characters are generally not what you would find in most films. Writers have so much creative freedom to pen plots and players in the way they want to, imbue them with the kind of realism that mainstream cinema generally isn't able to.