'I've been a true martial arts warrior from within for the 40 years that I've lived': Vidyut Jammwal
"Fear is something that's constantly by my side. The idea is to beat it every time. Fear is that friend that tells you how careful you need to be. I love fear… it keeps me on my toes"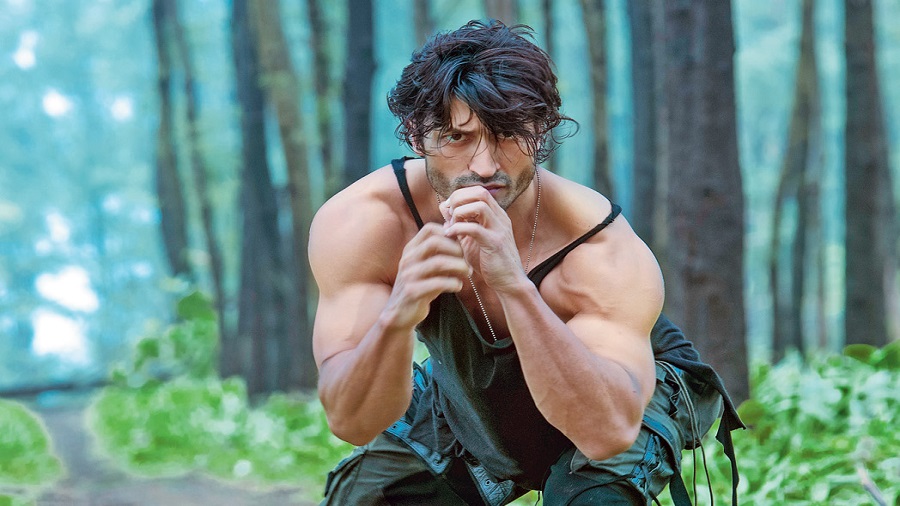 ---
---
One of the fittest men in Bollywood, Vidyut Jammwal has been an inspiration for a generation and beyond. The 40-year-old actor, who grew up partly in Calcutta, readies for the release of two films — Yaara and Khuda Haafiz — on streaming platforms, even as he continues to up his fitness and social media game. A chat with The Telegraph.

You've put out a host of inspirational fitness videos, have challenged your social media followers to many science quizzes and have even done a #FoodSeries. What's the mood otherwise been like over the last few months?
This has given me the time to connect with the audience, honestly. Over the years, people would tell me to teach them Kalaripayattu and other fitness forms. I started doing these fitness videos and I really started enjoying them because of the amount of mails and messages that I started getting from people who were getting healed, who could fix their backs, shoulders, knees…. It gave me a great feeling of being able to do what I love to do. And I have just kept going on.
As far as these science experiments go, I genuinely believe that humans have a lot of capability, we just don't explore them. So when I do these science experiments, I think of what I used to do with my classmates back in school. We could then do a lot of things that are actually very simple, but we can't do them any longer. For example, a lot of people, when they were kids, could do a cartwheel… now, as grown-ups, they can't. So I just went down memory lane and started doing all these things, and people liked them.  

You are among the fittest we have in the country today. But given these strange times, have you had to go back to the drawing board and alter your lifestyle and fitness regimen in any way?
The last three-four months I have been terrible, ya (laughs). I've done things that I thought I could never do. For example, I was watching something till 4am and then I somehow didn't want to sleep. So I thought, 'Let me see how long I can be awake'. I went without sleep for one-a-half days. It was amazing, but I also went completely crazy! Then one day, I woke up at 11am, had a cup of tea and went back to sleep for two-and-a-half days! (Laughs) I've done some crazy things. The lockdown has given me the freedom to know so many things about my body that I didn't otherwise. But yes, I am a trained martial artist and I have done this all my life. I normally don't have fear, stress, anxiety and trepidation.
The silver lining to this phase is that you have two films ready to stream within the next few weeks. What can you tell us about Khuda Haafiz and Yaara?
I must tell you that when we were shooting Khuda Haafiz (premiering on Disney+Hotstar), they wanted to shoot a song in Calcutta under the Howrah Bridge and I was the most excited I have ever been in my life because I spent a large part of my childhood in Calcutta (laughs). It didn't happen, they shot it in Lucknow. And in the lockdown, I made some jhalmuri, I must tell you that.
So in Khuda Haafiz, I play a real-life character… it's about this young couple who just get married and travel abroad to get a job and how the wife disappears one day and this man embarks on a mission to get her back. Yaara (premiering on Zee5 on July 30) is a story of true friendship… it's about what all of us have gone through in our lives at some point. I am proud of both these films because they will now make me do what I really enjoy doing, which is different kinds of cinema.

Is there a bittersweet feeling that they aren't releasing on the big screen?
Force, Junglee, all my three Commando films have been number one on all the OTT platforms. I know for sure that even these two films will do very well on OTT. And, of course, the reach is wider. I am quite optimistic. I am proud and happy that we are among the first to take our films to the streaming platforms.

It's almost been a decade for you in the business. How do you pick your parts now?
When I started out, all I knew is that there has to be action in a film. I didn't have too much understanding of cinema at that point. I am from an army background and I was just thrown into cinema. For all the knowledge that you may have, you still need to understand the business of cinema. I went in and did great action. Luckily, it worked for me, but after being in the industry for a few years, I realised that the number one thing is content. Because of the plethora of content being made, one can really fit oneself into anything. And we can all play different parts because we do experience every emotion. The only emotion that people don't experience is going and hitting 10 people at a time, which I have done a lot in my films! It's a crazy life and I love it. I don't let anyone do my stunts because I am so greedy! (Laughs)

There's never any fear?
Of course! Every time! But it's about that taking that leap of calculated faith. Fear is something that's constantly by my side. The idea is to beat it every time. Fear is that friend that tells you how careful you need to be. I love fear… it keeps me on my toes.

You've just started a session of online interactions called 'X-Rayed', and your first guest was legendary action man Tony Jaa…
The sessions stemmed out of the question that what do people who are legends really want to be asked about themselves and their craft. I made a list of people who I believe are completely fit in their heads. I reached out to them personally and they said 'yes'. I've done five interviews already… all legendary figures. I enjoyed having conversations with real men and women.

You called out Disney+Hotstar saying, 'The cycle continues' when it announced its slate of films with a starry launch, but didn't give you or Khuda Haafiz adequate representation. Have you always been someone who's called a spade a spade or have you evolved into this person now?
It may sound pompous, but I've been a true martial arts warrior from within for the 40 years that I've lived. I don't know about calling a spade a spade, but I make sure I call out injustice in the most genteel way, and I did it even this time. I don't know if the cycle will end, but it's my job to stand up for myself, ya… I don't care what people will say. I come from an army background, I've lost family members to wars. We aren't the kind that someone in the film industry will say something to us and we will get scared and run away. I know that surviving the industry is very, very difficult, but nothing is going to stop me from giving my best. When something like this happens, I will speak.

To end on a happy note, what are your childhood memories of growing up in Calcutta?
My father was posted there twice and we lived in Fort William. There was Fancy Market in Kidderpore that we loved going to… I recently went there and it wasn't as much fun as it was in the mid-'90s… I was disappointed (laughs). That time Fancy Market used to be, 'Dude, the best shoes, the best watches….' Calcutta is a place I want to go to any time… I just love the city, there's nothing that I don't love about Calcutta.
The first five-star hotel I stayed in as a four-year-old was The Oberoi Grand and that was the first time I had seen a phone in the bathroom! (Laughs) I went and stayed at the hotel about four years ago and they had this huge cake for me that said, 'Mr Vidyut Jammwal, we are honoured to have you here'. That cake did it for me… it felt like an achievement… the first hotel I ever stay in tells me years later it's an honour to have me there. I went back and told my mom about it. This kind of happiness can't be compared to money or fame.  

I am a Vidyut Jammwal fan because... Tell t2@abp.in