It proved to be the correct time for Hatyapuri: Sandip Ray
Super sleuth Feluda is set to make his presence felt once again on the big screen this Christmas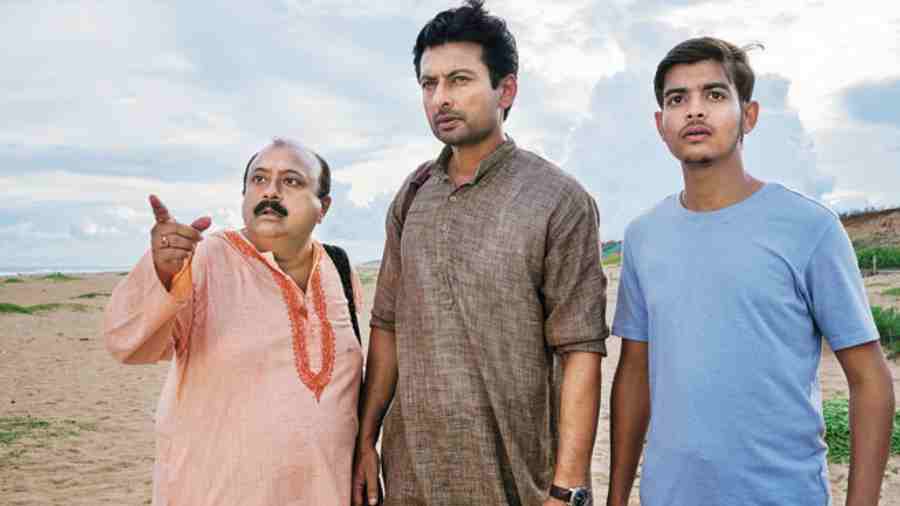 A moment from Hatyapuri, running in theatres now
Sourced by The Telegraph
---
Published 23.12.22, 11:37 PM
|
---
Sandip Ray was 12 years old when Feludar Goyendagiri was first published in Sandesh magazine. "Naturally I was very excited as this was my father's (Satyajit Ray) first detective story; he had already written Professor Shanku and other stories. My father felt the need for writing a story that catered to teenagers and that's how the idea behind Feluda blossomed. He started writing Feluda as a stand-alone story. Never in his dreams did he imagine that Feluda would become such an iconic character. After the first story of Feluda was published, he started receiving letters from all age groups that this should be continued as a series and the rest is history," Sandip Ray had told t2 a few years ago.
Now, super sleuth Feluda is set to make his presence felt once again on the big screen this Christmas. Hatyapuri, directed by Sandip Ray, stars Indraneil Sengupta as Feluda, Abhijit Guha, Ayush Das, Saheb Chatterjee, Paran Bandopadhyay and Bharat Kaul among others. A t2 chat with Sandip Ray.
Why did you decide to direct Hatyapuri?
Well, no Feluda film has released in theatres in the last six years. And it's a big deal for me because making Feluda is always a great experience for me. At times, I like making other films as well. But Feluda hasn't been done in a while.... The last one was in 2016. So, when the situation got better and went towards a more normal life, that is after the pandemic, that's when we decided that we should begin with another Feluda film. A feature film that is. We actually had other plans in the beginning... of executing a film which would have a story of Professor Shanku in the first half and Feluda in the second half.
But since a feature length film on Feluda was long due anyway, we decided to go with that.We chose to go ahead with Hatyapuri because, logistically, it proved to be the correct time for it. This is mainly because Feluda likes to travel across the country. The market crashed so badly during the pandemic that many constraints were put on the budget. So if we had to maintain that and shoot a film in a nearby location, then Puri was the most appropriate choice for it. The farther the location, the more the cost. Our Ray family has an age-old connection with Puri and a great nostalgia was working because of that... since we were working on a project in Puri. So these are the reasons why we chose Hatyapuri. Tell us about the treatment that you chose for the film.
Just like the previous films, I've followed the same treatment. But naturally, some modern techniques have been inculcated. I can't reveal all of it though in this interview. But, definitely there have been changes and alterations. Actually, everything depends on the story. If the story demands a certain kind of treatment, we will, of course, incorporate that. So, what this story has demanded, we have used that treatment itself. But Feluda will always have a classical format. Or else the fun and feel in its essence will go away. Why did you cast Indraneil as Feluda?
Because I liked him for the role. He has come to my place a lot of times to speak about playing Feluda. Now, if a good actor wants to play Feluda, then it's an important thing for me because I'm not imposing it on him. He himself wants to play the role of Pradosh Mitter. So that makes a different impression and I'll know that he'll give his 100 per cent to the role.So from that place, I found Indraneil to be quite appropriate since he has been wanting to do it since 2015-2016.Again when Sabyasachi returned for Double Feluda, Indraneil went into a different detective series of Kiriti Ray... he did two films of it I think. So when he got to know about our plan to make another Feluda film, he came to me saying that he has stopped playing Kiriti and is ready for Feluda. Now, I, too, liked him, liked speaking to him, he had the right height for the role and good screen presence. I've watched his performance in many of his films. He was wonderful in those roles. So I thought he'd be great for Feluda from all the aspects. His age was appropriate too. He had a certain charisma as well as a pleasant nature. But at the same time, he had a ruthless element in his features that Feluda requires. Therefore, he was just right for the part.
Why did you cast Abhijit as Jatayu?
It's very difficult to answer 'why'. I've watched many of his films as a director. I haven't watched his acting that much though. I loved speaking to him, same as Indraneil, and I thought he would be suitable for this role. I've been telling everyone about this, even when we cast Ayush as Topshe. We told everyone not to watch any of the previous films anymore but to interpret the characters on their own and follow what's written in the script. They must also read the books but not watch the Feluda films, since there are numerous, until they complete shooting for Hatyapuri. So this was the instruction which they had followed and interpreted the roles on their own. They read the stories which had the mannerisms of the three characters. So, yes, they followed that method.
How was your shooting experience?
It was great and very smooth. We were quite worried about going to Puri during peak monsoon. We were concerned if the weather would be good and appropriate. But we completed the shooting within the correct schedule. And it was done very smoothly. It was amazing. Now it feels strange that there was no crowd or spectators in Puri. So it was a pretty seamless shoot.
What can the audience expect from the film?
The film has been shot in the same format as of the written story, that is the whodunit format. So while watching a Feluda film, the audience must get that feeling that I would get while watching the same. I want them to go prepared for the suspense. Obviously, I do have some expectations. I want the audience to find the film interesting and worth watching. But mainly, I want the viewers to accept this new trio. This acceptance is quite important.
Name three reasons why Hatyapuri is special for you.
Puri, the place, because a nostalgia works for me as I've been there with my parents a lot of times when I was young. So, number one is Puri. Number two is that many interesting and colourful characters are present. A certain intrigue is there too along with mystery and suspense. And number three, most importantly, Felu is using his brain, his grey cells, which is very significant here. So this is why this story is quite special for me.