R. Madhavan gets candid
'Even in the pictures of my own films, I am the guy in the corner. I am very happy standing in the background. I am not going to change for other people'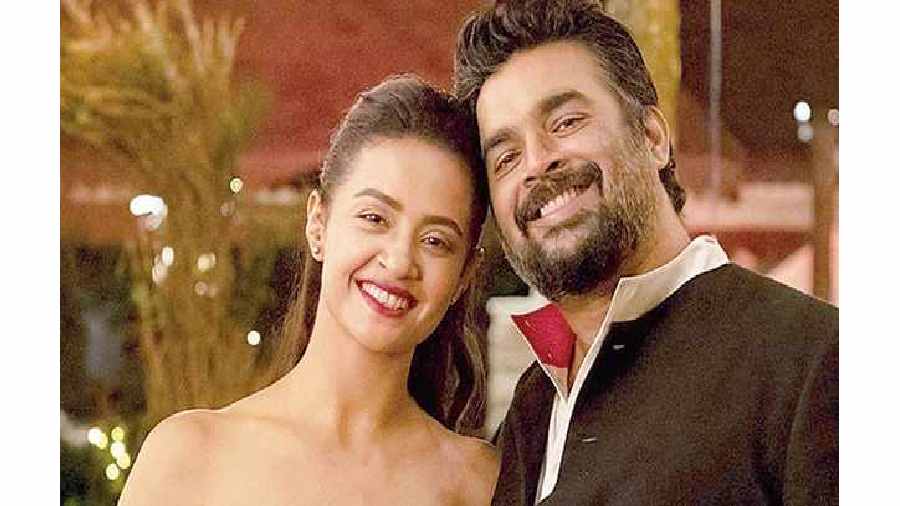 R. Madhavan with Surveen Chawla in Decoupled.
Sourced by the correspondent
---
Published 07.12.21, 02:48 AM
|
---
From the dimpled young man in Banegi Apni Baat and A Mouthful of Sky to the romantic lead in memorable films like Alaipayuthey and Rehna Hai Terre Dil Mein, followed by a slew of iconic turns in Rang De Basanti, 3 Idiots, Tanu Weds Manu and many other well-known films down south,
R. Madhavan has had a career distinguished by versatility and integrity.
After his smash-hit web debut in Breathe a few years ago, Madhavan — or Maddy, as he is popularly called — now sinks his teeth gleefully into the part of a caustic pulp fiction writer on the brink of a broken marriage in the Netflix series Decoupled, that streams on the platform from December 17.
Over a candid chat, we spoke about what makes Madhavan, 51, relate to his Arya in Decoupled, how he now wants to live in the moment and why he likes to not be the centre of attention.
Arya in Decoupled seems the complete antithesis of you. What was it like playing a man who is so caustic and cynical and has total objectivity about everything in life?
It was quite tough, to be honest. Sometimes, Arya just ends up saying the darnedest of things! (Laughs) All of us see a lot of things happening around us, and most of us are conditioned not to say anything, but this guy just has no filters! When you are young, you have the strength and the resilience to be who you want to be... how you want to be perceived as a person, in your career, everything.... But as you grow older in your relationship, you become relaxed.... You move from being what you want to be to what you really are. And sometimes, that may come as a shock to your partner... 'Oh, I didn't marry this guy' or 'I didn't marry this woman'. Sometimes, it may turn into admiration, or it may be a complete disaster! (Laughs) 
As you grow older, your eccentricities become so ingrained in you that you are not able to mask it anymore. I think Arya was always one of these guys... one of those badmaash guys in college who would speak their mind no matter how many times their teeth have been bashed in (laughs). I have seen many of these guys in college... they had amazing clarity in seeing situations as they actually were. Honestly, I really enjoyed playing this caustic guy.
So, did you identify with him in some way?
I think his sarcasm is totally justified and I completely relate to it. It's a point of view, to be honest. What he says is always blurted out, he doesn't really plan to say all the things he does. He has a certain childlike innocence and that makes him blurt out things. He doesn't even realise the kind of impact it may have on people who are hearing it.
In the business you are in and the times we are living in, do you think you would be able to speak your mind like Arya does? Outrage is so instant nowadays...
I look at everything as trends that come and go. We once had BlackBerry messenger and now we have WhatsApp and Twitter. When Facebook was it at its peak, many thought they couldn't live without it. This outrage is also a trend. It will ruin a few lives, it will ruin a few innocent people who won't be able to handle it. And one day, it will go.
I think it's already going. The younger generation seems to be tired of all the cynicism around us, the fact that people these days seem to pass judgment on almost everything. If you spend time with youngsters right now, those in the 14-15 year age group, you will see that they are far more mature, ya. I don't know what content to make for them because they are really brushing aside our generation. They are smirking at us and telling us, 'Listen, this is how life has to be lived'. And I agree with them.
I think it's very important to speak one's mind... but it's also important to state things politely. But we also have to accept the fact that irrespective of whatever you have to say... it could be a very simple and innocent statement like, 'This child has a very sweet smile', there will be 10,000 people trying to find something wrong with that line. Then what do you do? How many times are you going to bend over backwards and say, 'No, no, this is not what I meant'. After a point, you will stop caring. When you get inundated with so much negativity, you will just turn around and say, 'Screw you!' (Laughs)
Getting back to Decoupled, what made you sign on?
I will be very frank. I was sitting at home for one-and-a-half years. I had finished Rocketry (with which Madhavan makes his directorial debut) for which I had to put on a lot of weight and the pandemic didn't add to me getting any fitter! (Laughs) I was really wondering what to do.
Then Decoupled landed on my lap, and when I read the first episode, I was like, 'Yay! This is what I want to do!' I wanted to forget the gloom and doom around, plonk myself into a character and explore something new.
Of course, I also wanted to headline a series with Netflix because I hadn't done anything before with them. I also got to work with a set of fantastic people. Whether it was my co-star Surveen Chawla or even (author) Chetan Bhagat who pops in with a cameo.... I knew Chetan since the time of 3 Idiots, but we hadn't spoken since then. You know the controversy that erupted at that time (Chetan Bhagat and the makers of 3 Idiots sparred over credits, given that the film was loosely based on the former's debut novel Five Point Someone) but I never had any malice towards him and he didn't have any towards me. And on this set, we really got along like a house on fire and realised that we had missed that in the 10 years in between.
All these things came together beautifully. And Covid taught me a lot of things. At the end of the day, you realise that life is too short to make long-term plans or to even hold long-term grudges. Right now, most people just want to live for the moment. Keeping all that in mind, I just wanted to live in the moment, be Arya and see how that pans out. And I am very happy.
Arya writes pulp fiction for a living. Is that a genre we will ever catch you reading?
I hate to read! (Laughs) You will have to get wild horses to drag me to read a script. I don't like reading, but I gather knowledge in many other ways. I can talk about any subject under the sun... sorry, I know I am showing off! (Laughs) I generally have a lot of information in my arsenal. But I hate to read... I get tired reading a cheque book! (Laughs) So no, I don't read pulp fiction, until and unless I have to absolutely read it. 
Unlike Arya and Shruti in Decoupled, you and your wife Sarita have a solid marriage for over two decades now. Is marriage hard work?
Fingers crossed! (Laughs) It is hard work, ya. But then, which relationship isn't? Whether it's being a brother, a father, a husband or a son. Times are changing fast and so are our tolerance levels. I won't say reducing, but changing. So, marriage is a lot of hard work. You not only have to adapt to who you are becoming, but who your partner is becoming as well. You have to love them enough to accept them the way they are and vice-versa. You have to manoeuvre through those eccentricities, and with age and time, those eccentricities get stronger.
I have realised, through my personal experiences, that women are far stronger than men. It doesn't matter how much of an alpha male you are and how much you roar, you will always realise that it's the lady of the house who is far stronger mentally and is always the last person standing. I have come to terms with that and I am making my adjustments accordingly (smiles). I don't want to screw up my old age! (Laughs)
What interests you in a role now?
We are all going through the toughest times in our lives. All the offers for content that I am getting are pre-Covid... very few are willing to adapt themselves to the change in patterns of consumption. I am telling you, I am the biggest idiot in the world because I have said 'no' to some of the biggest projects from the biggest producers and directors recently... simply because I can't relate to it.
I am not saying they won't work, but Maddy at this stage in his life, can't relate to them. In these times, people are more like, 'Yaar, mujhe hasaon, masti karo...' The viewer doesn't want to go a theatre and watch preachy stuff on how he should live his life! No one wants a moral spiel anymore. I would rather go and watch a Sooryavanshi and laugh and have fun and be grateful it's given me three hours off from my mundane post-Covid life. 
Now, I make scripts that are offered to me pass the litmus test of whether they appeal as post-Covid content. That's tough, yaar. As it is I do one or two films in three years and that is becoming even longer now.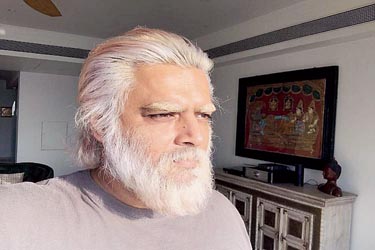 You make your directorial debut with Rocketry: The Nambi Effect in which you not only direct and play the central part of former ISRO scientist Nambi Narayanan, but have also written and produced the film. What was it like juggling so many things on set?
Rocketry has been a kind of rebirth for me. I was tired of telling people what I wanted to do in my films. I was exhausted of trying to pull deadweight. The only way in which I could understand whether I was right or wrong in my opinion was to see whether I could put my money where my mouth is and headline a project and achieve what I am trying to tell other people to do.
The result will only be out when the film releases, but as a process, it was a winner. I changed dramatically. My wife thought that with my temper — and because direction was thrust upon me at the last minute — I would fail. She was like, 'Tum likhega bhi, direct bhi karega, produce bhi karega, act karega... toh ho gaya sab chaupat. Mera naam producer mein daal diya hain toh izzat nilaam hone waala hain!' (Laughs)
She expected the first day to be nothing short of fireworks. But when she came on set, everything was quiet and everyone was doing their work. She went and asked my assistant whether pack-up had already been called, and when he said it hadn't, she was like, 'Whaaat! Maddy is so quiet?!! (Laughs) When I went home that night, she was a little more affectionate towards me. She was like, 'Baby, I didn't know you had this side to you!' (Laughs) And frankly speaking, I didn't know I had that side to me!
So it's a new Maddy these days...
Things are changing so much and so am I. Old age kisne dekha hain? Stop saving for 20 years later... live now! I am trying to keep myself light and smile as much as I can. I am trying to take out the negativity. I want to just cruise through this period.
Have you ever tried to decode the appeal that you still have among women of all generations? You drop a hot bare-bodied picture once in a while and the Internet is on fire...
I am embarrassed! I don't know why it happens! I am not the most hot-looking guy, you know. Hrithik Roshan is a Greek God and he should have that appeal. I am in awe of him. Why I would have it, I really don't understand. My wife has told me, 'Can you please be age appropriate and not drop these pictures?!' (Laughs) Frankly, I can't decode it, but I also don't want to look a gift horse in the mouth... let me just enjoy it for now (laughs).
Now that you ask me, I don't even know why I put up those pictures. I am questioning myself here. Is it to see if I still have it? Is it the fear that I am not being seen enough and that people will forget me? But I don't do it too frequently now.
When fans talk to you about your body of work, which are the ones that dominate the conversation?
It depends on the group I am talking. If I go to a restaurant and I talk to the waiters, they talk about Rehna Hai Terre Dil Mein. Middle-aged people talk a lot about the Tanu Weds Manu films and 3 Idiots. 3 Idiots cuts across generations, especially the 20 to 80-year olds. Some of the conversations have driven me to tears with what people have had to say about how
3 Idiots has impacted them. Many talk about Rang De Basanti. The international diaspora when I go outside, somehow talk a lot about Ramji Londonwaley. It was a disaster when it released, but somehow the NRIs like it.
It's so great to have so many of my films remembered. And when I go down south, they talk a lot about Kannathil Muthamittal and Alaipayuthey, which was my debut film as a romantic hero. And Anbe Sivam, which was with Kamal (Haasan) sir, became iconic.
When I was doing Rang De Basanti about 15 years ago, I remember Rakeysh Mehra (the film's director) telling me, 'You know Maddy, most actors have two or three films in their lives that they are remembered for. You are the only guy that I know who has had seven films that are already iconic!' And now he looks at me and shakes his head because after that there have been 3 Idiots, Tanu Weds Manu, Vikram Vedha, Breathe....
I have been very lucky. But I wish I had someone early on in my career who would guide me and say, 'Maddy, don't go out in public dressed like an idiot' or 'Take care of your hair' or 'Make sure you are seen on the covers of magazines'.... I have never been on the cover of any magazine... can you believe it? (Laughs)
That's quite surprising. But shunning the spotlight, I feel, is inherently you...
Ya! My wife pointed out something. At a function, the star always wants to be centre stage for pictures and stuff.... But I am someone who always stands in the corner. Even in the pictures of my own films, I am the guy in the corner. So she asked me that why don't I stand in the middle. And my answer is that I don't want that space! I am very happy standing in the background. I am not going to change for other people.