Meet team Mismatched
Prajakta Koli and Rohit Saraf chat with us about their young adult series that drops on Netflix tomorrow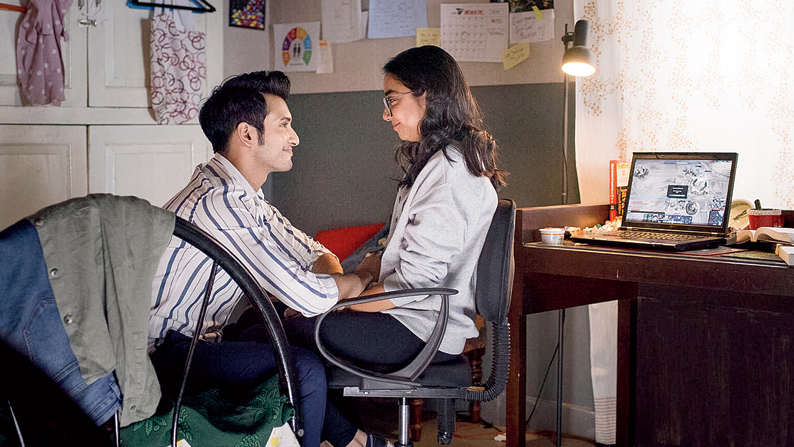 Prajakta Koli and Rohit Saraf in Mismatched, streaming on Netflix this Friday.
Sourced by The Telegraph
---
Published 19.11.20, 05:11 AM
|
---
The trailer of Mismatched — especially the coffee-throwing scene — has already started off hashtags like #Dishi," Rohit Saraf tells us at the beginning of this chat. He's joined by Prajakta Koli, the hugely popular YouTuber (better known as 'Mostly Sane') who makes her acting debut with the Netflix series that streams from November 20.
Rohit — fresh off the praise in Ludo where he plays Rahul — stars as Rishi, while Prajakta plays Dimple in this six-part Young Adult series, based on the  2017 novel When Dimple Met Rishi, that gives a fun spin to genre staples like romance, heartbreak and the ups and downs of college life. Mismatched also stars Rannvijay Singha and Vidya Malvade.
Rohit, you just mentioned the scene where Dimple throws a glass of cold coffee on Rishi the moment they meet for the first time. It's also the highlight of the trailer. Is it true you had to do multiple retakes for that scene?
Rohit Saraf: It was fun, ya! There was so much adrenaline happening when we were shooting. That was the most anticipated scene of the shoot. We kept asking the makers many times, 'Okay, when are we shooting thaaaat scene?' (Laughs)
I remember the day we were shooting that scene, the rest of the cast had packed up two hours earlier, but they stayed back because they wanted to see us perform that scene (laughs). Basically, everyone was just dying to see coffee being thrown at me! (Rolls his eyes and laughs)
There were so many logistics involved for that one scene. I had to change the T-shirt again and again because it's white... I had to keep fixing my hair because it would get wet every time. Plus, we were shooting in the evening and losing light, and this was supposed to be a day scene.
Prajakta Koli: That was the last scene for the day, and we packed up after that. We were chilling together and we kept talking and laughing about it. It was one of the most fun days of the shoot.
Have you two read When Dimple Met Rishi, on which Mismatched is based?
Prajakta: No we haven't. During the lockdown, we both called for a copy, but I just felt like I wanted to stay clueless. I kind of liked that suspense. Once everything is over and done with as far as the series is concerned, I may pick up the book.
Rohit: Mismatched, per se, is not completely based on the book. Things are not exactly like it's in the book, and we wanted to stay close to the director's (Akarsh Khurana) perspective of how he's looking at the show. I also feel that too much information is sometimes bad. So ya, we haven't really read the book (smiles).
You spent 40-50 days in Rajasthan shooting for Mismatched. Did the shoot take you back to your college days?
Prajakta: Rohit, why are you making a face?! (Laughs)
Rohit: Because I haven't been to college (makes a sheepish face and laughs).
Prajakta: Before I went to shoot this series, I was doing a whole lot of other stuff... I wasn't eating, I wasn't sleeping... I had too much on my plate. So these 40 days, moving away from Mumbai to Rajasthan and living with a bunch of fun people, actually came as a blessing. I would come back to my room at 7pm after shooting for 12 hours and be like, 'I don't know what to do!
I have so much time!' (Laughs)
For me, more than the college bit, the hanging-out-with-friends bit worked more.
I really miss hanging out with my college friends, chilling and eating with them and having (pauses) beverages and things, you know! (Laughs) Life has become so crazy that I really loved the fact that I got to chill with a bunch of really cool people who I got along very well with.

So Rohit, since you haven't been to college, did making this show give you an idea what it would have been like?
Rohit: Yaar, as much as I would like it to be true, it's not really like that. One is in a professional environment, everything is planned and scripted. You also know the emotions because they are also scripted. So I wouldn't say it gave me a taste of college life... but it did give me a taste of cold coffee! (Laughs)
Prajakta: You know, since then, we thought that Rohit would never have cold coffee. But surprisingly, cold coffee actually became our thing on set after that.
You just spoke about everything being scripted, but the chemistry between the two of you, on the series and off it, comes off as being very natural...  
Prajakta: Though Rohit and I had never met before this project, the fact that we became friends so quickly added a lot to the chemistry. I think a big factor that's worked in our chemistry is that both of us have a sense of humour. We constantly pull each other's legs... I always have a snarky comment and he always has a comeback. And I feel that broke the ice very quickly and that made us very comfortable around each other. We comment on just about anything and everything... there is no reason to take offence.
Both of us are equally sassy and we keep bullying each other. That sense of humour and that feeling of comfort with each other just brought the chemistry in. With him, I never felt things like, 'Oh my God! There is an intimate scene... I am going to be holding his hand... we are going to be standing close'. I was always like, 'Aah, it's just Rohit!' (Laughs)
Rohit, are you a Prajakta Koli fan like so many of us?
Rohit: I'll be very honest. I didn't watch any of her videos before we got to know each other. And I will be lying now if I say I watch every video of hers, because I don't. I watch a few videos of hers...
Prajakta: Which I harrass him to watch! I FaceTime him and tell him, 'Watch now!'
Rohit: She stays on FaceTime while I watch that video. Imagine me watching her video for 10 minutes, and she's on call waiting to see that I watch it fully! (Laughs) Honestly, I am a fan of the person she is, more than of the kind of content she creates. Not that it's anything less, it's amazing.
So after interacting with her, would you say she's 'Mostly Sane?'
Rohit: What do you mean by sane?! She's totally crazy! Who works like this, man? This girl does not sleep. She has 10 heads, 10 brains, 15,000 hands and 5,000 legs. She does way too many things at the same time. One great thing about her is that she's a very good observer... otherwise, she wouldn't be able to create the content that she does. But yes, she's insane... she's the opposite of her handle.
Prajakta: This may just sound like a mutual admiration society (laughs). I hadn't seen any of Rohit's work before I met him. He's an amazing actor, but I am glad I got to know him as a person first. He's a lovely friend, he's one of my most favourite people in the world. He's so passionate about his work and his family. When you are doing so much work as he does, you tend to lose touch with reality, but Rohit isn't like that.
Why do you think Young Adult as a genre is so underexplored in India and do you think Mismatched will be a first big step?
Rohit: We haven't had something like Mismatched in recent times in Indian entertainment. You rightly said that it's an underexplored genre here. We've had some amazing shows like Left Right Left and Hip Hip Hurray back in the day, but over the last few years, we have somehow neglected this genre. With Mismatched, we hope to bring back the Young Adult drama/ teenage drama genre. I think there is room, need and a fair amount of excitement for it.
Prajakta: We have so many young people on the Internet right now... the most we have had ever since we got the Internet. Internet in India today is cheap, accessible, it's ventured into Tier-2 and Tier-3 cities. A major chunk of my audience is between the ages of 13 and 18. There are a lot of people on the Internet in the target audience that Mismatched has been made for. And that's so exciting!