Harshita 'Dimpy' Gaur and Priyanshu 'Robin' Painyuli
While existing characters travel an impressive arc this season, we see some new faces being introduced, most of them with much impact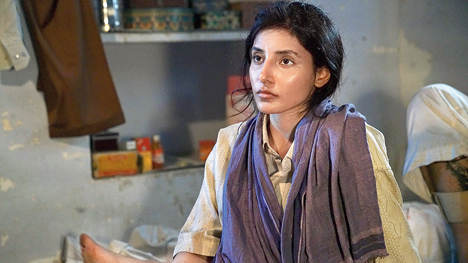 Harshita Gaur as Dimpy in Season 2 of Mirzapur, now streaming on Amazon Prime Video
Sourced by The Telegraph
---
Published 02.11.20, 01:53 AM
|
---
Season 2 of Mirzapur dropped a little more than a week ago, and like the first season, it's peppered with memorable moods and moments. While existing characters travel an impressive arc this season, we see some new faces being introduced, most of them with much impact.
Reason enough for ux to catch up with Harshita Gaur, who returns to the season as Dimpy, and Priyanshu Painyuli, who has walked into the world of Mirzapur as Robin, for a post-release chat.

Individually and collectively, what's the most memorable feedback that's come your way since Season 2 dropped?
Harshita Gaur: It's been extremely overwhelming feedback as far as the show is concerned. Even when some found it a little slow in parts, overall they absolutely loved the show. Mostly, the second season of most Indian series don't work very well, but the audience has been pretty happy with Season 2 of Mirzapur.
As far as Dimpy is concerned, I was a little sceptical about Season 2 because her characterisation this season is a little off the main revenge track. But now it's good to hear people say that it's nice to see two sides of the same coin, with Dimpy opting for a normal life, even as Golu (played by Shweta Tripathi Sharma) takes the path of violence. And I have also been told that Dimpy and Robin's scenes are a breather for them in the middle of all the tension and violence, and brings a smile on their faces.
Priyanshu Painyuli: Season 1 had a massive following and there were tremendous expectations from this season. The actors who were in Season 1 probably carried the baggage of that, but for me and the new actors, it was about entering the world which the fan following had already set up. I had to gain that following and respect that these guys had already gained in the first season. In Season 2, I think we have all collectively managed to create another beautiful world, and the best thing about Season 2 is that different shades of the same characters are now being explored. Personally, it's been great. I am smiling every day looking at my phone... all the messages and memes (smiles). I have been getting a lot of love.
Priyanshu, you just spoke about the various shades to every character and Robin has a lot of shades, and not just in the clothes that he wears. Was the fact that you hadn't played anyone like him before the impetus to sign on?
Priyanshu: I think the primary reason to sign on was that I am a big fan of Mirzapur. When I got a call to audition and I was told how Robin would be, I thought it was the best character to audition for. Robin is a very interesting character in an already interesting show... what more could I want? It was, of course, a challenge to play a colourful and intriguing character who is very mysterious. On the surface, Robin is very simple... he's one of the rare guys in Mirzapur who doesn't hold a gun (laughs). He just plays with people's minds, he is very street smart.
Harshita, Dimpy's arc grows exponentially in Season 2, especially in the first few episodes. Was the prep this season different what you did for Season 1?
Harshita: In Season 1, the only prep I did was not feel too scared to work with such big names who were my co-stars! (Laughs) Season 2 involved a lot of discussions with my director (Gurmmeet Singh) because we see so much rage in Dimpy where she can kill someone and yet she decides not to. She has her father's values intact, but her reality has shifted completely now. Right in front of her, she's seen her brother (Bablu, played by Vikrant Massey) and her friend (Sweety, played by Shriya Pilgaonkar) being killed and now Guddu bhaiya (played by Ali Fazal) is on this path of revenge. So there are a lot of conflicts and a whole new dilemma that Dimpy faces. So there were many discussions and a whole lot of mental preparation. What's the key to standing out in an ensemble cast like this where almost every character is impactful and memorable?
Harshita: Mine is to just find the truth in what I am playing, even if it's a single line of dialogue that my character may be saying. I feel that if one tries too hard to stand out in an ensemble cast, one tends to end up looking odd. So the best way is to just play your part as truthfully as you can.
Priyanshu: For me, the idea is not to stand out but to blend in. People should see Robin and Dimpy on screen, not Priyanshu and Harshita, and they have been able to see the beautiful chemistry between Robin and Dimpy. All the characters in Mirzapur are written very impactfully and they complement each other.
Taking a cue, who are your favourite characters in Mirzapur?
Harshita: That's a very tough one! (Laughs) All the characters have such an intense and powerful graph, that if I was offered any of the other female parts, I would have done it.
Priyanshu: As an audience when I watched Season 1, I loved all the characters. Everyone has got such brilliant shades. I think Beena Tripathi (played by Rasika Dugal) is one of the most intriguing characters on the show. It's a beautidully written show where you see every character growing into a different person from the first season to the second. Look at this character called Maqbool (played by Shaji Chaudhary)... his graph in Season 2 is huge and so is his contribution to the plot.
What, according to you, makes Mirzapur one of the biggest shows in the Indian entertainment space?
Harshita: I think it's the basic simplicity of the plot. The fact that Guddu, Bablu and Dimpy's family could actually be your family or mine. It's about how a normal family gets completely destroyed and it's very relatable. Then, of course, is how the story has unfolded and it's managed to keep people engaged. I think the show's music is also its USP. I know a lot of people who started watching Season 1 after hearing its music.
Priyanshu: Even though the characters are from a different world, the characters are such that you empathise with them emotionally. And that holds true for even someone like Munna bhaiya (played by Divyenndu). The characters are written well and performed so beautifully.
Every season of Mirzapur throws up a whole lot of questions. What's the most intriguing one that's come your way?
Harshita: 'Robin ki mummy kaun hain?!' (Laughs)
Priyanshu: That was the question that on my mind all through the time I was working on the show. I kept asking the director and writer, 'Kya hain yeh? Koi split personality toh nahin hain?' (Laughs) I kept asking if Robin actually has a mother. And the only answer I got was, 'There may be'.
Harshita: They've built so much intrigue around this Ma, who has become famous even without appearing on the show! I think Abhishek Banerjee (actor and the show's casting director) will get a lot of calls from that age group asking to audition for Robin's mummy's part.
Even Robin's signature line of 'Yeh bhi theek hain' has become very popular...
Priyanshu: I just wanted to add a line to this character and I suggested it to Puneetji (Puneet Krishna, writer) and Guru (Gurmmeet Singh). Robin is someone who keeps changing his stories, no one knows who he is, but 'Yeh bhi theek hain' is something that's consistent with him, and whenever he says it, he does so with his heart, whether it's in a romantic situation or when someone is giving him gaalis.