A chat with team 'Ludo'
Director Anurag Basu and actor Pankaj Tripathi talk to us about their quirky slice-of-life film that streams on Netflix from tomorrow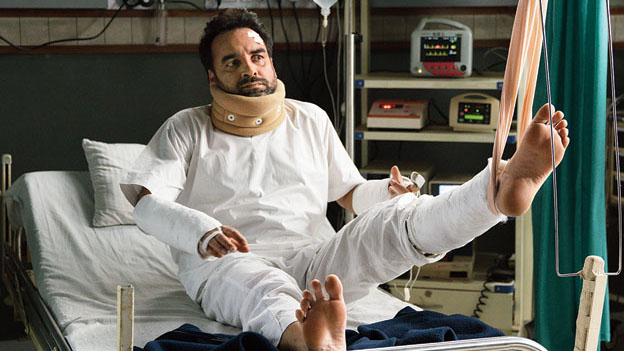 ---
Published 11.11.20, 12:08 AM
|
---
Three years after Jagga Jasoos, Anurag Basu returns on November 12 with Ludo, a four-in-one film that stars an ensemble cast comprising Abhishek Bachchan, Rajkummar Rao, Pankaj Tripathi, Aditya Roy Kapur, Fatima Sana Shaikh and Sanya Malhotra, among others. The film, releasing on Netflix, has the trademark Anurag Basu quirks and touches and explores a life and a world that draws inspiration from the game of Ludo.
Having watched Ludo a few days ago, we caught up with Anurag Basu and Pankaj Tripathi for a Zoom chat filled with anecdotes and laughs.
Anurag, watching Ludo reminded me how the game is so much like life, which is what the film essentially wants to tell. What prompted you to attempt this idea?
Anurag Basu: Actually, the main idea was to dabble in two-three genres, and to also tell a story about life and relationships using the analogy of a game of Ludo. I am not taking a moral stand of any kind here. Most of the time, films fall into the trap of saying this is right and this is wrong. I didn't want to say that. Toh shei idea niye start korlam aar dekhte dekhte film ta daariye porechhe.
You've said that Ludo is unlike anything that you've made before. But that's true for most of your films, isn't it?
Anurag: Ludo is an attempt at a different kind of cinema and a different type of narrative. It also has a different look from most of my other films. I think Barfi! and Jagga Jasoos are similar in the way they look, though the stories are very different. I feel that Ludo is in a space that I haven't done before. Now it's up to the audience to decide if and how Ludo is different from my other films.
Pankaj, the gangster that you play in Ludo has various shades and he's the one who connects the different segments. You've described Ludo as a road trip where you didn't know the destination. How exciting was it to take this leap of faith?
Pankaj Tripathi: When I came to Bombay to act, I had a wish list of directors I wanted to work with, and Dada's (Anurag) name was right up there. There is a Kali bari in Bangur Nagar (in Mumbai) and on every Dussehra, I would go there to have khichdi and also with the hope that I would bump into Dada and he would cast me in a film! (Laughs) So I always wanted to work with him and luckily, that wish got fulfilled through Ludo. I simply jumped at the opportunity.
I have always been an admirer of Dada's films and the worlds that he creates in them. Jab kaam karna shuru kiya toh mujhe inka working style bhi bahut pasand aa gaya. I am also like that... I don't like being over-prepared when I go to the sets. Creative cheez kabhi fixed nahin ho sakti hain... it remains fluid till the time it's captured on camera, and even after a take that's approved, I may feel that I want to do it better. I loved playing this part. And now I have decided, I will work in every Anurag Basu film. Dada, koi bhi film banayenge toh usmein mera ek role fixed rahega! (Laughs)
Anurag: Why don't we flip this and say that whatever film you work in, I will be fixed as the director! Usmein zyada fayda hain! (Both laugh)
Anurag, your unorthodox way of working is legendary. Most of the cast members of Ludo have reiterated the fact that the fun of working with you comes from plunging into a film without knowing where they were heading. When so many people blindly trust your faith and vision and are willing to do a film without knowing much about it, isn't the responsibility on you a lot more?
Anurag: It's a lot of responsibility. I have to make it a point to live up to their faith and trust. They look at me as their life jacket, and it's up to me to perform and to deliver. With every film, I tell myself that I will change my style of working. The first five or 10 days are okay, and then slowly I go back to my old style! (Laughs) I have now promised my wife that I will change from the next film (smiles).
People think I never have a script, but that's not right. There's always a script... otherwise it will be impossible to shoot a complicated film like Ludo. My only problem is that I can't put a full stop on my thinking! (Laughs)
I don't commit to a scene till the last moment... I keep thinking about it. I don't know where to put a full stop, and that's my biggest drawback.
Pankaj, what is it about Sattu the gangster that made you want to play him?
Pankaj: Frankly, I wasn't excited about the character as much as I was excited about working with Dada. Inhonein khud mujhse kahaan ki, 'Dekho kuch naya nahin hain, lekin isko naya banayenge'. An actor is excited by various factors... it could be the story, the director... sometimes, it could even be the people you are working with, these are people you know you will have fun making a film with.... unke saath khana khaana, bakwaas karna... uska ek alag sukh hota hain. For me, honestly, even the location where a film will be shot can clinch the deal... if I am offered a film that will be shot in a place that I want to explore, then I will end up signing the film! (Laughs)

Anurag, when we had spoken after the release of Jagga Jasoos, you had said that the negative reactions to the film from some quarters had made you doubt your ability and your craft. How did you overcome that?
Anurag: After Jagga, I was confused about what kind of film to make. Most of the time, I am sure about which film I want to make. In this case, there were three scripts and I had a tough time choosing one. When your film doesn't do well, then it definitely leaves you shaken. It happened to me after Jagga, and I just plunged headlong into writing scripts.
Frankly, I wasn't sure whether Ludo should be my next film. I started narrating scripts to friends and family, and both my wife Taani and Pritam (music director and Anurag's close collaborator) wanted Ludo to be my next film. I went with their choice, frankly speaking. I was a little lost after Jagga, but when I started fleshing out the script of Ludo, I knew that I had made the right decision.
What is it that works for you and Pritam as collaborators and friends?
Anurag: When you think of an idea and then write it out, you need people to discuss it with. Pritam has always been my bouncing board, along with Taani. Every film-maker will have doubts about what they are writing and whether they will be able to pull it off. Pritam is someone who always gives me honest opinions and he's very transparent with me.
Also, when I write, most of the time the music sittings also happen simultaneously. That's what makes his music blend into my films so easily. The kind of music he's given in Ludo... people will rediscover Pritam here.
Anurag, you've also acted in Ludo. What was that like?
Anurag: I was just being myself. I am a very bad actor... I can't act!
Pankaj: I had no idea he's also acting in the film! Mujhe toh kal pata chala (laughs). The way he narrates a scene, the kind of nuances he brings in... humein pata chal jaata hain ki yeh scene kahaan jayega. Dada kamaal hain!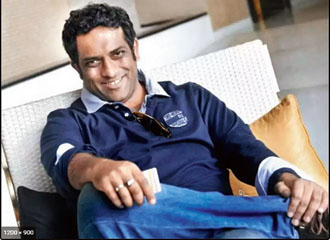 Movie theatres are slowly opening up across the country. Are you, in any way, disappointed that you couldn't release Ludo on the big screen?
Anurag: Right now, releasing it on a streaming platform is the correct option. The film is ready and we want it to reach the maximum number of people. Honestly, I didn't want to wait. It's a new experience for me. Pankajji is the OTT king, but it's a whole new thing for me. Pankajji is very positive about releasing the film on OTT. I am anxious because I will not get to see people in the theatre reacting to my film as a group. But people are very open with their reactions on social media... which is very dangerous! (Laughs)
Pankaj, would you agree that you are the king of the OTT space?
Pankaj: Nahin. Main OTT ka mazdoor hoon.. creative labour hoon. OTT has given me a lot of opportunities. I am there on Netflix, Amazon (Prime Video) and Disney+Hotstar. Toh main praja hi hoon... raja ka concept toh ab raha nahin (laughs).
Pankaj, given the amount of work you've churned out in a year where the world has come to a standstill, would it be safe to assume that you find it tough to say 'no'?
Pankaj: Jab aapko bahut bhookh lagti ho aur jab uske baad aapko khana miley, toh overeating ho hi jayega (laughs). Aur overeating ke chakkar mein kabhi kabhi average khaane mein bhi swaad aane lagega. I spent about 12-13 years of my life with practically no work. Now, over the last three years, I have been doing an average of seven-eight projects a year. Ludo will be my third release this year after Gunjan Saxena and Mirzapur Season 2. And one month later, I will be back to speak to you for another project (laughs).
Anurag: There was only one man who was happy in this lockdown and that was Pankaj Tripathi! (Laughs)
Pankaj: Initially, I thought the lockdown was imposed to give me a break... then I realised it's for something else! (Laughs)
Don't you want to take a break sometimes?
Pankaj: Yes, I do want to. But when you overeat, you don't realise then that you are overeating. But I am now becoming aware of this... so maybe next year, I will slow down a little. Lekin main already next year ke paanch commitment leke baitha hoon!
Anurag: December aate aate aur chaar-paanch jud jayenge!
Anurag, which is your favourite Pankaj Tripathi performance?
Anurag: I loved him in Gunjan (Saxena). I saw a different Pankaj Tripathi there. I have watched Mirzapur Season 1... I haven't seen Season 2 yet.
Pankaj: If Ludo had released first, after seeing me as Sattu, the makers of Gunjan Saxena would have perhaps found it difficult to cast me as this loving and supportive father (laughs). Sharan (Sharma, the director of Gunjan Saxena) watched Season 1 of Mirzapur during the lockdown and he called me to say, 'I am happy I cast you in Gunjan before seeing you in Mirzapur!' (Laughs)
And what's your favourite Anurag Basu film?
Pankaj: Oh, mat poochhiye, mat poochhiye. (Life in a...) Metro hain, Barfi!, Jagga Jasoos... even the work he did earlier on in TV. The world he creates... oh my god! The way he shows railway tracks in his films, no one in Indian cinema can (Anurag laughs). Inki duniya kamaal lagti hain mujhe... you feel that he must be going to Mount Everest to create this world, but he manages to do it in Chandivali Studio!