'The film ends where the power of imagination takes over'
A Dracula Sir post-mortem chat with director Debaloy Bhattacharya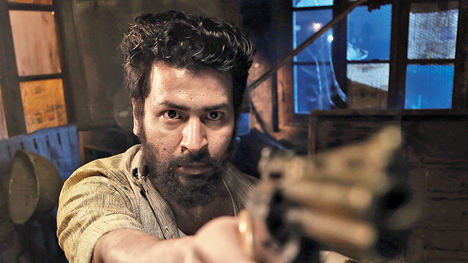 ---
Published 02.11.20, 01:36 AM
|
---
How did the idea for Dracula Sir come to you?
Dracula Sir was conceived long back in 2006. It is my quest for a quintessential 'Bangali Dracula' with his own myth and legend and a journey relevant to his time and space.
Why make the structure of the film non-linear?
The film has a few layers. It has to deal with two different time and space and constantly plays with the external and internal reality of a man. Making it linear would have made it a Chaya Prakasani Mane Boi.
By choosing this structure to tell the story, there was a risk of confusing the audience. Did you think about that? Then why go ahead with it?
Not only non-linear, it's lyrical, complicated and abstract to the extent of getting into the risk of alienating a large section of the audience from the narrative. The language thus makes a point. The people who can connect to it is exactly the audience I want to cater to. I have toiled to develop my film language and it has its richness and purpose, hence the audience too will have to put in some effort to decipher it.
How did you decide on the edit? Also, the way a movement from the present would flow into the past and vice versa... why did you plan it like that?
My filmmaking is extremely organic. From the script to the shoot to the edit it constantly changes and grows. Like I had an intention of creating chapters but that got realised only in the edit. The non-linear format was planned but it was not how it was written or shot. It's a nightmare for my team but they stand by me. Thanks to them.
The character of 'Dracula Sir' is very intriguing.... from a subject of ridicule to actually believing in a myth to creating an alternative identity for himself from the past... take us through the character graph. How did you shape it?
Raktim, ostracised by society, tries to take refuge in a story. He tries to build his own myth to get a history and a praxis for himself to sustain, to revolt. We all fantasise. If I try to find him in the guy next door he maybe a young guy who gets ridiculed for being obese. And if I get into his mind Raktim emerges. In my film Raktim goes too far in embracing his fantasy and he has to pay for it. But that is what makes the film provocative and political. It calls for action. A personal political vendetta. Even if the end is about failing there is always a new beginning.
The climax where we get to know how Raktim references things from his immediate reality, reminded us of the film Vanilla Sky and its climax. Was it a tribute?
I haven't seen Vanilla Sky but the point that Raktim builds up his story from his immediate reality is exactly what we do. It's instinctive I suppose. As for the climax, I would rather say the anti-climax, has more influence of Kubrick. I am indebted to him. He has shaped me more than anyone else.
Manjari's dialogues sound very text bookish and repetitive, which alienates the 1970s character to some extent. It might work as an idea in the present because she is a figment of imagination but to do the same in the 1970s, makes it seem a bit unreal in the cinematic sense. Would you agree?
It was meant to be text bookish since it's a construct of Raktim in his mind. And his references have been mostly texts from and about that period. And the 1970s characters are cut-outs, romantic figments of a mind in search of a melodramatic narrative.
If Manjari's lines were from Raktim's POV and the books he had read, then why were Rudranil Ghosh's lines written differently. That seemed less text bookish.  
Hahaha...well Nata is Bhuban Babu's extension. Hence has a reality check. Manjari is purely a construct of his mind, hence unreal. And it was intentional that my audience should not empathise with her.
Why take a moody and melancholy tone to tell the story? It is steeped in sadness and sometimes wallows in it...
If that has come through then I guess my purpose has been served. It's the sadness and melancholia I have inherited from this city. It's a sinking feeling oscillating between memory and forgetting. Good or bad, there is no respite from it.
Why make it open-ended?
Because imagination has innumerable possibilities. And it is the poverty of imagination we are suffering from. The film ends where the power of imagination takes over. That's the only power my protagonist has. He will fight with it in his own way. It's personal. Hence it's political.
Why have the Naxal movement as a backdrop?
It was the last time the Bangalis dreamt of something larger than life. It's our last romantic endeavour hence my protagonist naturally gets smitten by it. He needed a context that is sensational to create his own myth.
Do you feel the idea of the Naxal movement backdrop and how it shapes the character did not translate well on screen? There have been comments and questions on social media on how the Naxal backdrop informs the story in the present... that the film does not dig deep into it and the quotes uttered by Amal come across as pretentious in the way they were used repeatedly. What would you say to that?
Exactly so. To me it's superficial, pretentious and I had no intention to write an essay on the movement. It was entirely a cerebral construct of my protagonist. He used it for his own purpose, grossly romanticising it.
Repetition comes from the limitation of information he has in his memory since it's a manifestation of his psyche.