In our regional recommendation this week, we pick Rituparno Ghosh's narrative-bending Abohomaan
Deeply intelligent and continually surprising, Abohomaan plays around the construction of identity and subjectivity, history and privilege within a meta-narrative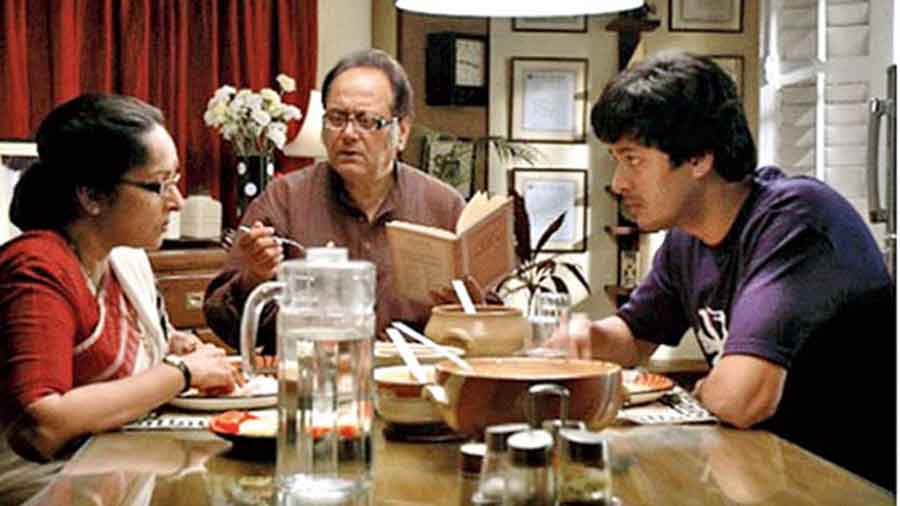 ---
Calcutta
|
Published 08.09.21, 10:51 PM
|
---
What comes easier? An unsophisticated person playing a sophisticated role? Or the opposite?" In Rituparno Ghosh's 2010 film, Abohomaan, this discourse between sophistication and unsophistication arrives several times through the classic Pygmalion concept of a mentor's relationship with his muse.
When acclaimed film-maker Aniket Mazumdar (Deepankar De) casts the uninhibited Sikha (Ananya Chatterjee) to play Binodini, it is his wife Dipti (Mamata Shankar) who moulds her into Srimati — someone with much more control and hold over herself. Originally meant to play the role when Aniket had first thought of making the film, it is Dipti's grooming that transforms Sikha into Srimati, which then breeds an affair between the actress and the film-maker, thereby disrupting Srimati's family forever.
Connecting parallel threads from the relationship between Nati Binodini and Girish Chandra Ghosh, Abohomaan continuosly cross-cuts between multiple threads of the present (when Srimati receives the news of Aniket's demise and visits his home), the past (when Sikha first auditions for Binodini's part, gets through and begins shooting) and the film performance (as the relationship between Binodini and Girish Ghosh is established).
With so many interconnecting points of references, Rituparno Ghosh masterfully constructs the mis-en-scene with the aid of his editor Arghyakamal Mitra (both won National Awards for this film) so that the three timelines mirror each other with restraint, depth and nuance. It is from this standpoint where the notions between sophistication and the lack of it are situated.
At first, it is Aniket's son Apratim (Jisshu Sengupta) who asks the question, when the family sits together in a dining table scene. They are discussing Sikha's fearless and unbridled audition and her capability to play someone like Nati Binodini. Dipti says it's the defiance and the arrogance in Sikha's personality which makes her accessible to the character.
The next time Dipti finds herself in a similar discussion is when Sikha complains of Aniket and his constant teasing with comments on her education and name, during the film's shooting, which makes her want to leave. It is here that Dipti assigns her the name of Srimati, providing her with autonomy in a new identity as a sophisticated star. Another name of the mythological character Radha, it marks the complete transformation of Sikha into a heroine.
Finally, when Dipti confronts Aniket about his affair with Srimati, she returns to the same question and expresses that even if he chooses unsophistication over sophistication, she will stick to her role and play the perfect housewife. "If I have to punish you all your life," she says, "I will require a minimum sophistication."
These realisations are revealed as the intertwined framework of the plot makes progress. The discourse between sophistication and the lack of it connects the thread within the family drama that forms the core of this film.
With Abohomaan, Ghosh breaks away from the norms of narrative, identity and history to invoke a fluidity in spaces, performances and time. There is no trajectory employed through flashbacks or dream sequences to present this co-existence of separate selves and timelines as is evident in Ghosh's works like Bariwali and Shob Charitro Kalponik. Here, Ghosh reveals layers within each of his characters through historical characters that are preserved in public consciousness. The multiplicities extend and inhabit together. As the characters make transitions in the temporal state, they seem to ask: 'Is this your reality?'
Deeply intelligent and continually surprising, Abohomaan plays around the construction of identity and subjectivity, history and privilege within a meta-narrative. This gives way for the viewer to trace the link between timelines that co-exist through multiple lives and spaces. Aided by radiant performances, particularly from Ananya Chatterjee (that earned her the National Award for Best Actress) and Mamata Shankar, Abohomaan is a tour-de-force of storytelling from a film-maker in total control of his craft.