In Aarya, Sushmita Sen powerfully frontlines a story about crime and misdemeanour, but most of all about family
The show's inherently violent core is tempered with images and moods that are deeply affecting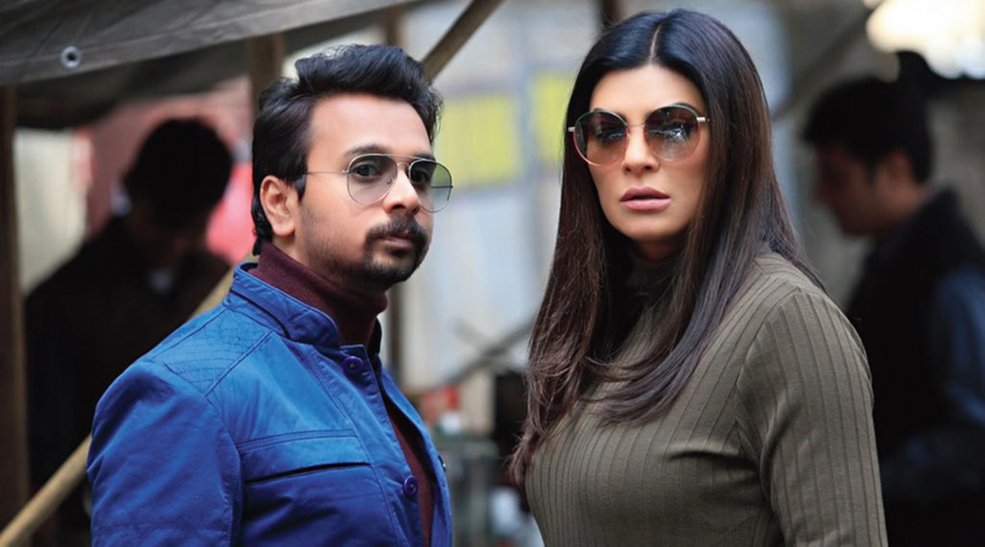 Sushmita Sen with Namit Das in Aarya, now streaming on Disney+Hotstar
Still from show
---
Published 21.06.20, 07:49 PM
|
---
There is something about the way Aarya both depicts and processes grief. A death rips a family apart at its roots, but there is no visible theatricality. The teenaged son surreptitiously takes a dunk in the family swimming pool to cry his heart out at the bottom. The daughter lets loose her angst by vigorously scribbling poetry on her bedroom wall. The youngest simply goes quiet. The mother bites into a laddoo that she had laughingly forbidden her physically unfit husband from gobbling down minutes before he walked out of the front door, only to be shot and never return.
These are heart-tugging moments that don't shamelessly make a play for your tear ducts, and yet you will find it almost impossible to keep your eye dry. Scenes like these — tender, beautiful, heart-warming — play out all through Aarya, its inherently violent core tempered with images and moods that are deeply affecting.
The world of Aarya, now streaming on Disney+Hotstar, may be different from that of yours or mine, but the mind, motivations and mechanics of its characters — hovering between jet-black, black and grey, despite the whites they often don when mourning — aren't. Grief is a great leveller. So is the fight to stay alive and protect one's own, against all odds.
Its absence of over-dramatisation, however, doesn't mean that Aarya is stark (we had to put that one in, but it does make sense in the show's context). Ram Madhvani, aided by co-directors Sandeep Modi and Vinod Rawat, imbues this tale of lives lived and lost in the shadow of organised crime with strong emotionality. Not much is said, not much is even shown, but the world-building is exquisite. So is the intrigue. Just when you feel you kind of have it figured out, Aarya throws a curveball at the audience. Both the character and the show.
The roots of Aarya may lie in the Dutch web series Penoza, but its arc follows that of The Godfather, the godfather, so to speak, of any text or film on organised crime. Crime runs in the Rathore family — "Yeh hathkadi toh humein viraasat mein mili hain," spits out Sangram (Ankur Bhatia), the "Tujhe pataa hain mera baap kaun hoon?" kind of impulsive son — with the show chronicling their play-with-fire existence, a family of erstwhile royals who now run a second-generation drug syndicate, where no one trusts anyone and where loyalties are bought and sold at the flick of a finger.
With the Don Corleone-fashioned patriarch Zorawar Rathore (Jayant Kripalani) being rendered almost incapacitated by paralysis, it's up to the next generation to take the "business" forward. A reluctant player in the mix is son-in-law Tej Sareen (Chandrachur Singh) who manufactures opium-laced medicines with a pharmaceutical business as the front. Tej, unlike Sangram and their close aide Jawahar (Namit Das), isn't a man of this world. He gets his hands dirty, but goes back to his family every night, their poppy-fuelled luxe life filled with happiness, laughter and old Hindi film songs.
But as it happens in a world where one constantly lives on the edge, Tej is felled soon enough, and then it's up to his wife Aarya to get her claws out — both literally and metaphorically — and plunge deep into this murky business to protect her children from a world where everything from passive-aggressive cops, rival drug lords and bloodthirsty Russian dealers, who relish cutting off the fingers of their victims, among various other forms of torture, are running amuck.
It's tough to imagine anyone else but Sushmita Sen as Aarya. Over nine episodes, each about 50 minutes long, the actor remains consistently at the top of her game. Her silences speak, but so does that face, constantly shifting from steely resolve to mirroring her broken dreams, and often plastering on a beatific smile to get her way around a tricky situation.
Aarya thinks on her feet, is sharp enough to manipulate things in her favour even when practically everything goes south on her, and she systematically sidelines the men, often telling them what to do in what is a largely patriarchal set-up. "Pehle mard dhanda karte thhe, ab bachey nahin," she says matter-of-factly when asked why she's getting down and dirty. Here is a mother who does all that she does simply to protect her kids, with Sushmita — her maternal instincts coming to the fore, is all-out emotional yet almost always in control, with those long shrugs she wears through the show almost resembling a superhero cape — ensuring that you always root for Aarya, you never judge her.
The central conflict in Aarya may be a little too simplistic (so much fuss for a USB drive?) to warrant a nine-hour watch, but Madhvani ensures that it's the moments, big and small, that stay on with you, lingering as a sweet aftertaste.
No matter what she says or does, it's the mother in Aarya who is always at the forefront. She picks up a stash of black money from a source, but not before sharing the remedy for the latter's infant's colic pain. And yet Aarya revels in the sudden power shift... she can't help but break into a semi-jig the first time she physically wards off a predator, minutes after being told, "Apne panje bahaar nikalo".
That scene takes place in a fort, peopled by eager tourists, but Aarya never lets its setting overpower its story. Rajasthan contributes to the building of this world but remains unobtrusively in the background, with the show rarely resorting to using it in the picture-postcard way it's generally depicted.
Aarya also scores in often willingly telling us more about its plot and players through the finer details (Aarya and son Veer trying to figure out Tej's computer password by discussing "a few of his favourite things" is instantly heart-warming). The technique of using daughter Aru's poetry at vantage points to mirror Aarya's perils and predicament hits home and so does the novel use of old Hindi film songs (Bade achhe lagte hain to Akele akele to Woh shaam kuch ajeeb thi) in different situations, most of them horrific and prickly, giving their lyrics new meaning. A lot of it is as effective as the slo-mo fight sequence in Shaitan choreographed to Khoya khoya chand.
Its ticking time-bomb premise (even though it does qualify as a slow-burn watch) and strong emotionality apart, it's a pitch-perfect ensemble cast that ensures that Aarya keeps you invested. The standouts are Namit Das as the perpetually cocaine-snorting Jawahar, a man who changes loyalties at the drop of a hat, and Sikandar Kher as Daulat, the loyal aide of the Rathores who remains in the shadows but speaks so much through his eyes. Both the actors turn in solid acts, and so does Vikas Kumar as the cop who constantly walks a personal and professional tightrope. A word for the three actors — Viren Vazirani, Virti Vaghani and Pratyaksh Panwar — who play Aarya's kids, each a character on its own that significantly contributes in taking the story forward.
The words, "Kabhi kabhi baat sahi aur galat ki nahin... galat aur kum galat ki hoti hain", play out twice, at key points, in Aarya. Nothing is ever absolute and mostly, it's always about choosing the lesser evil. That makes Aarya's world so much like ours. And that's what makes Aarya so much like every woman out there.
I liked/ didn't like Aarya because... Tell t2@abp.in